Ryż Z Truskawkami is a delicious Polish rice pudding served with strawberry sauce and strawberries. Popular during May and June, this dish is a childhood favorite!
Strawberry season comes around and some of my favorite memories of kindergarten pop up. May and June in Poland saw us kids happily eating Ryż Z Truskawkami during lunch breaks. A popular Polish children's dish, Ryż Z Truskawkami is a rice pudding served with strawberry sauce and topped with fresh strawberries.
This dessert/snack is a lot like the rice pudding with apples that's also eaten for lunch or dessert!
See also another kids' favorite–> Polish noodles with cottage cheese recipe (makaron z serem).
Slow Cooking Gives You The Best Rice Pudding!
Rice pudding doesn't take too long to cook. You could easily have it ready in under 20 minutes. But the best way is slow.
Slow cooking the rice ensures that it doesn't stick to the bottom of the pan and that it doesn't burn. This is really important. You don't want a rice pudding with a crusty brown shell.
Slow cooking also allows the rice to absorb all the milk slowly and turns out a truly flavorful rice pudding.
Can I Use Pasta Instead Of Rice in the Ryż Z Truskawkami?
Yes, you may replace rice with pasta. There are two different methods to do this.
First, the traditional way, which involves cooking the pasta with water and then adding it to the sauce. The difference here is that rice is cooked in milk which gives it the creamy consistency. But since the pasta is cooked in water, the strawberry sauce needs to be more creamy. So, you will need to add double the sweetener and sour cream to the strawberry sauce.
The second method isn't really traditional. But I found that you can cook pasta with milk too. Simply replace the amount of water required to cook the pasta with an equal quantity of milk. And all the other steps will stay the same! Easy as making pie!
Tips To Make The BestPolish Rice Pudding With Strawberries
You can add a dash of cinnamon or vanilla to the rice while cooking.
If all the milk has been absorbed by the rice, and it doesn't feel soft enough, add more milk and cook for a longer time.
You may add more or less sweetener to the strawberry sauce. I find 2 tbsps just perfect, but the kids love it a bit sweeter.
Or you can sprinkle a tablespoon of sugar on top of each bowl.
You can add a bit of sweetener, sugar, or honey to the rice while cooking too!
Like this recipe? You'll love this Polish rice pudding with apples too!
Important Questions About Making Ryż Z Truskawkami
How Do You Pronounce Truskawkami?
Truskawkami is pronounced trus-kawh-kaah-mee.
Can I Make This Rice Pudding Dairy-Free Or Vegan?
Yes, to make this recipe dairy-free or vegan, replace the milk with coconut milk, almond milk, or soy milk. In the sauce, replace the sour cream with coconut cream or cashew nut cream. You can skip the cream and prepare a simple strawberry sauce with sugar too!
Which Rice Should I Use, Brown Or White?
Any good-quality rice will work. We use white rice, but basmati rice will work too!
Is Ryż Z Truskawkami A Dessert Or A Snack?
Ryż Z Truskawkami can be eaten as a snack, a dessert, a light lunch, or even as a breakfast dish.
Do I Serve This Rice Pudding Hot Or Cold?
Rice pudding with strawberry sauce can be eaten both hot and cold. Go with your personal preference!
Can Ryż Z Truskawkami Be Eaten Any Other Way?
If you like, Ryż Z Truskawkami can be baked too. To do this, after you have cooked the rice, add it to a buttered dish with layers of fresh strawberries in between. Bake for about 20 to 30 minutes, cut into slices and then top with strawberry sauce before serving.
Polish Rice Pudding With Strawberries Recipe
Yield: 4 servings
Ryż Z Truskawkami Polish Rice Pudding With Strawberries Recipe
Ryż Z Truskawkami is a delicious Polish rice pudding served with strawberry sauce and topped with strawberries. Especially popular during strawberry season, kids love this dessert!
Ingredients
Rice Pudding
1 cup of rice
3 cups of milk
1 tsp Vanilla, Optional
1 tsp Cinnamon, Optional
Strawberry Sauce
11 oz (300g) of strawberries (fresh or frozen)
2 tbsps of sour cream
2 tbsps of sugar, xylitol, or any other sweetener
Instructions
Rice Pudding
Pour a teaspoon of water into the pot and make sure the entire bottom is wet. Then add milk (it will prevent the milk from burning).
Add rice and cook very slowly until it's soft and there is no milk left.
If you want more flavor, you can also add cinnamon or vanilla now.
While the rice is cooking, prepare the strawberry sauce.

Strawberry Sauce
Chop 4-5 strawberries in halves to decorate the dish and set aside. The rest go into the sauce.
If you are using fresh strawberries, simply blend them with sweetener and sour cream.
If you are using frozen strawberries, cook them until soft, then blend them with sour cream and sweetener.
Serve the Pudding
Place the cooked rice in a bowl or plate.
Add strawberry sauce and decorate the dish with chopped fresh strawberries (optionally). Eat warm or cold!
Recommended Products
As an Amazon Associate and member of other affiliate programs, I earn from qualifying purchases.
Nutrition Information:
Yield:
4
Serving Size:
1
Amount Per Serving:
Calories:

204
Total Fat:

5g
Saturated Fat:

3g
Trans Fat:

0g
Unsaturated Fat:

2g
Cholesterol:

18mg
Sodium:

89mg
Carbohydrates:

32g
Fiber:

2g
Sugar:

19g
Protein:

8g
These data are indicative and calculated by Nutritionix
Pin For Later: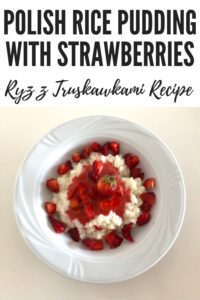 Did you like this Polish rice pudding with strawberries recipe? Let us know in the comments below!