From simple clear broths like rosol to rich creamy soups like fasolowa or koperkowa, Polish soups are so varied and colorful, they're tasty and appetizing too. Made with earth vegetables and meats, the traditional Polish soups are nutritious and healthy; and are perfect wholesome meals for the entire family.
Differing from region to region, and even from home to home, there are so many Polish soups that are eaten as side dishes or main dishes. Here's a list of the most popular Polish soups to add to your meal plan!
1. Zurek – Polish Soup Made With Rye Starter
As synonymous with Polish food as the borscht, the zupa żurek is a popular Polish sour soup. Made by fermenting rye bread or rye flour and cooking it with root vegetables such as potatoes, the zurek is really sour to the taste.
Potatoes and onions are one of the staple ingredients that go into a zurek. Other ingredients that can be added depending on the region include mushrooms, parsnips, celery, carrots, and other root vegetables.
Hard-boiled eggs are cut into wedges and added to this Polish white soup. Diced and fried smoked bacon or kielbasa sausages can be added as a topping.
Hollowing out a bowl of rye bread and serving the zurek in it is one of the most popular means to eat ths soup! See my authentic żurek recipe.
2. Krupnik – Polish Barley Soup
Krupnik is an easily digestible light soup made of barley or krupa. Usually made with meat such as chicken or pork, it can also be made meatless for vegetarians.
Because of its light nature, you'll often find krupnik served to people recovering from illnesses or surgeries. It's even considered good for little kids and new moms. Of course, zupa krupnik perfect as a side dish with any meal too!
3. Czarnina – Duck Blood Soup
Czarnina is a soup that some like and some don't. There's never a middle point. It's always either you love it or you hate it.
Made with real duck blood, czarnina dark brown in color, and sometimes called chocolate soup.
Czarnina duck blood soup is part of Polish tradition. When a suitor was rejected by his beloved, he was served czarnina. A simple way of saying no!
4. Pomidorowa – Polish Tomato Soup
Traditionally eaten on Mondays in Poland, the pomidorowa is a tomato soup made with the leftover rosol broth. With rice or pasta added to the soup and cooked till soft, it becomes a complete meal.
Pomidorowa is the perfect light meal after a heavy weekend eating meats!
5. Barszcz Czerwony – Red Borscht
The barszcz czerwony soup gets its sourness from the zakwas buraczany, a starter made by culturing beetroot for a week or longer.
Often served for wigilia or Christmas Eve dinner with little ear-shaped uszka dumplings floating in them, the red borscht is a popular Polish dish. Although the Christmas version called wigilijny barszcz czerwony is made meatless, meat can be added at other times of the year.
6. Barszcz Bialy – White Borscht
Another popular sour Polish soup, white borscht is made without the beetroot starter and uses a fermented wheat flour starter instead. It's also sometimes confused with the zupa zurek that is made with a rye dough starter; but can be distinguished by a less sour taste.
Potatoes are the main ingredient in the white borscht, while other root vegetables such as parsley, celery, or carrots can also be added. When eaten as an Easter morning dish its called Barszcz Biały Na Zakwasie.
7. Grochówka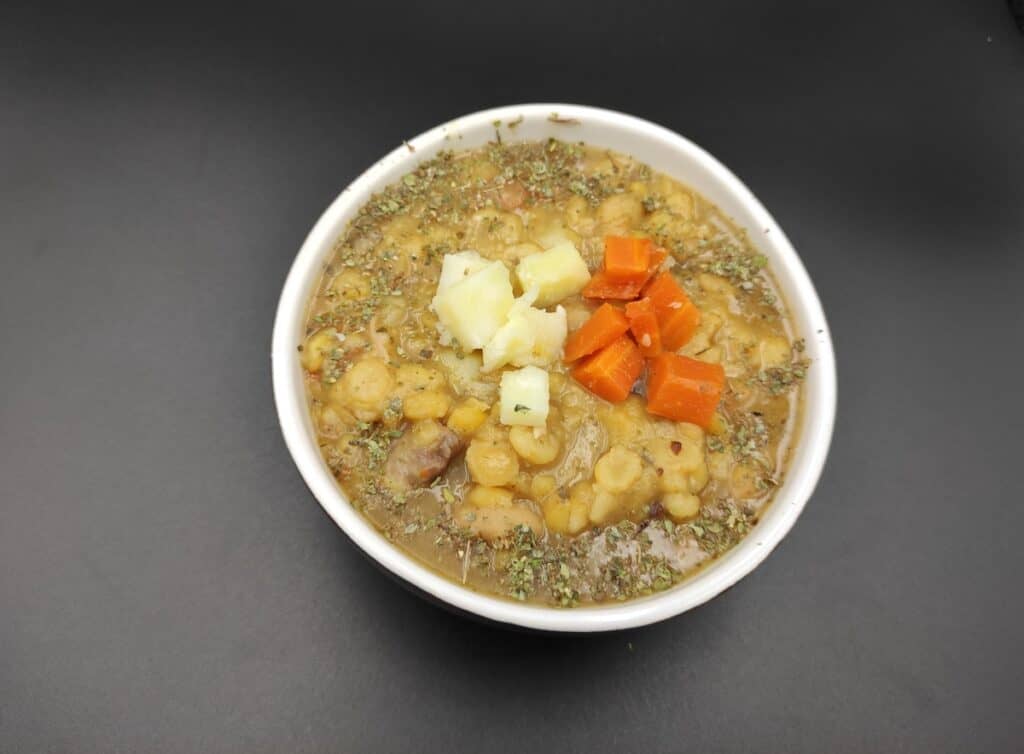 Perfect for days when you're really busy, the split pea soup grochówka will keep you satiated for many hours. No wonder, it was a staple diet for Polish soldiers for many years. Grochówka is also a great soup to take to picnics or for outdoor lunches.
Using a pork-based broth and smoked bacon along with root veggies, the grochowka soup is stewed for long, but needs very little prep time.
8. Kapuśniak & Kwaśnica – Sauerkraut Soups
For all Polish sauerkraut lovers, the kapuśniak is a must-have sauerkraut soup. Showcasing the distinctive taste of fermented cabbage, the kapusniak is made by stewing root vegetables and sauerkraut, with smoked bacon or pork ribs.
Try this recipe for kapusniak and you'll definitely want to make it every week!
For the highlanders from the Podhale region who lived in the Tatra Mountains, fresh veggies were not always available. So the soup using fermented cabbage (kapusta kiszona) and root veggies that were easily available on farms was created centuries ago.
In the highlands, pork was not available either, and lamb or mutton was used instead. This sauerkraut soup called kwaśnica was rich in fat making it a good winter dish.
9. Rosół – Clear Chicken Soup
Rosół is a traditional Polish chicken soup with a clear broth that is often eaten to cure hangovers. It has been around for centuries but was first written in the Compendium Ferculorum in the 17th century.
Traditionally, a variety of meat bones are used in the soup – duck, beef, rabbit, pheasant, quail, pigeon, and veal. Pork is never added.
Slow-cooked with carrots, celeriac, parsley roots, onions, and spices for a long time, the rosół broth imbibes the flavor of the meat and veggies. You'll often find rosol served with kluski lane or egg noodles.
10. Mushroom Soup – Zupa Pieczarkowa
Zupa pieczarkowa is a creamy soup made with store-bought mushrooms called pieczarki. The mushroom soup can be made with rosol or any other chicken stock, to which fried onions and mushrooms are added.
The Polish mushroom soup goes really well with pasta, noodles, bread, roasted veggies, or even with fried kielbasa sausages. It's also possible to make vegan!
11. Mushroom Soup – Zupa Grzybowa
You'll often find Poles driving to the nearby forest to buy wild mushrooms from the stall vendors there. They turn it into another Polish classic dish, zupa gryzybowa. It can be made with wild mushrooms that are fresh or dried.
Full of nutrients from the mushrooms, and creamy because of the butter, cream, and potatoes, this earthy Polish mushroom soup is a delightful treat!
12. Fruit Soup
A combination of dinner and dessert, this luscious fruit soup is similar to the kisiel. Simply made by stewing any fruit of your choice cinnamon and cloves, it can be eaten hot or cold.
Top the Polish fruit soup with a spoon of sour cream or with cooked noodles or pasta and serve!
Other Polish Soups That Deserve A Mention
There are many more tasty Polish soups eaten all over Poland. But this is the list of popular Polish soups that you must try at least once! How many of them have you tasted or made at home?
Pin For Later: