Summer in Poland is an amazing time to visit the country. As the temperature warms up, you will notice more and more people will indulge in Polish summer food. These recipes usually use a lot of fresh vegetables and fruits since they are easily available. After the harsh winter, people welcome the change in ingredients.
In fact, not only do people use fruits and vegetables in different Polish summer food recipes, they also love to eat them plain as a snack. Since Poland is a major producer and exporter of fruits, you will find that they are easily accessible and cheap at this time of the year.
Another popular activity in Poland during summer is cookouts. With the gorgeous weather, everyone wants to be out in the sun for as long as they can. What better way to enjoy the outdoors than with good friends, family, and delicious Polish summer food?
Here are some great Polish summer food recipes to add to your table. Most of them are incredibly easy to make and taste delicious!
1. Baby Cabbage
Mloda kapusta, also known as young cabbage or baby cabbage, is available in Poland from May to August. It is one of the most popular vegetables during this time of the year.
If you compare a baby cabbage to an old cabbage you will notice that the young cabbage is vivid green while the older cabbage is more white in color. That isn't the only difference. Baby cabbage is soft, tender, sweeter and much milder than the old one.
Baby cabbage is also very easy to cook. All it requires is five ingredients and 25 minutes of cooking time. If you haven't tried my baby cabbage recipe yet then do. It is very easy, super tasty and one of the best Polish summer food at the table every year.
2. Kompot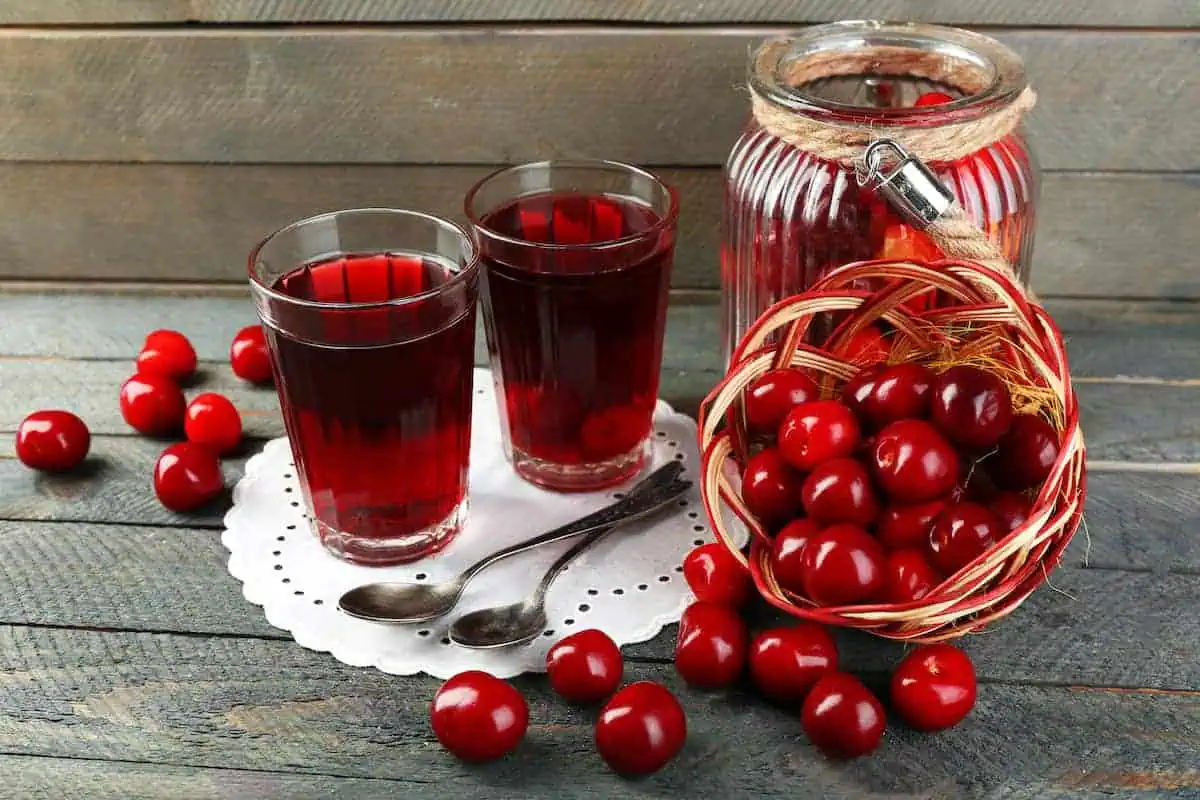 Kompot is a nonalcoholic Polish drink that can be found in every Polish household. It is very popular during summertime since it is made out of seasonal fruits.
Kompot was originally made as a way to preserve fruits for the long winter months when fruits are usually scarce. If it is made for winter, why is kompot such a popular Polish summer food?
The answer is actually pretty simple. Summer is the season for fruits in Poland. With so many fruits available many Polish households start making kompot and keeping it ready for the winter.
The fresh fruity flavor is really hard to resist. Kompot is also a very refreshing drink and perfect for the climate. It can be served hot or cold depending on your preference. Kompot is also a very easy drink to make. All you need is water, fruits and a sweetener. Check out my detailed kompot recipe for more details on the process of making it.
3.
Strawberry Cake With Custard
Strawberry season and summer go hand in hand in Poland. There is nothing quite like juicy strawberries that are freshly picked. One of the top Polish summer food during strawberry season is the strawberry cake with custard.
This delicious cake is nothing but homemade custard and strawberries sandwiched between two layers of sponge cake. The top of the cake is then garnished with fresh strawberries and gelatin. Served chilled, this cake is perfect for a hot summer day. Children in particular love the taste of the cold custard and strawberries in the cake.
If you intend on making a strawberry cake with custard, check out my detailed recipe. It includes how to make the sponge cake, the custard and tips on how to make sure the cake sets beautifully.
4. Pierogi With Fruits
Pierogi is one of the most iconic dishes in Poland. These can be made both as sweet and savory. The popular Polish summer food however are light and fruity which is why pierogi with fruits are very popular.
Making pierogi can be time consuming. You need to make the filling, knead the dough and then shape the pierogi. It is the shaping of the pierogi that is time consuming in this recipe. Luckily it is an art that can be mastered. The more pierogi you make, the faster you will get.
I've got a couple of detailed pierogi with fruit recipes that you can try.
5.
Semolina Pudding
Another fun Polish summer food is semolina pudding. Semolina pudding takes just 5 minutes to make. It is delicious and well-loved by kids. All that this recipe requires is semolina and milk. Most people enjoy semolina pudding with different add ons. During summer this can include a variety of fresh fruit.
Other popular add ons include nuts, syrup, jam and chocolate. The pudding can either be served warm or cold. Many people prefer the cold alternative on hot summer days.
If you haven't perfected the semolina pudding yet, take a look at my easy semolina pudding recipe. It has all the tips you need to get the consistency right.
6. Polish Rice Pudding With Apples Or Strawberries
Polish rice pudding is another great Polish summer food. It is an incredibly easy dish to make and is usually made especially for children. Paired with a fruit, this pudding has a nice sweet flavor that makes it really popular with the kids. If you are thinking of making it this summer then try out my Polish rice pudding with apples recipe or rice pudding with strawberries recipe.
In general, Polish rice pudding is very easy to make. The ingredients are easily accessible and cheap. It is vegetarian and it is healthy. These are just a few of the reasons why it is so popular in Polish households in summer.
7. Baby Potatoes With Dill, With Kefir And (Optionally) Fried Egg
Baby potatoes are one of the local favorites when it comes to Polish summer food. These potatoes can be difficult to peel but they taste brilliant once they are cooked. The recipe is actually very simple. All you have to do is peel the baby potatoes, boil them till soft and season them.
Seasoning is done using butter with either finely chopped dill or kefir. The dill (or the kefir) gives the potatoes a lovely flavor and makes this recipe extraordinary. If you want, you can add a fried egg to the plate too.
This recipe is quick, simple to make and the ingredients are accessible and cheap. All these reasons make it one of the popular Polish summer food items.
8. Cold Cheesecake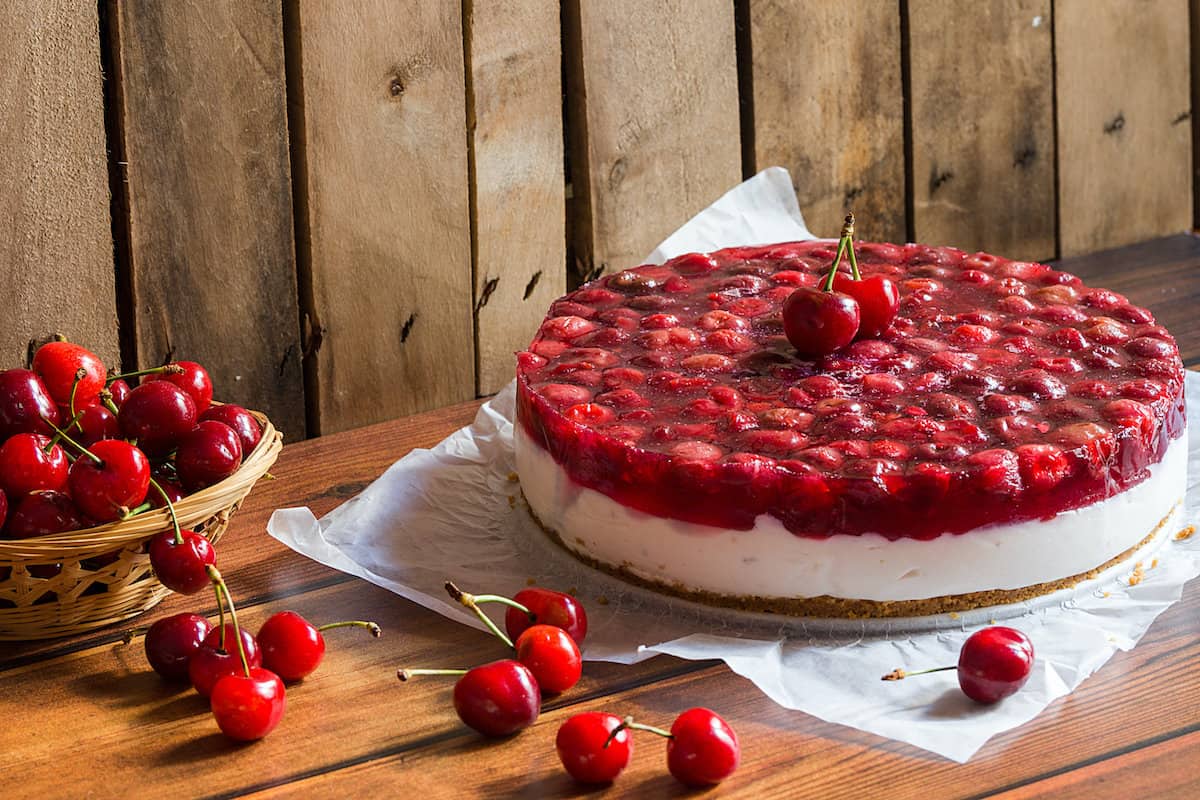 Another great Polish summer food is the cold cheesecake. Don't mix this up with the popular baked cheesecake. The cold cheesecake is a no-bake cheesecake that uses ricotta cheese as its base. This makes it very different from its American counterpart which uses cream cheese.
The consistency and the form of the cake is maintained thanks to the gelatin in the cold cheesecake recipe. The recipe uses fresh fruits like strawberries, cherries, currants and raspberries. Paired with the gelatin fruit topping, the cold cheesecake is very refreshing and well loved by both children and adults alike.
9. Chłodniki Cold Soups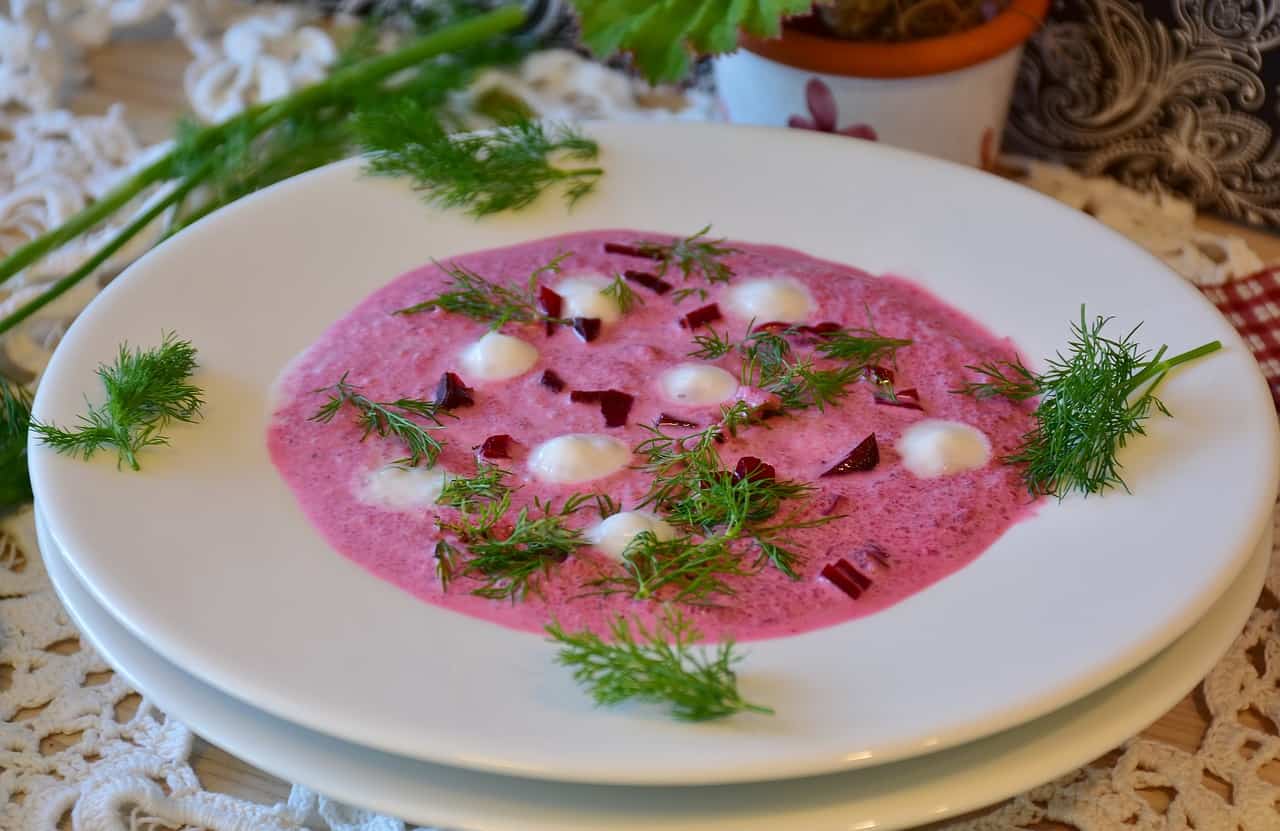 With the heat that summer brings, cooking is sometimes the last thing that people want to do. A great easy way to keep hydrated and enjoy a light meal is by making chłodniki. Chlodniki are cold soups that are made of the vegetables that are available during summer.
One of the best recipes is the Polish cold tomato soup. It is made using either fresh ripe tomatoes or tomato juice. Other easy chlodniki recipes are the Polish cold beet soup recipe and the Polish cold cucumber soup recipe.
Chłodniki is one of the top Polish summer food because the ingredients are cheap, they are easy to procure and the soup is extremely refreshing.
10.
Broad Bean And Yellow Wax Bean
Come summer, vegetables flood the market. Broad bean and yellow wax bean are bountiful at this time of the year. You will find them piled high in the markets. When buying the beans make sure that they are nice and crisp. Limp beans are usually older and do not taste as good. Crisp beans are freshly plucked.
The best way to eat these beans is to wash them and boil them lightly. The duration which you need to cook them differs according to the type of bean. You can then eat them plain, in a salad, in pierogi and in many other ways. It all depends on your creativity.
11.
Rhubarb Cake
Rhubarb is another popular summer vegetable. Generally, the rhubarb season starts in April and ends in June. The vegetable has a slight sour taste but it works extremely well in rhubarb cake. Another popular recipe is the rhubarb kompot. The sour flavor of the rhubarb makes the drink tangy.
The rhubarb cake recipe on the other hand takes a bit of time to make. It requires just six ingredients, all of which are both cheap and easily available. The rhubarb cake is one of the most popular Polish summer food because of all the benefits that rhubarb has to offer. Not only does it make your skin look younger, it also makes your bones stronger and reduces your cholesterol level.
12.
Jagodzianki
Jagodzianki or Polish blueberry buns are well loved during summer. The tangy berries pair so well with the bread dough. While this is one of the most loved Polish summer food, many people tend to hesitate when it comes to making them at home. This is because it takes time for the dough to rise. The effort however is really worth it.
If you haven't tried making jagodzianki at home yet, I highly recommend taking a look at my jagodzianki recipe. It details all the tips that I use to get the perfect filling for the blueberry buns.
Don't forget to serve the jagodzianki with a glass of milk. This combination is loved by kids all across Poland.
13.
Creamy Tomato Salad
The trick to the perfect creamy tomato salad is to have good quality vegetables. There is no better time than summer to find the perfect ingredients for this recipe. This is the time the tomatoes are freshly picked and ripe. They are packed with flavor unlike most of the supermarket bought tomatoes.
Creamy tomato salad is super fast to make, absolutely delicious and the ingredients are easily available. In fact, it takes all of five minutes to make this salad recipe. You can check out my creamy tomato salad recipe and see for yourself.
14. 3 Day Pickles
Summer is also cucumber season. In Poland, people pickle a lot of vegetables. Cucumbers are one of the popular pickles that they make. An easy way to pickle them is by using this 3 day pickle recipe.
All it takes is 10 minutes preparation time and 2 days fermentation time. You will find that the 3 day pickles are not quite as sour as ogorki kiszone. They are a bit fermented so the taste is different from regular cucumbers too!
15.
Food With Mushrooms
Mushrooms are also a very popular summer food. You will find a lot of different kinds of mushrooms in the Polish markets. Some people even go foraging for mushrooms to ensure that they get the best of the season.
Mushrooms are used in numerous Polish recipes. In fact, I've written numerous recipes that include them. Here are some that you can try if you have mushrooms handy.
16. Mizeria
Mizeria is a Polish cucumber salad sour cream dish. This Polish summer food is perfect for the hot days in Poland. Cucumbers are rich in water and electrolytes which makes them great for hydration. They are also nice and cooling when served chilled.
Sour cream is another ingredient that really soothes the stomach on a hot day. While some people choose to make mizeria out of just cucumbers, others add ingredients like dill, white onion, lemon juice, sugar or vinegar to the mix.
If you check out my mizeria recipe, you will see that making the salad takes just 5 minutes. Most of the time is spent peeling and cutting the cucumbers. The recipe is that easy and fast.