Traditional Polish Recipes With A Romantic Twist
Watch the video… and Make Sure Your Sound Is Turned ON!
Spoil your loved one with the most amorous dishes the Polish cuisine has to offer!
Enjoy Your Polish Themed Dinner Date. Even If It's Your First Time… In The Kitchen!
As we all know, the way to one's heart is through their stomach. Sharing food brings people together and creates a loving, heart-warming atmosphere that allows for the romance to flourish.
And Karolina and Patryk know it better than anyone else – in this mini e-book they show us how to impress your significant other with the most appetizing, mouth-watering dishes.
The recipes in this cookbook are authentic Polish dishes that have been passed on through generations – and who doesn't love the idea of trying new flavors and national dishes that withstood the test of time? 
Hello Karolina, Unfortunately my Matka and Babcia never taught us the language...specially how to write the language. I want to thank you for my cookbooks that arrived today. I cannot wait to share with my brother and my cousin. All three of us love Polish food and at least recognize the names of dishes. LOL. Thank you again. I wish you and yours the best.
I got the 5 cookbooks today. Just in time to mail them to my family for Christmas. It looks really good. Can't wait to sit down and read it. They came so fast I couldn't believe it. I'm going to send one or two of my mom's recipes along with the book along with a little family history.
I found your blog less than a year ago. My grandparents didn't write down many recipes, so I'm excited to try them. I'm lucky I live in a city that has two authentic Polish markets and one restaurant. It will be nice to cook more Polish food at home.
Polish Foodies recipes are amazing and so accurate, the long lost recipes that weren't handed down you can find here. So good, try the Perogi recipe, it doesn't disappoint.
Thank you for setting up this website! I appreciate all of your hard work. You are such a wonderful connection to my Polish roots.You are doing so much good in the world. My heart aches for my deceased mom and grandma (Polish). I don't get to spend time with them now, but you have provided me with an outlet to practice my Polish heritage. I thank you from the bottom of my heart. I love the fellowship that you have provided through your site. Also, my priest is Polish and with your recipes, I am able to give authentic Polish food to him! Hugs to you Karolina. Merry Christmas and a very Happy New Year to you.
This website has helped me in staying connected with my roots though cooking thank you Karolina
Karolina, I must say, I think what you are doing is fantastic. While I know I'm not 100% polish, I grew up with a very polish grandfather who also spoke fluent polish. I learned a few words, but they were the not so nice ones, lol. Every holiday we had a huge spread of all the traditional favorites. Everything from perogies to kielbasa. My husband's family is Italian, and he had tried and didn't care for either of those until he came to a Christmas dinner with my family. My grandmother made 5 different perogie fillings along with her kielbasa and sour krout with apples. He doesn't like sour krout, but I couldn't keep him out of it. I don't like it by itself, but if my grandmother makes it with the kielbasa and apples, and it cooks in the crock pot all day, YUM! I love reading your emails, I will be looking forward to 🍩 Day!My aunt and I get together or video chat and celebrate both dates! (Gives us a good excuse to splurge on the sweets!) Thank you again,
I am an American and my mom was Polish. Her mother became ill when my mom was 10 some missed her formative years of being with her mom in the kitchen. For some reason her cousins Margaret and Deloris suffered the same fate so none of my family matriarchal chain knew much about cooking. They would talk about their babcia's cooking and the food they keen as children, but they purchased it from local grocers. It was important to me that our daughter know her family history and food so your blog and pinterest site have meant the world to me. Now if I could just find the recipe for the roast pork served at all our family weddings!Thank you
Dear Karolina,I read your recipes quite often but I remember many that have been passed on to me by my mother. She was not the best cook since we were taken to Germany as slave laborers and my parents had to work for a German farmer. We come from Wolyn, Poland and when I was six years old, we were taken to Germany. We experienced hunger and cold. My parents were forced to work on a German farm where my father died of overwork. My mother became a widow with 4 children in a strange country and strange language. We were liberated in 1945 and my mother remarried. In 1949. When I was 12 years old, we were able to immigrate to the United States. We grew and worked hard and prospered. During World War 2, there was very little food available but mother remembered all the wonderful recipes that she had learned from her mother when she was a young woman. So pierogi, nalesniki, placki kartoflane were one of her favorites and this knowledge was passed on to me and my sisters when we were young women. To this day, we cook our wonderful Polish food. and observe Wigilia at Christmas time as well as Lent during Easter. So this is my story and I just wanted to share it with you dear Karolino.I enjoy making your recipes as they may be a bit different from the ones that I have made.
Hello KarolinaI enjoy the contents of your communications. I was born in Chicago on the south side in 1949. I am Lithuanian on my Father's side and Sicilian on my Mother's side. Our families were great cooks. My Father made perogies and other Polish delicacies, so very delicious. There was a Polish Restaurant on the Indiana border called Warsaws, they had the best smorgasbords. I read recently where they have now closed after a run of over 50 years. What I miss about those times is how food was a community glue. We had many Polish friends and the nationalities all blended well. Sharing recipes and meals which took us all back to our origins; how I miss those times. Now I am in Phoenix area and try to enjoy a Polish meal as often as I can. Your love of your culture shows, don't think you are not making a difference. We not only hunger for the food but the memories which you have awakened. Thank you
Recipes on Polish Foodie's has brought back priceless cherished childhood memories of Polish foods like my mother and Cioci made! I love these Polish websites!
Your Polish Foodies Cookbook (paperback) was a big hit with my sisters. I gave up my copy to my sister-in-law, so I would like to purchase one more copy for myself. How would I do that?
While I haven't yet purchased any of your cookbooks, I am glad to know that there exists a community of Poles that are just as interested in keeping all of these traditions alive. My grandmother on my father's side was the first of our family to come to America. While I didn't understand everything that was going on at the time, I do miss the celebrations around the meal table. My father carried on the tradition as best he could and the torch has been passed on to me. Our family didn't have an extensive menu of authentic dishes, but I'm learning with the help of my wife what's out there. Humble ingredients prepared with love produce fantastic flavors and wonderful results. Keep up the good work, I enjoy everything I read!
Received my traditional recipes book today and it's wonderful. Half of the recipes are very similar to my mother's cooking and the other half I have not tried. My mother immigrated to Canada after the Second World War and so I think her experience of Polish cuisine was arrested in 1942 when the Germans took her to Czechoslovakia for slave labour. It seems to me that Polish Cuisine continued to evolve to what it is today and I very much look forward to try those recipes that I am unfamiliar with. Thank you to you both for creating such a beautiful book.
I like Polish cuisine because it reminds me of my childhood in Chicago I love sweet farmers cheese pierogi and nalesniki, they are comfort foods I like Polish food is best because it keeps me connected with my ancestryIf I were to recommend this blog, I would let people know of the frequent communication via email along with a great recipesI appreciate this website/blog is available since I am connected to very few Polish resources. The Polish club I belong to in Green Bay Wisconsin has not met in person for over two years.Thank you
As a Canadian of Polish descent, my Babcia also was the one that taught us Polish. Since her passing, most of the recipes she taught my aunts are lost. Your cookbooks are a treasure chest for many who yearn to have those recipes back. Thank you and hope to visit Poland one day to experience my heritage.
Thank you so much. It is so hard to find "authentic" Polish recipes like my grandmother used to make, and unfortunately when she passed, she took her recipes with her. she did everything just by cooking. She had no written recipies.....So I was so happy to find your group! Thank you again.
Oh thank you Karolina. I really appreciate it. Have a great weekend! And by the way, I love your cookbooks. Every time I try one of your recipes, it reminds me of my mom. She always cooked Polish food for our family but from her memory. Consequently she did not leave me any written recipes. Now when I try your recipes I produce meals that are so similar to her. Thank you from us.
This beautifully curated collection of traditional, fail-proof recipes will set the mood for your next date night in. Make your loved one feel special with these extraordinary recipes.
And here is a little preview of the delicious dishes you will learn to prepare:
Juicy prunes wrapped in bacon – luscious, moreish finger food that will make your mouth water

 

Legendary Polish dumplings "pierogi" with fruit – the most famous Polish dish abroad

 

Vegan version of gołąbki with tomato sauce – so delicious that it will make you fall in love with cooking
Hearty veal stew with kopytka and beetroot – original mix of ingredients and flavours, rarely seen in other national cuisines
And for the dessert: classic baked apple with farmer cheese – an affordable and easy way to spice up your romance!
Putting together a masterly 3-course meal can be intimidating, but it doesn't have to be difficult.
Forget about scrolling through endless recipes online, trying to find the perfect ones for the occasion – Karolina and Patryk selected the most romantic ideas and organized them into perfect menus.
Each of the three dinner propositions consists of a starter, main course, and an exquisite dessert – all in complimentary flavors and aesthetics. 
Menu Set 1 – "The original taste of Poland"
The most traditional menu set with the dishes known to every Pole. These all-time favorites rooted in Polish heritage will make you lick your fingers clean! Bacon, prunes, pork chops, sour cream… Are you getting hungry yet?
Menu Set 2- "Romantic Polish Dinner For Vegans"
Show love and compassion not only to your partner, but also to the animals and planet – these plant based dishes are a perfect choice for those who opt for a meat free dinner. Start with the legendary pierogi (here: filled with berries), followed by buckwheat and champignons wrapped in cabbage leaves and finish with the fruity, jelly-like kisiel.
Menu Set 3- "Polish Fine Dining You Won't Forget"
Perfect choice for the gourmets with a developed taste palate looking to impress their loved one. Spectacular beef tatar for a starter, soft veal with kopytka as a main course and a baked apple to finish the dinner in style. When you prepare this extravagant menu, your partner will know it's a special night. Those decadent, sophisticated flavours will never be forgotten!
And why not turn the grocery hunt into a romantic prelude to your special dinner for two? Each menu set is accompanied by a detailed "shopping list", helping you to organise your visit to the market and to keep things on schedule. This way you will spend less time running between the aisles, and more looking into each other's eyes!
Why "Romantic Dinner mini-Cookbook
is an absolute must-have:

Perfect for the last minute dates: This e-book cookbook will reach you in an electronic form right after the purchase.
Practical arrangement of the recipes: The recipes are organised into 3-course meals ideas, providing perfect sets and saving you time in selecting the right combinations.
Inspiring photos: mouth-watering colour photos provided with every recipe – perfect as food presentation hacks!
Traditional dishes: The authors were born and raised in Poland and have gathered recipes passed on in their families through generations. This cookbook will give you a taste of authentic cuisine enjoyed through centuries, and known to every Pole.
Cultural background: Fascinating insight into Polish mentality.
Captivating style: language full of joy and love for food.
Variety: Different recipes that suit all kinds of tastes, cookery levels and culinary preferences. 
Stimulation: Plenty of inspirations to show your love.
Delicious, fail-proof meals: Your partner will be asking for seconds, because these exquisite dishes will please anyone's palette.
Romantic approach: Recipes which will take your relationship to the next level. This cookbook is more than just recipes. It's a guide to create a romantic evening and a beautiful experience at home, and to spice up your love life without even leaving the house.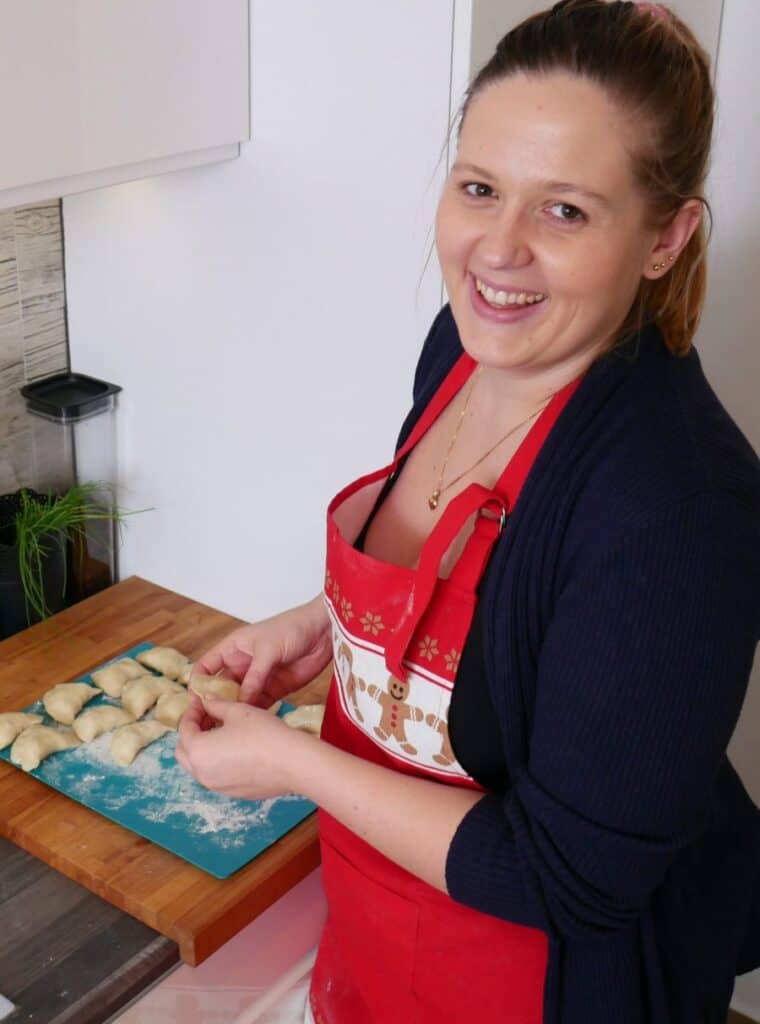 The authors of this romantic mini-cookbook, Karolina and Patryk Klesta, are the best proof that love goes hand in hand with the full belly. Having travelled the globe and visited over 50 countries, they decided that nowhere else felt like home. They came back and decided to show their passion for the national cuisine to the rest of the world. 
Their blog and the Facebook group Polish Foodies have been inspiring thousands of people.
Easy and fast purchase – the book will reach you in an electronic form right after the purchase.
Each menu set is accompanied by a detailed "shopping list", helping you to organise your visit to the market and to keep things on schedule.
Mouth-watering, color photos provided with every recipe, making the book not only practical to use but also visually appealing.
Intuitive, straightforward and easy-to-follow instructions which are achievable for any home cook; all the dishes can be prepared with very little practice and patience.​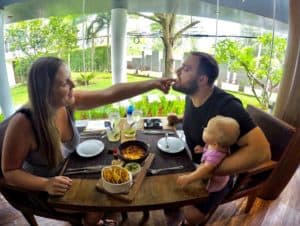 If you feel inspired by this mini e-book and would like to learn more about traditional Polish cuisine, check out Karolina and Patryk's other cookbooks: Polish Breakfast Cookbook, Polish Christmas Cookbook, and the comprehensive Polish Foodies Cookbook.
Whether you want to impress your new date or surprise your long-term partner, this book will be the source of inspiration for anyone touched by the Cupid's arrow. Because all you need is love… And some delicious food to go with it!
Embark on a spectacular culinary journey that will stimulate your buds and warm up your heart!