Polish food is incredibly tasty and while there are loads of fine dining options in the country, one of the best ways to experience Polish cuisine is by indulging in some of the world famous Polish street food.
You will find that Polish street food is becoming increasingly popular in all the big cities of Poland. It wasn't always the case as people in Poland generally prefer a home cooked meal. The fast food scene is changing though. Krakow in particular has developed a name for some of its legendary street food. The street food comprises both traditional snacks and Polish fast food.
From zapiekanka to kielbasa, the options are numerous. You can even find hot Polish donuts here. These stalls are great especially on cold days where you want a warm / hot snack for the way home.
1. Zapiekanka
Zapiekanka or the Polish open-faced sandwich is one of the most popular Polish street food that you will find. It is a rather simple dish to make at home but it is well-loved by both adults and children.
The best part about zapiekanka is that it is usually served hot. This means that the bread remains crispy and pairs really well with the variety of toppings that are layered on top. The most popular option is mushroom, cheese, and ham. There are however vegetarian options on the menus too.
Zapiekanka is a cheap and filling meal which is another reason why it is so popular.
2. Kanapka
The Polish kanapka are famous all across the country. They are a type of open faced sandwich but differ from the zapiekanka. Polish kanapka uses a base of bread or a roll. It is not baked like zapiekanka which means that they are really quick to make.
One of the reasons why kanapka is one of the most popular Polish street food is because of the variety of options that are available. If you are curious about the different options when it comes to toppings, I highly recommend taking a look at my Kanapka recipe. I've detailed both the sweet and savory options that you can make at home.
3. Bułka Z Pieczarkami / Bułka Po Warszawsku
You've probably already guessed that many of the popular Polish street food has a bread base. The bulka z pieczarkami is a mushroom roll that is pretty popular too. The stuffing in this roll is made using mushrooms and onions.
There are other options when it comes to the bread roll. The stuffing can include sausages topped off with cheese and or sour cream. You'll find that bulka z pieczarkami is usually served hot. They are nice and crunchy and are paired with ketchup and mustard.
4. Polish Hot Dog
You've not truly tasted Polish street food till you've had a Polish hot dog. They are pretty easy to make at home, so check out my Polish hot dog recipe if you are curious.
Polish hot dogs are pretty similar to regular hot dogs. They are made with freshly baked bread rolls and stuffed with Polish breakfast sausage. Toppings that are served along with the sausage include veggies like tomatoes, onion, cucumbers, dill pickles, salad, and sauerkraut. Popular sauces used include mayo, ketchup, mustard, and garlic sauce.
The best part about Polish hot dogs is that they form a very filling and particularly healthy meal or snack. They are easy to eat on the go and are relatively cheap Polish street food.
5. Maczanka Po Krakowsku
Maczanka po krakowsku was one of the most popular Polish street food items before the world wars. Like the name suggests, this delicacy originated in Krakow. Maczanka po krakowsku can be served both as open faced sandwiches and regular sandwiches.
These sandwiches are made using kaiser rolls that are soaked in pork neck sauce. They are made of pulled pork and served with ogorki kiszone.
You can actually make this at home very easily. Check out my maczanka po krakowsku recipe for all the tips and tricks to make it perfectly.
6. Knysza (Polish kebab)
Kynsza or the Polish kebab is one of the Polish street food items that you really should try. Inspired by the kebabs in Turkey, kynsza is a kebab that is infused with Polish condiments. The bread is sliced, toasted, and stuffed with vegetables like tomato, cabbage, and cucumber alongside the kebab or cutlet.
One of the reasons why kynsza is so popular is because it is one of the cheapest Polish street food. It is really tasty and is filling enough to be considered a meal.
Plus it comes with vegetables which when compared to many of the other Polish fast food makes it relatively healthy.
7.
Cebularz Polish Onion Roll
Another great item when it comes to Polish street food is the cebularz or the Polish onion roll. This particular delicacy originated from the Lubin province of Poland.
Cebularz are pretty popular Polish street food. It isn't exactly fast food because it does take time to make but they are a healthy snack and can be paired with any meal including breakfast.
The round-shaped Polish flatbread is usually topped with onion and poppy seeds. It is the onion that gives the bread its name. The beauty about adding onion on top of the roll is that it caramelizes beautifully and really brings out the flavor of the bread.
8. Obwarzanek from Krakow
One of the most popular Polish street food comes straight from Krakow. Obwarzanek is a braided bread that is shaped like a ring. Unlike many of the other different types of bread, this one is first boiled and then baked.
The toppings of the obwarzanek are very simple. Usually, it is just salt with either sesame or poppy seeds. These seeds are added just before the bread is baked.
Since the obwarzanek is boiled before it is baked, the bread gets an interesting chewy texture. In a way, the obwarzanek is very similar to a bagel.
If you walk about the streets of Krakow, you will find these stacked high on blue metal carts which are usually at the center of town.
9. Kiełbasa Polish Sausage
Kielbasa technically refers to any meat sausage in Poland. They are very popular Polish street food. These sausages can be made out of chicken, turkey, beef, veal, or other meats that are used regionally.
Kielbasa is also well-loved when it comes to whipping up a quick meal at home. Many Polish recipes use kielbasa in them.
There are various different types of Polish sausages and they are made of different types of meat and seasoning. One of the most popular ways to eat kielbasa as street food is with fresh bread and mustard or ketchup. Don't forget to check out my detailed post on the best side dishes to pair with kielbasa too.
10. Pączki Polish donuts
Polish donuts are one of the most loved Polish street food across the country. Served hot, these donuts are filled with a variety of sweet fillings which include jam, pudding and nutella. The variety of donuts that are available often leaves people a little confused on which one to pick.
Since they taste best hot, these make the perfect street food. People will catch a couple of donuts to go and will be served them straight off the stove. Kids in particular love Polish donuts and you can imagine why. If you prefer donuts on the sweeter side, you can ask for powdered sugar to be sprinkled on the top.
You can even make these delicacies at home. Check out my Polish donut recipe for more details on the best way to make them.
11. Oscypek Polish Highlanders' Cheese
Not everyone has heard about oscypek. Oscypek is a Polish highlanders' cheese that is available in the Tatra mountains. Lately, this cheese has made its way into the city markets and has become one of the most popular Polish street food.
Made of salted sheep milk, oscypek is a delicacy. It is usually fried and served with a topping of cranberry jam. Some people prefer to have the cranberry jam placed at the side rather than on top so make sure you state your preference.
The salty cheese pairs extremely well with the tarty taste of the cranberry jam. Served hot, this is a perfect treat on cold winter days.
12. Rogal Świętomarciński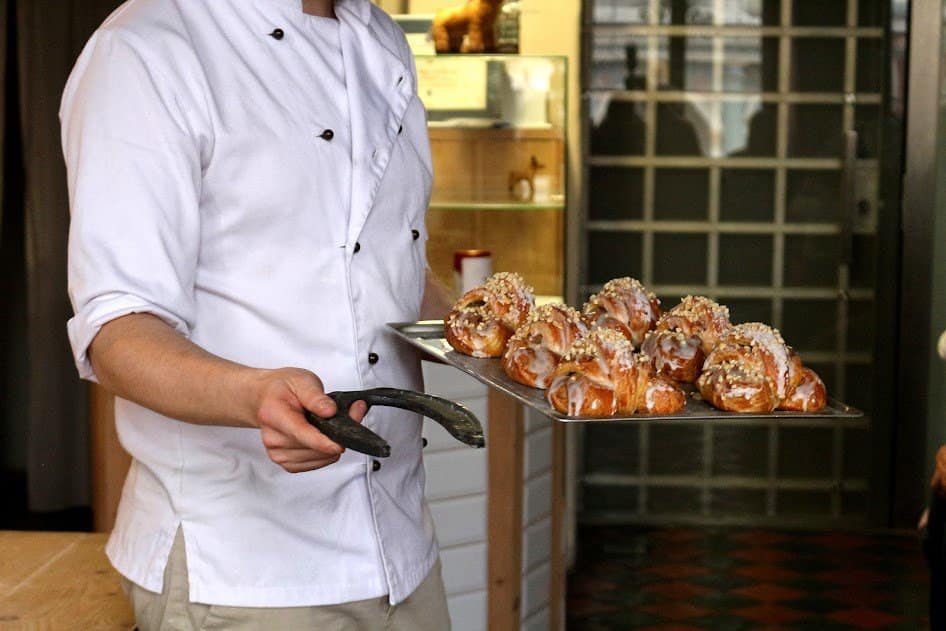 Rogal świętomarciński is also known as St. Martin's croissant. It is usually made in Poznan and other parts of Greater Poland.
Unlike the traditional French croissant that you are used to, rogal świętomarciński is very different. The layers of this croissant are topped off with a poppy seed filling which gives the croissant a different texture and taste.
The croissant is often topped off with icing and nuts which means that most of the kids love it.