There's nothing more Polish to have for breakfast than… kanapka. Polish open-faced sandwiches are eaten all over the country not only in the morning but also as a snack, or supper. I would say 90% of Poles eat kanapka at least once a day. Keep on reading to get the authentic Polish breakfast sandwich recipe.
The Phenomenon Of Polish Kanapka
According to historians, Poles borrowed the idea of an open-face sandwich from the French. They probably haven't expected this simple dish would become one of the most popular in Poland.
Poles love kanapki. If they make too many of them for breakfast they simply, combine two open-face sandwich into one. Then they can take it to school or to work and have it for lunch.
You can't really buy open-face sandwiches in Poland. It's something everybody eats at home. It's too cheap to sell in the restaurant or grocery store. I've literally seen open-face sandwiches in a store once in my life. It was in Cieszyn (the town divided between Czechia and Poland).
Kanapki are often served as a free starter (czekadełko) in restaurants tough.
One of the most uniques kinds of open-faced sandwiches is zapiekanka. It's always served warm and it's one of the most popular Polish street foods.
How To Make Polish Breakfast Sandwich With?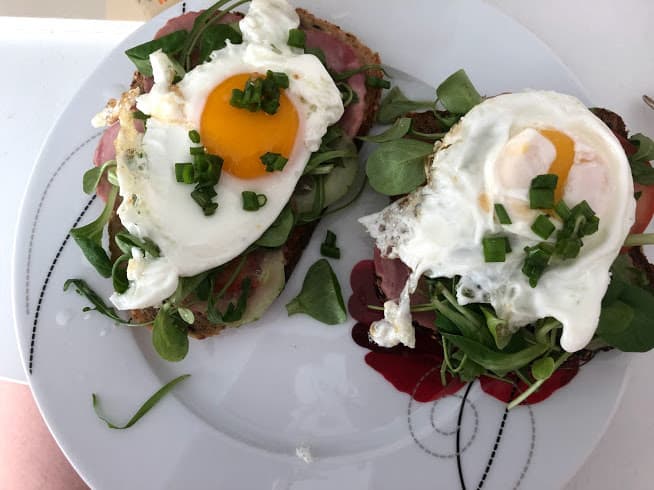 You can make your kanaka, Polish breakfast sandwich with literally everything. The base is always bread or a roll. Then you can either spread them with butter or not. Here are the most popular ingredients that you can put on top of your kanapka:
Sweet Polish Breakfast Sandwich:
jam
plum jam (powidło)
Nutella/ chocolate spread
cottage cheese + sugar
cottage cheese+ jam/plum jam
cheese+ jam
butter+sugar
butter+honey
Savory Polish Breakfast Sandwich: 
It's quite popular to put various sauces on your kanapka, including ketchup, mayonnaise, horseradish, mustard, or Polish garlic sauce.
Authentic Polish Breakfast Sandwich Recipe
As I mentioned before, you can put anything you want on your kanapka, so this recipe is just a general direction you should follow.
Polish Breakfast Sandwich Kanapka Recipe
Ingredients
a few slices of bread/ roll / baguette
butter
a few slices of veggies (radish, tomato, cucumber, chives)
ham / sausage
cheese / cottage cheese
boiled eggs
ketchup/ mayo/ mustard
Instructions
Spread the bread with butter.
Put your own combinations of toppings on top.
Eat right away!
Pin For Later: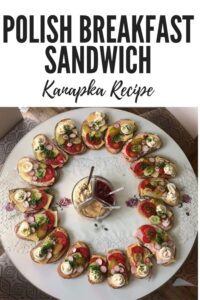 Did you like this Polish breakfast sandwich kanapka recipe? Let us know in the comments below!