Looking just like kopytka, the pierogi leniwe are classic Polish dumplings made of farmer's cheese. Easy to make in less than 20 minutes, here is my babcia's Polish lazy pierogi recipe.
Why Is It Called A Lazy Pierogi Recipe?
Pierogi leniwe are made with only three main ingredients – cheese, flour, and eggs. They're easy enough to whip up for a quick dinner any time you want, or for a quick snack when the kids come home from school.
In fact, these cheesy dumplings can almost be thought of as an express dinner. That's why they're called pierogi leniwe and the kluski leniwe recipe is an all-time favorite with many Polish households.
What Shape Are Lazy Pierogi Made In?
The traditional Polish lazy pierogi recipe calls for the pierogi to be diamond-shaped just like the popular Polish kopytka. You create the shape by rolling the dough out a quarter-inch thickness. Cut the dough into long log that are about an inch thick, and then into smaller diamond-shaped pieces that are half an inch wide.
What Kind Of Cheese You Use In Pierogi Leniwe Recipe?
The cheese traditionally used for making pierogi leniwe is called Twarog (ser biały). It is a type of farmer's cheese or cottage cheese. See my homemade farmer's cheese recipe.
There are many Polish dishes with ser biały (white cheese). Some of them are:
Tips For Making This Lazy Pierogi Recipe
You can use a potato masher to mash the cheese fine or run it through a mixer.
Make sure you add the pierogi leniwe to water that is already boiling.
Depending on the size of your pot, boil only 10 to 20 pierogi at a time.
While the pierogi leniwe are boiling, stir the water a few times to ensure they don't stick to the bottom.
Once removed from the pot, drizzle melted butter on the kluski leniwe so that they don't stick to each other.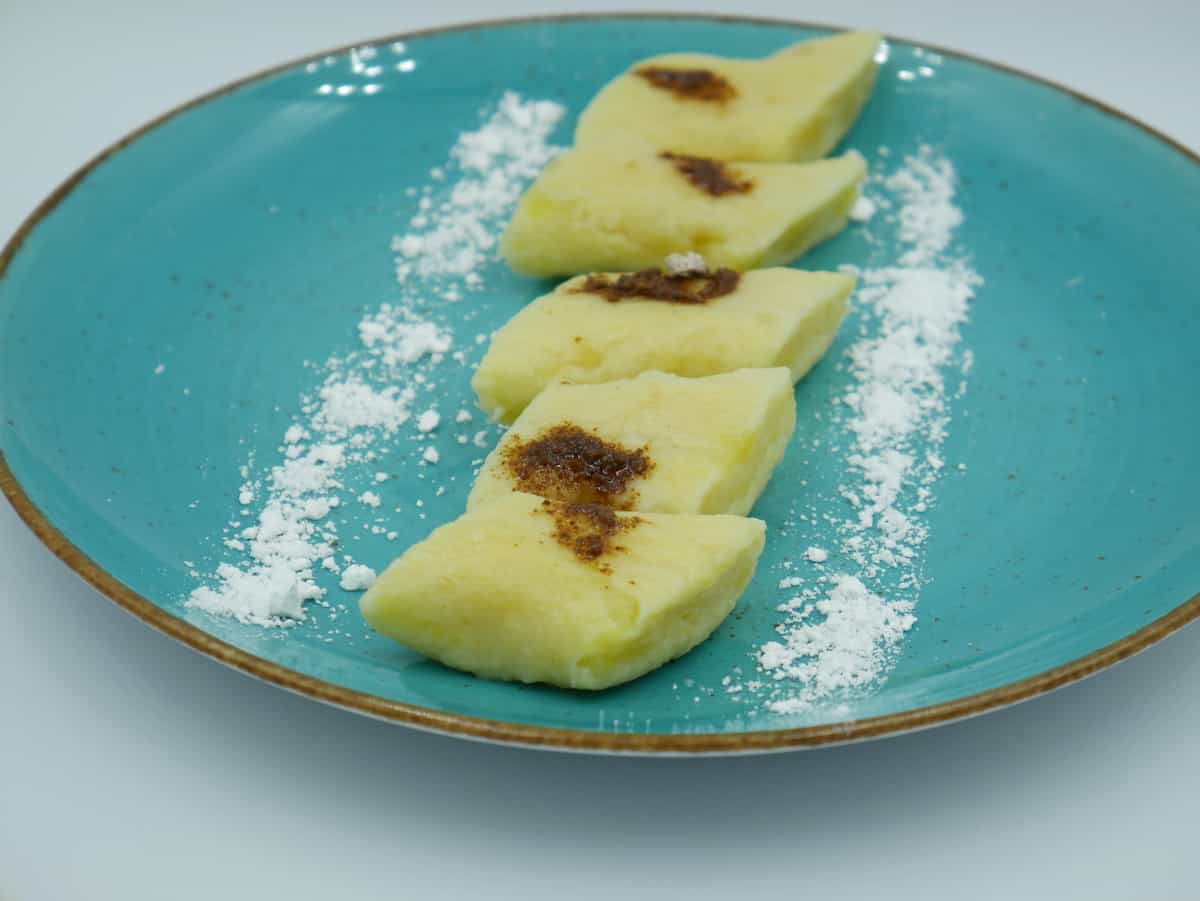 Pierogi Leniwe Recipe: Frequently Asked Questions
What Does Leniwe Mean?
Leniwe is a Polish word that means lazy.
What Is The Difference Between Kopytka And Pierogi Leniwe?
Kopytka and pierogi leniwe look similar in shape but they are different. Kopytka are made with flour, eggs, and potatoes, while pierogi leniwe are made with flour, eggs, and cottage cheese, or farmer's cheese.
Kopytka are usually served as a savory dish along with goulash etc, while lazy pierogi are served sweet.
How Will I Know When The Pierogi Leniwe Are Cooked?
The pierogi are cooked when they rise to the surface of the pot.
I Can't Find Farmer's Cheese? Can I Use Any oOher?
If you can't find cottage cheese or farmer's cheese, use any other full-fat or semi-fat cheese to make these delicious pierogi leniwe.
How Should I Serve The Pierogi Leniwe?
Serve the pierogi leniwe with a topping of crumbs fried in butter. Other toppings you can use are
cinnamon
sugar
sour cream
fresh fruits (for example blueberries, strawberries, raspberries)
tomato sauce
Polish fried sauerkraut (kapusta zasmażana)
How Do I Prepare The Breadcrumbs As A Topping?
To use breadcrumbs as a topping, add a few tablespoons of the breadcrumbs to a pan with equal tablespoons of butter and fry them for a few minutes.
Pierogi Leniwe Polish Lazy Pierogi Recipe
Yield: 15 servings
Pierogi Leniwe Polish Lazy Pierogi Recipe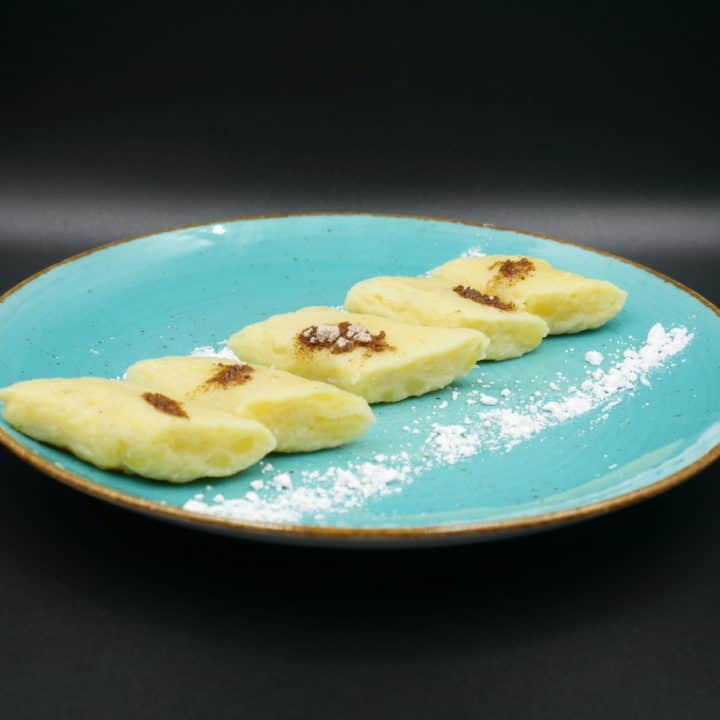 The pierogi leniwe are classic Polish dumplings made of farmer's cheese or cottage cheese. Easy to make in less than 30 minutes, here is my babcia's Polish lazy pierogi recipe.
Ingredients
16 oz (500g) of farmer's cheese
1 cup (140g) of all-purpose flour
2 eggs
water, as required
salt, to taste
oil, as required
Optional Ingredients
2 tablespoons crumbs
2 tablespoons butter
Instructions
How To Make Pierogi Leniwe Dough?
Separate the egg whites from the egg yolks.
Using a fork, mix egg yolks with farmer's cheese. Make sure, there are no lumps.
In a separate bowl, beat egg whites with a bit of salt until stiff.
Start adding the egg whites' foam to the egg yolks mixed with cheese really slowly. Stir in one direction only.
When you are done, repeat the process with flour. Add it really slowly, mixing all the time. You may use a spatula or hand to mix.

How To Form Pierogi Leniwe?
Flour a pastry board (or a worktop) and place the dough there.
Cut the dough in half.
Using your hands, roll out the first piece of the dough into a long log shape. It should be about 1 inch thick.
Cut the roller into smaller pieces (each should be about 1/2'' long).
Repeat with the second piece of the dough.

How To Cook Pierogi Leniwe?
Pour the water with a bit of salt into the big pot. Bring to boil.
When the water is boiling, carefully throw your lazy pierogi into the pot. You won't be able to boil them all in one go, depending on the pot, throw 10-20 each time.
Carefully stir the water with a spoon to make sure the dough doesn't stick to the bottom of the pot.
Using the slotted spoon, take out your lazy pierogi as soon as they go up to the surface of the water.
Notes
Make sure the water is boiling before you add the pierogi leniwe to it.
Top with fried breadcrumbs.
Recommended Products
As an Amazon Associate and member of other affiliate programs, I earn from qualifying purchases.
Nutrition Information:
Yield:
15
Serving Size:
1
Amount Per Serving:
Calories:

451
Total Fat:

34g
Saturated Fat:

18g
Trans Fat:

1g
Unsaturated Fat:

11g
Cholesterol:

119mg
Sodium:

1039mg
Carbohydrates:

10g
Fiber:

0g
Sugar:

3g
Protein:

25g
These data are indicative and calculated by Nutritionix
Pin For Later:
Did you like this pierogi leniwe Polish lazy pierogi recipe? Let us know in the comments below!