Cheesecake is remarkably popular in Poland. In fact, there are different kinds of recipes that are handed down from generation to generation. Seromakowiec is a Polish poppy seed cheesecake with an earthy texture courtesy of the poppy seeds in the recipe. Polish cherry cheesecake looks and tastes absolutely amazing. The Golden dew Polish cheesecake is another popular favorite. All of these however are baked cheesecakes.
The Polish cold cheesecake or 'Sernik na Zimno' as we call it in Poland is an easy, no-bake cheesecake. The cool desert is really popular in summer because it is so refreshing. Unlike most American cheesecakes that you get in the market, Polish cold cheesecake has a slightly different consistency. It isn't quite as firm as its American counterpart. It is however packed with flavor.
Another important difference is that while American cheesecakes use cream cheese, Polish cold cheesecake is made with ricotta cheese.
When you cut a slice of Polish cold cheesecake you will see a clear demarcation of different layers. The rich cheesecake base, the fruits add the flavor, and the cool jelly tops it off.
In fact, some may even say that the cheesecake is rather patriotic since it has red and white colors are those of the Polish flag!
Polish Cold Cheesecake Recipe – Sernik na Zimno
Part I – Dissolve the jelly.
Dissolve 6 oz (170 gm) of jello according to the packet instructions. Every brand of jelly has its own instructions. It is important to follow them precisely. This is because if you add too much liquid the jelly will not set. Alternatively, too little liquid will leave clumps of jelly in the cake which will not taste good.
Part II – Beat The Icing Sugar With The Butter
Take ½ cup of butter and add 1 ½ cup of icing sugar. The butter needs to be soft. Hard butter will not combine well. You can't put it in the microwave or heat it on the stove either because we don't want the butter to be liquid. The best thing to do is to keep the butter out the previous night. Beat the icing sugar and the butter together until the butter goes from pale yellow to whitish.
Part III – Add The Ricotta Cheese
Add 10 oz (300g) of Ricotta cheese to the mixture and beat it once more. The Ricotta should combine with the butter mixture evenly. Make sure that there are no clumps remaining. This will change the texture of the cake.
Part IV – Dissolve The Gelatin
In a separate bowl combine 3 tbsps of gelatin powder with 2 tbsps of cold water. Stir it well until all the crystals dissolve.
Part V – Add It To The Cheese Mixture
Combine the gelatin with the cheese mixture and beat the batter once more. Make sure that the gelatin is well incorporated into it.
Part VI – Pour The Mixture Into An 8" Round Pan
Line an 8" round pan with parchment paper. This will prevent the Polish cold cheesecake from sticking to the bottom. It makes it extremely easy to remove the cake once it has set. Pour the mixture into the pan.
Part VII – Refrigerate For One Hour
Part VIII – Place Pitted Fruits And Cover With Cold Jelly
Once the Polish cold cheesecake has set, place washed and pitted fruits on it. Cover the entire top with cold jelly.
Part IX – Refrigerate For At Least 3 Hours. Serve Cold.
FAQ's About Making Polish Cold Cheesecake
Do I Really Need To Use Parchment Paper?
Unlike other cakes where you oil the baking pan, Polish cheesecake is soft in texture. This means that even after it sets you want to be really gentle when removing it. Parchment paper makes this process extremely easy and it is highly recommended that you use it.
What Fruits Can I Use For Polish Cold Cheesecake?
You can use a variety of fruits. Berries like strawberry, cranberry and blueberry are very popular. Just make sure that the fruit used is deseeded.
Is It Necessary To Use Fruits?
Not really. Sometimes it is difficult to get the right fruits or they are just too expensive during the season. In situations like this, people use plain jelly on top of the cake.
Is A Biscuit Base Recommended For Polish Cold Cheesecake?
A number of people choose to incorporate a biscuit base for the cake. It really boils down to personal preference. You can also use ready-to-eat sponge cake at the base too. It gives a different twist to the Polish Cold Cheesecake recipe.
Yield: 16 pieces
Polish Cold Cheesecake Recipe - Sernik na Zimno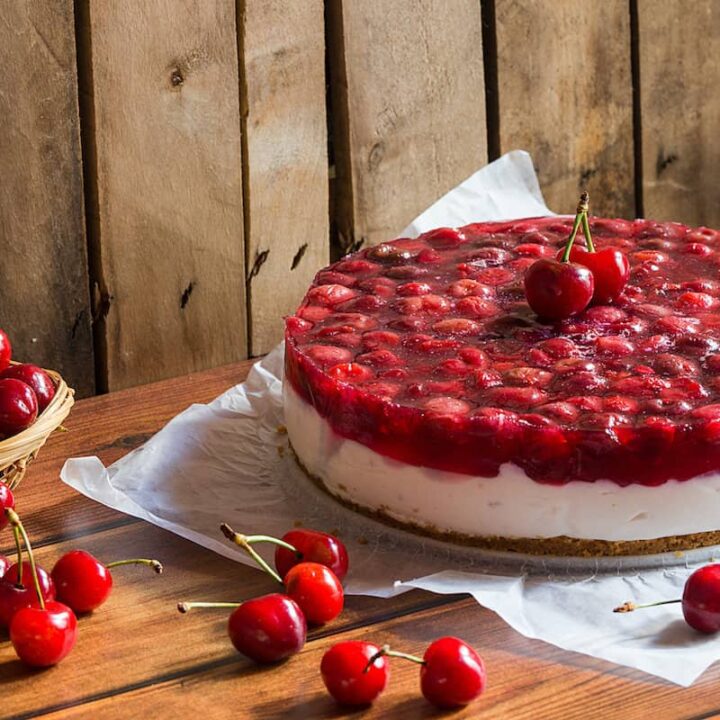 Total Time
3 hours
7 minutes
Ingredients
1 ½ cup of icing sugar
½ cup of butter
10 oz (300g) of ricotta cheese
3 tsps of gelatin powder
6 oz (170g) of jello
2 lbs (900g) of red fruits [optionally]
Instructions
Dissolve the jelly mix following the instruction on the package.
Beat icing sugar with butter until it changes color to whitish.
Add ricotta cheese and beat again.
Dissolve gelatin in 2 tbsps of cold water.
Add it to the cheese mixture and beat again.
Pour the cheese mixture into the 8'' round pan lined with parchment paper.
Refrigerate for 1 hour.
Place washed and depitted fruits onto the cheesecake.
Cover with cold jelly.
Refrigerate for at least 3 hours. Serve cold.
Notes
Some of the fruits that you can use:
strawberries
cherries
currants
raspberries

Remove the stones from the fruits and cut them into smaller chunks if necessary.
Recommended Products
As an Amazon Associate and member of other affiliate programs, I earn from qualifying purchases.
Nutrition Information:
Yield:
16
Serving Size:
1
Amount Per Serving:
Calories:

211
Total Fat:

12g
Saturated Fat:

7g
Trans Fat:

0g
Unsaturated Fat:

4g
Cholesterol:

39mg
Sodium:

124mg
Carbohydrates:

17g
Fiber:

0g
Sugar:

12g
Protein:

9g
These data are indicative and calculated by Nutritionix