Polish Cheesecake sernik recipe is the Pole's national good. Creamy, soft, rich, and delicious. I have never met anyone who wouldn't like it. Cheesecake is the king of all Polish cakes; no celebration can be held without it. There are kinds of polish cheesecake, and they all have a long history.
I will share my secrets for making the best Polish cheesecake in this article.
Cheesecake That Is Baked!
There are two things you need to know when it comes to Polish cheesecake. First, it is made of farmer's cheese and second, it is baked, to make cheesecake you will have to use the same farmer's cheese you would use for pierogi ruskie. It is the cheese that makes this cheesecake so creamy, rich in taste, and with a bit of a sour note.
Types Of Polish Cheesecake
There are many types of polish cheesecake. Although the core ingredients are the same, farmer's cheese, they differ in taste and look.
Polish Cheescake Sernik Krakowski
I think this one is the most popular of all the cheesecakes in Poland. It has the characteristics checker on top made of shortcrust. This gives it an authentic royal look.
And there is a reason behind the royal look of cheesecake: the king himself, Jan III Sobieski, brought sernik to Poland from the battle of Vienna (odsiecz wiedeńska) back in the seventeenth century. The bottom layer and the top layer are made of shortcrust, however, the top layer is specifically formatted into a checkered design.
Vienna Cheesecake – Sernik Wiedeński
This is the most elegant of all the cheesecakes. It is the original version, that arrived in Poland from Vienna. This cheesecake has no bottom or top layers of any kind. It is pure cheesecake butter baked.
I think this is the most difficult sernik to make. It tends to soak after baking and look a bit collapsed. It takes quite a lot of practice to master it.
Royal Cheesecake -Sernik Królewski (Warszawski)
There are two names that this cheesecakes goeas by, sernik królewski or warszawski . This translates to Royal or Warsaw Cheesecake.
This sernik is similar to german cheesecake and it is made of three layers; cocoa shortcrust, and cheese, and topped with another layer of shortcrust.
The shortcrust is grated on both, the bottom and top layers, this gives the cheesecake an even richer look and makes it taller. Some sources say it was called because of the rich look and expensive ingredients.
Golden Dew Cheesecake
It's my all-time favorite!
This cheesecake is creamy and has beautiful white foam on top with golden drops on it. Here's my Polish golden dew cheesecake recipe (follow the links).
A Popular Variation Of Cheesecake
Poles like to experiment with recipes and cheesecakes are no exception here. There are many variations of cheesecake today.
You can find cheesecake with meringue on top, canned peaches, poppy seed cheesecake, or even one that will look like a chessboard.
How Do I Make Polish Cheesecake Sernik?
There is one golden rule to remember when making sernik. You need to use cheese and eggs at room temperature. This prevents the cheesecake from rising too quickly, cracking, and then falling.
How To Prepare The Cheese Layer?
If your cheese is not creamy, grind it with the meat grinder (small holes) and incorporate it with melted butter. In a separate bowl beat egg yolks with icing sugar. Whisk eggs until the batter becomes fluffy and light yellow.
If you would like to add an extra aroma o your cheesecake now is the time. For Sernik Krakowski go with orange zest. Sernik Królewski will benefit from half a spoon of sweet almond oil. But all cheesecake will benefit from a vanilla extract.
Leave Egg White Last!
Now it's time to add egg whites. Whisk them in a separate bowl. Make sure the whites have a stable structure but be careful not to overbeat them. Gently incorporate it with the cheese. Egg whites give volume and air to your cheesecake.
Polish Cheesecake Recipe- From The Oven
How long do I need to keep my cheesecake in the oven?
Here comes another rule to remember when baking cheesecake. They like to be left alone, so try not to open the oven too often. Depending on the oven, it takes 60-70 minutes at 356 Fahrenheit.
When you see that the time has approached and the top of the cheesecake has turned orange to brown color, you can turn off the heat, but don't remove the cheesecake from the oven just yet. Give 5 minutes, and then open the oven slightly to let the steam out.
At this point half of your neighborhood will know you are baking something delicious; the smell of baked cheese is so yummy and so strong.
It is best to leave sernik for about 30 minutes in the open oven and let it cool down a bit like this. After that, place it somewhere safe to cool down completely.
If you can resist, and I know hard it could be, leave sernik in the fridge overnight. It tastes best when cold, and it is easier to slice too.
Tips For The Polish Cheesecake
How To Serve Cheesecake?
Cheesecake is best served by itself, it is so complete as a dessert it doesn't need any add-ons. But it will look and taste great with different kinds of toppings:
Melted chocolate
Strawberry moose
Canned peaches
Forest fruit jelly
Whipped fresh cream
Can I Store My Cheesecake For Later?
Cheesecake is the kind of cake that it tastes better the next day, or even 2 days after it is baked. Saying that it can easily last in the fridge for about a week, but I have never met anyone who managed to keep cheesecake this long.
However, if somehow, you end up with a decent amount of cheesecake, you might go ahead and freeze it. Store it for up to 3 months.
How To Thaw A Cheesecake?
Take your cheesecake out of the freezer and place it in the fridge overnight. It will be ready for the next day. Thawed cheesecake tastes the same as freshly baked one.
Polish Cheesecake Sernik Recipe
Yield: 20 servings
Polish Cheesecake Sernik Recipe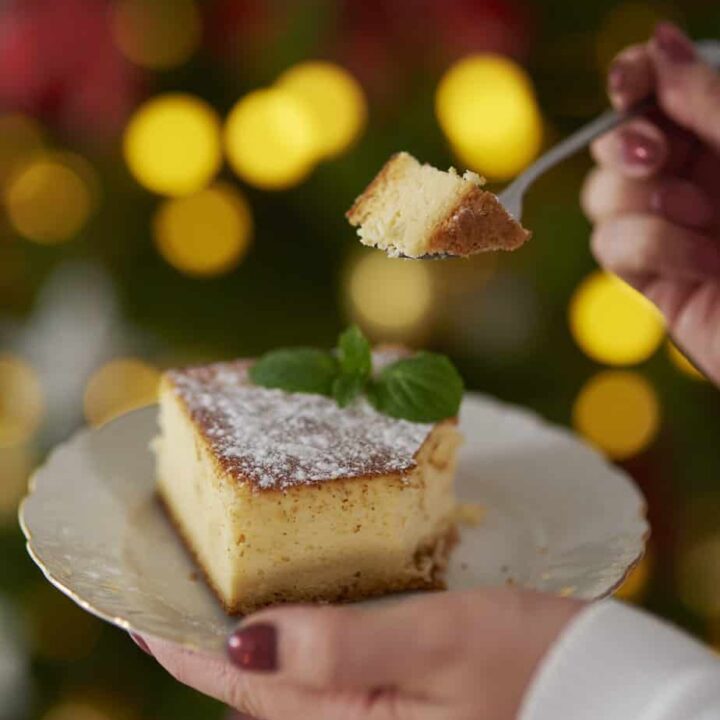 Polish cheesecake sernik is the cake you must try when visiting Poland. Once tasted you will want to try it again. Here is my recipe for you!
Cook Time
1 hour
5 minutes
Total Time
1 hour
20 minutes
Ingredients
Dough
3 ⅓ cups of all-purpose flour
1 cup (225g) of butter
1 tsp of baking powder
2 tbsps of sour cream
3 tbsps of sugar
cocoa (optionally)
Cheese layer
4 ½ lb (2kg) of cream cheese
1 ½ cup of sugar
8 eggs
4 tbsps of potato starch
6 tbsps of melted butter
Instructions
Preheat the oven to 356°F (180°C).
If you want to add raisins, soak them in warm water for about 15 minutes, then squeeze them out.
Knead all the ingredients for the dough (except for cocoa using your hands or food processor). Do it quickly because the shortbread dough needs to be cold.
Place the dough in the baking pan (14" x 9") lined with parchment paper.
If you want your sernik to look better, sprinkle cocoa on the dough (that will look like a brown line that divides the bottom and upper layer).
Start making the cheese layer by separating egg yolks from egg whites.
Beat cream cheese with egg yolks and sugar until sugar is dissolved.
Add potato starch and melted butter and beat again.
In a separate bowl, beat egg whites with a pinch of salt until stiff.
Using a spoon, carefully add the beaten egg whites to the cheese mixture. Stir in one direction, very slowly.
If you want, you may add raisins to the cheese layer.
Pour the cheese mixture on the dough.
Bake for 65 minutes.
Recommended Products
As an Amazon Associate and member of other affiliate programs, I earn from qualifying purchases.
Nutrition Information:
Yield:
20
Serving Size:
1
Amount Per Serving:
Calories:

238
Total Fat:

8g
Saturated Fat:

5g
Trans Fat:

0g
Unsaturated Fat:

3g
Cholesterol:

92mg
Sodium:

105mg
Carbohydrates:

35g
Fiber:

1g
Sugar:

17g
Protein:

5g
These data are indicative and calculated by Nutritionix