Kluski śląskie are one of the most popular add-ons to any kind of goulash. They are great alternatives to potatoes, kopytka, or pierogi leniwe. Silesian dumplings recipe is really simple. Even if you are not an experienced cook, you can easily make Polish kluski śląskie!
Easy to guess from the name, Silesian potato dumplings originated from Śląski (Silesia), a mining region located in the south of Poland. Right now, kluski śląskie are popular all over the country.
Tips For Making Silesian Potato Dumplings
Use Warm Potatoes.
That will make forming Silesian dumplings easier. You can use cold potatoes as well, however, you are risking having lumps in your kluski slaskie.
Always Use The Proportion 1:4.
Even though I am giving you the exact proportions in my Silesian dumplings recipe, you just need to remember the simple rule:
Divide cooked potatoes into 4 parts. Take out ¼ of potatoes and set aside. Fill the hole with potato starch. 
That's it.
What To Serve Kluski Slaskie With?
Any Kind Of Meat With Sauce.
Since Silesian dumplings are a bit dry when served solo, you need to eat them with juicy meat, or goulash.
When it comes to veggies, red cabbage salad or shredded beets salad are the best to have with kluski slaskie.
How To Store Kluski Slaskie?
In the fridge for up to 3 days.
In the freezer for up to 6 months. When you want to cook your frozen Silesian potato dumplings, don't defrost them but throw them to the boiling hot water while they are still frozen.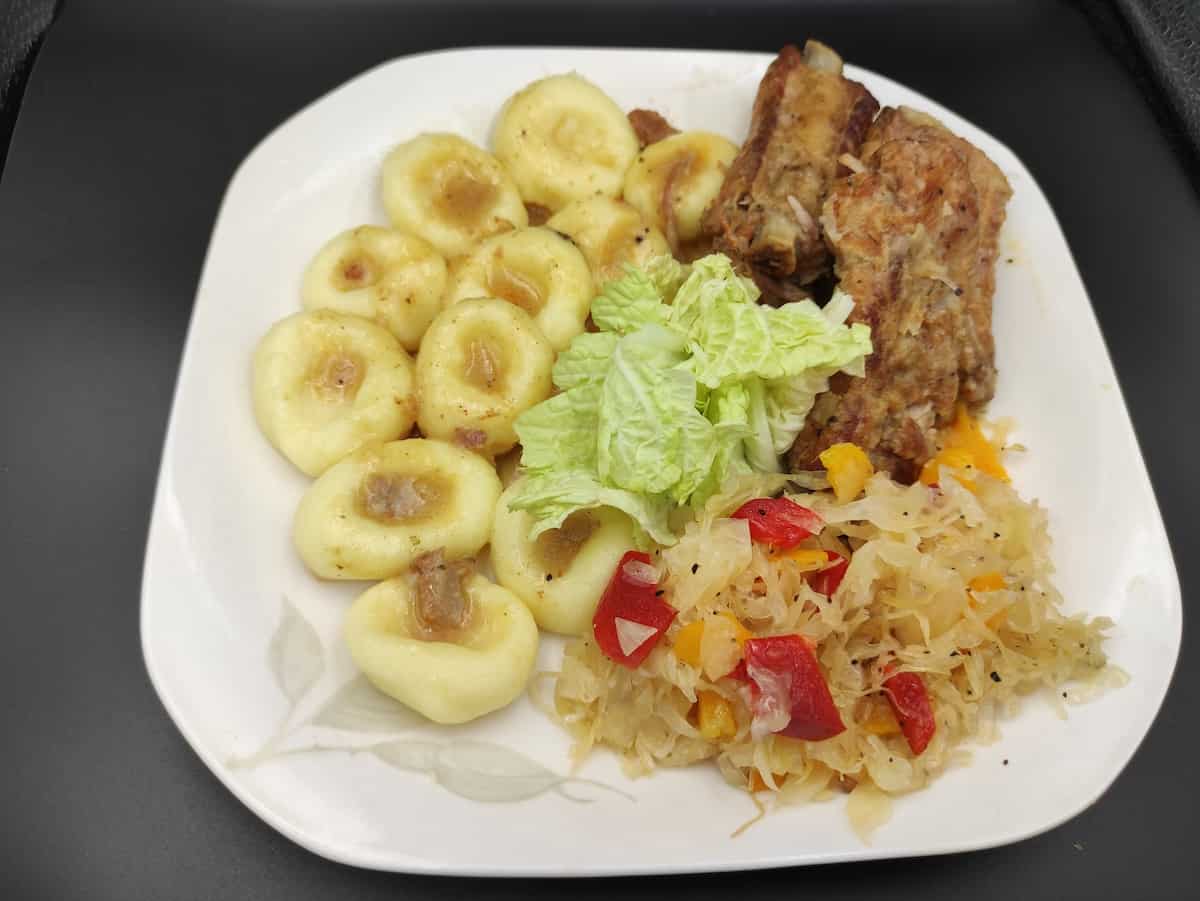 What's The Difference Between Kopytka And Kluski Slaskie?
They are both made of potatoes, however, you add potato starch to Silesian dumplings, while you add flour to kopytka.
Kluski Slaskie Silesian Dumplings Recipe
Kluski Slaskie Silesian Dumplings Recipe
Ingredients
6 big potatoes (1kg / 2.2lbs)
1 cup of potato starch
2 eggs
2 tbsps of oil
water, salt
Instructions
Peel and boil the potatoes in salty water.
When they are soft, drain the potatoes.
When the potatoes are still warm. Mash them carefully, making sure there are no lumps.
Place the potatoes in a big bowl and divide them into 4 parts. Take out ¼ of potatoes and set aside.
Fill the hole with potato starch. It should take as much as the potatoes you took out.
Add the remaining potatoes, two eggs, and mix until smooth.
Start forming small balls with your hand. Flatten each ball a bit, then make a small hole in the middle using your finger.
Boil the pot of water with a bit of salt. When it's boiling, add 2 tbsps of oil.
Gently throw kluski śląskie, one by one into the boiling water.
When they start floating, take them out with the slotted spoon.
Rinse kluski śląskie with cold water before serving.
Recommended Products
As an Amazon Associate and member of other affiliate programs, I earn from qualifying purchases.
Nutrition Information:
Yield:
6
Serving Size:
1
Amount Per Serving:
Calories:

340
Total Fat:

7g
Saturated Fat:

1g
Trans Fat:

0g
Unsaturated Fat:

5g
Cholesterol:

62mg
Sodium:

157mg
Carbohydrates:

63g
Fiber:

6g
Sugar:

3g
Protein:

9g
These data are indicative and calculated by Nutritionix
Pin For Later: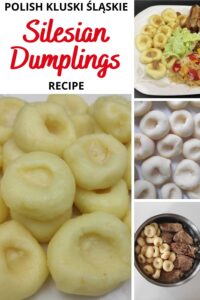 Did you like this Polish kluski slaskie Silesian dumplings recipe? Let us know in the comments below!