One of the most important celebrations in Poland, other than Easter and weddings, Christmas Eve in Poland is a lavish experience. With over 88% of Poland being Catholic, you know Christmas will be celebrated both devoutly and extravagantly.
Why Do Poles Eat Twelve Dishes To Celebrate Christmas?
There are many traditions associated with Wieczerza Wigilijna that have been carried down across the centuries. From starting the meal after spotting the first Christmas star to setting a place for sudden visitors or travelers, or having carp swim in your bathtub. There are also the Polish apples hung on the tree to symbolize a bountiful harvest or good finances in the coming year. Wigilia is one of many such traditions.
Christmas Eve Dinner or Wigilia (Wieczerza Wigilijna) is a full feast that ends the Advent season of introspection and fasting. It's usually celebrated before the Pasterka or Shepherd's Mass and consists of having 12 Polish Christmas dishes on the feast table.
Why are there 12 Polish Christmas dishes? Why not 5? Or 7? Or 14?
It's because the twelve dishes represent the twelve apostles of Jesus and the twelve months of the year.
12 is also a symbol of wealth in Poland, so having twelve dishes for the most important day means you will have prosperity in the year that follows.
And since we can't eat meat before Pasterka mass which is at midnight, these Christmas dishes are a feast for vegetarians, vegans, and fish-loving Poles.
What Are The 12 Traditional Polish Christmas Dishes?
1. Pierniki – Polish Gingerbread
A must-have among the 12 Polish Christmas dishes, piernik is a gingerbread that originated in the city of Torun somewhere in the 14th century. Spicy and full of flavors of ginger, cinnamon, and nutmeg, these chocolate-coated cookies are always served for Christmas Eve dinner.
If you don't see gingerbread cookies, you'll see some derivates such as the gingerbread cake made with a custard filling, old-style Polish gingerbread cake, or the traditional gingerbread soup. Once made with nuts and beer, the moczka soup is nowadays made with nuts and fruit juice. Warm and inviting gingerbread is the perfect dish to start the evening with!
2. Barszcz Czerwone Z Uszkami – Red Borscht With Dumplings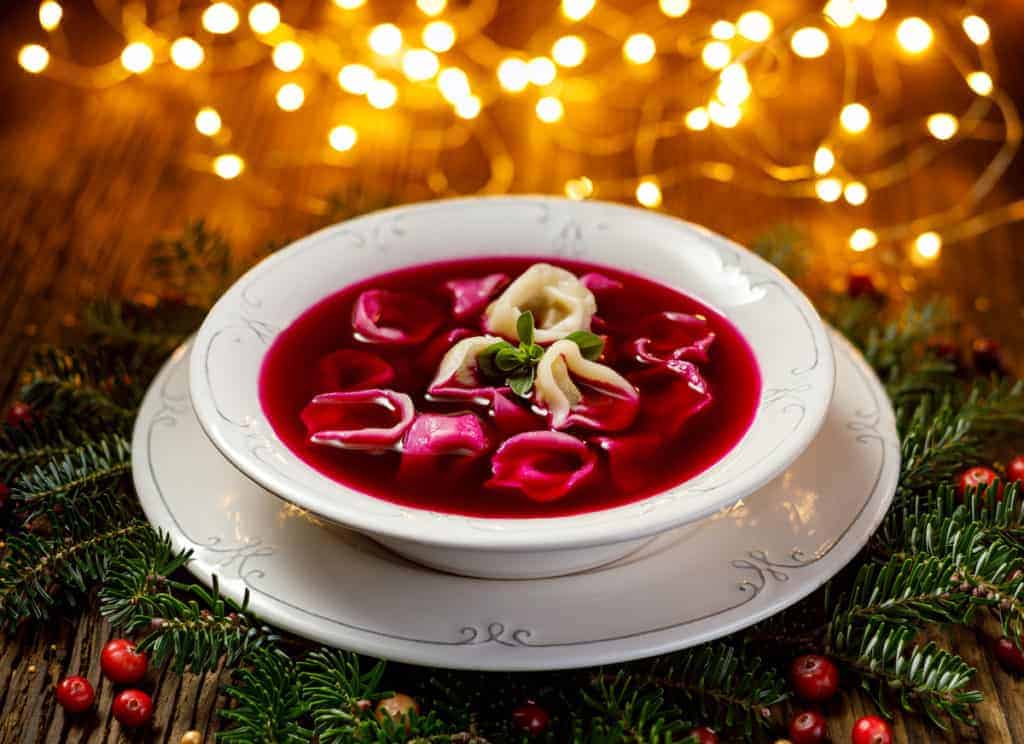 Originating in 1735 and made using zakwas buraczany, the Polish red borscht is filled with uszka dumplings. The dumplings are called uszka because they're shaped like tiny ears. These uszka dumplings replace the historical boiled eggs or fish pieces that were served in wigilijny barszcz czerwony.
Since the borscht is served for Christmas Eve, it's not made with chicken rosol as it normally is, but with a vegetable broth or stock. Often called wigilijny barszcz czerwony, the red borscht and with uszka dumplings is another Polish Christmas favorite.
3. Zupa Grzybowa – Dried Mushroom Soup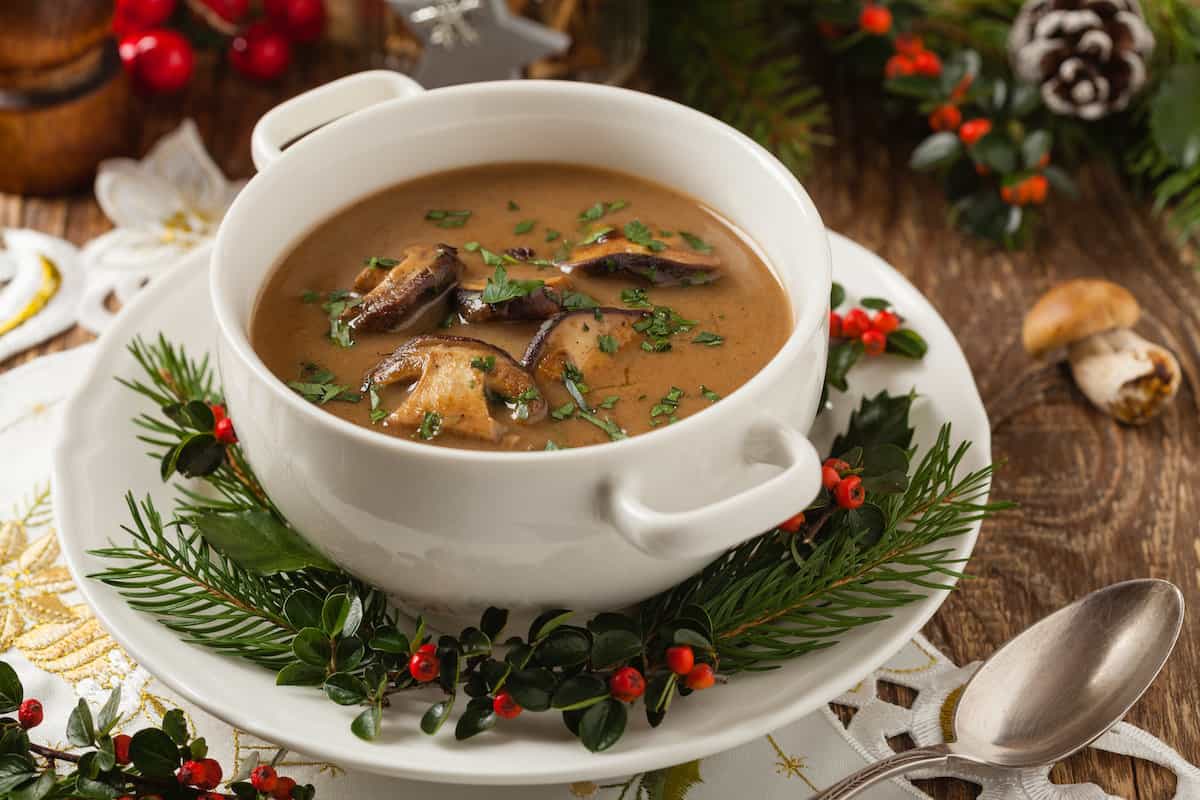 Dried mushroom soup or zupa grzybowa is a winter favorite in Poland. Simple and easy to make with dried mushrooms, this warming winter soup is often served with noodles or boiled potatoes.
The majority of Polish Christmas tables will include either mushroom soup or red borscht!
In my family, we serve something different which is mushroom sour soup. A combination of mushroom soup and żurek. I love it!
4. Kapusta z Grochem – Cabbage With Peas
A recipe more than a thousand years old, peas with braised or fried cabbage is a truly filling meat-free Christmas dish. The peas take the place of the mushrooms and are perfect for Poles who don't like mushrooms.
Often called a peasant's dish or the dish for the poor, Kapusta z Grochem is a dish my Babcia Mila made every week. And we help her to make a lot more for Christmas to serve all the friends and family!
5. Jarzynowa Sałatka – Vegetable Salad
You wouldn't think of salad as one of the 12 traditional Polish Christmas dishes, but salatka jarzynowa is almost always present on the dinner table at Polish celebrations from birthdays and anniversaries to Easter and Christmas.
Often referred to as the traditional Polish Christmas salad, salatka jarzynowa has been popular since the time of the Polish Commonwealth but is simply the poor man's version of Lucien Olivier's famous salad.
This melange of boiled eggs, potatoes, carrots, peas, and other root veggies is a favorite with kids and adults across the country.
6. Karp – Carp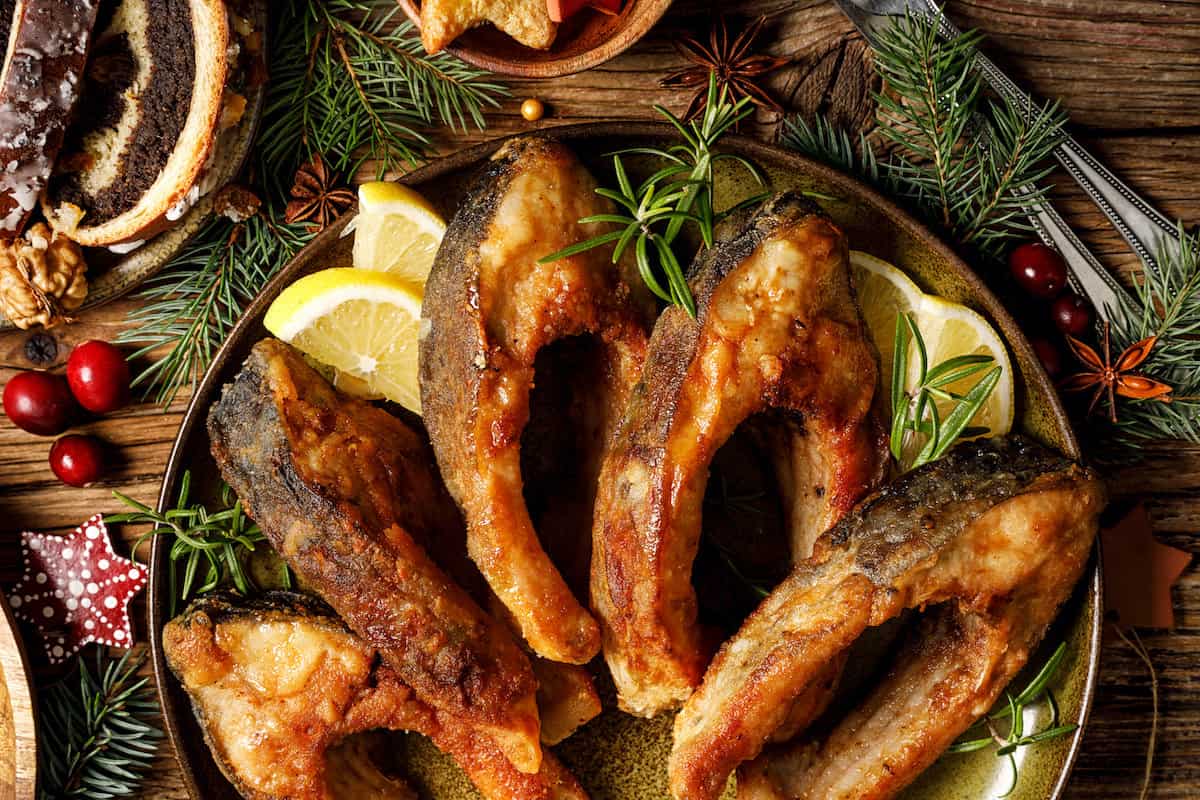 Christmas in my childhood involved playing with the carp that were kept swimming in the bathtub for a few days. Little did I know that the same carp was the one presented with pomp and flair on the dinner table.
Fish is the only meat we can eat while fasting, so there's always some version of fish on the Christmas table. Although Poland has been farming carp since the 13th century, it became cheaper and more readily available in the 1950s.
Being cheaper than other fish, it naturally became the fish of choice for many struggling Polish families. Christmas fried carp is crunchy and can be sweet or spicy. On the other hand, carp cooked and set in aspic gives you a chance to show off your decorative skills!
It's also important to put a scale of the Christmas carp in your wallet so that you have good finances in the year ahead.
7. Sledzie – Herring
Another fish that's often eaten for Christmas and literally all year round is herring or sledzie. Healthy when served as a salad with onions, oil, and vinegar, it's called sledzie z cebula.
If you want something richer for Christmas, śledzie pod pierzynką or traditional Polish herring salad is made with a combination of boiled eggs, potatoes, ogorki kiszone pickles, onions, vinegar, mayo, and some tangy sour cream. This cool and colorful salad is a great addition to the Christmas table!
Here are some of my other herring recipes:
8. Pierogi – Polish Dumplings
You can't celebrate a Polish Christmas without pierogi. The right combination of dried mushrooms and sauerkraut fried with onions makes the pierogi z grzybami i kapustą filling, heartwarming and wholesome. The Christmas mushroom and cabbage pierogi become even tastier when topped with fried onions or melted butter!
Some Polish families also make the pierogi ruskie, a Slavic dish we borrowed from the Ukrainians. These pierogi stuffed with a mix of potatoes and farmer's cheese are melt-in-your-mouth delicious!
Some Poles also like to prepare gołąbki cabbage rolls with a twist. Instead of the regular meaty version that's eaten throughout the year, the Christmas golumpki are stuffed with mushrooms, onions, rice, and groats. These cabbage rolls are perfect for my vegan friends too!
9. Sernik – Polish Cheesecake
How can you have a celebration without dessert? Desserts are an important part of the 12 dishes of Polish Christmas. In addition to the cakes and cheesecakes we make for the celebration, guests will come with some too. So there's more than enough sugar to give you a high!
The Golden Dew cheesecake or sernik z rosa is a favorite of my family for Christmas. The beautiful drops formed on the top of the cheesecake by the precipitation of the foam literally look like golden drops of dew! Looking at the cake is so satisfying!
Other popular flavors of Polish cheesecake include different crusts or top layers – vanilla, chocolate, fruit, and more!
10. Kutia – Wheat-flower and Honey Dessert
If sweetness had a name, it would be kutia. This wheatberry dessert is made so sweet that you won't be able to eat more than a few mouthfuls.
A Slavic dish borrowed from our Ukrainian neighbors, kutia is sometimes called 'God's dish'. Traditionally, young Polish children were sent with offerings of kutia to their grandparents as a symbol of unity with older generations.
Filling and healthy with loads of nuts and poppy seeds, kutia is usually eaten at the start or end of the Christmas meal.
11. Makowiec – Poppy Seed Cake
A symbol of prosperity, no Christmas meal is complete without adding the poppy seed. The most common way of adding poppy seeds is through the makowiec cake or makowiec roll. Looking like a Swiss roll, the cake consists of a thin layer of cake with a dense and rich fruit-filled layer of poppy seed mixture.
Families that don't have time to prepare makowiec, prepare seromakowiec, a delicious cheesecake with layers of masa, the poppy seed mixture. Alternatively, try the quick alternative for makowiec – poppy seed Christmas tree cake.
Another poppy seed dish that you'll find on the Christmas table is kluski z makiem, poppy seed pasta, or poppy seed noodles. These noodles are a bit deceptive, they look like normal noodles, but are actually a dessert and made with dried fruits and nuts, butter, and honey. Kluski z makiem are often topped with candied oranges. Absolutely delicious.
12. Kompot – Smoked Fruit Cordial
While kompot may be had in Polish homes all year round, wintertime and Christmas call for a special version of kompot made with dried fruits and nuts.
Kompot z suszu can be made with any dried fruits – apples, pears, plums, raisins, or apricots. Sometimes spices such as cinnamon or nutmeg and a bit of honey are added. Served warm or chilled, kompot z suszu imbibes the flavors of Christmas!
So these are the 12 Polish Christmas dishes. How many of them have you tried? And which is your favorite?