Pierogi are as iconic in Polish cuisine as Fish & Chips is in British cuisine. Once considered the 'poor man's food', pierogis are popular not only in Poland but all over Eastern Europe.
Made with an unleavened dough mixture of eggs, flour, and salt, this popular Polish food is usually made in the shape of a crescent moon. Sometimes you'll find different shapes such as the 'little ears' and or the pierogi leniwe.
The pierogi are then stuffed with a variety of sweet or savory fillings and boiled in hot water. And in less than an hour of rolling, stuffing, and boiling, the delicious pierogis are ready to serve!
What Are The Most Eaten Polish Pierogis?
Some Polish pierogis that are eaten often include:
How Are Pierogies Traditionally Served?
How to serve perogies? Pierogi are topped with melted butter, sugar, sour cream, or fried breadcrumbs before being served.
They don't require anything else because these Polish dumplings are quite flavorful on their own. But of course, if you want to use other sauces or pierogi side dishes, there are many options that will go well with them! Here are the top few!
1. Maggi Sauce
What can you serve with perogies that's really simple and doesn't take any work? Maggi sauce of course! My babcia would say "Nie, nie, nie!", but some of my friends actually love eating perogies with sauce.
And since it's something you have around the house at all times, the plain hot and sweet Maggi sauce is the perfect accompaniment for pierogi, as is the Maggi sweet chili sauce.
2. Sour Cream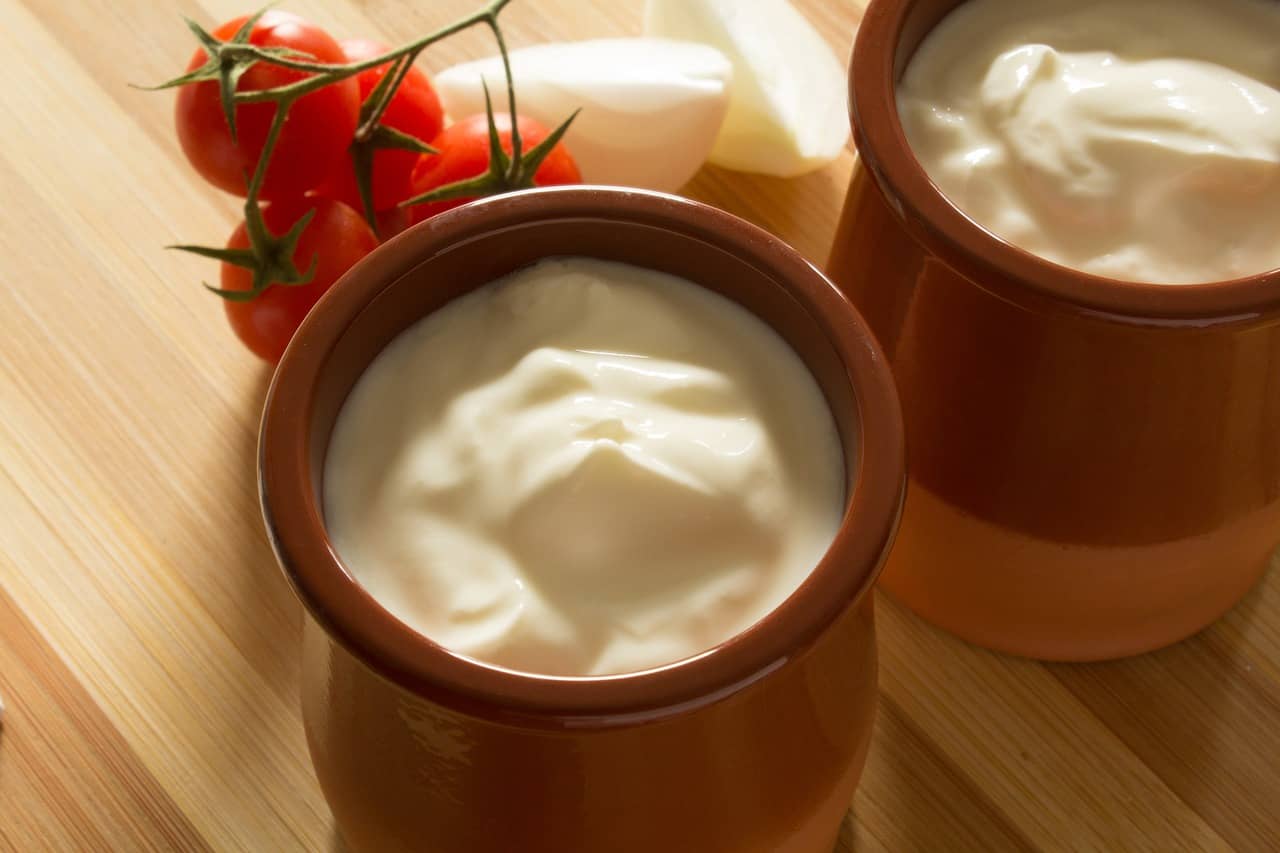 Sweet pierogi such as the strawberry pierogi or the bilberry pierogi always go well with sour cream. Any good sour cream will do!
What to eat with perogies instead of sour cream? Yogurt, especially Greek yogurt tastes amazing!
For savory perogies, add some flavor to the sour cream by adding in some chopped herbs such as parsley, dill, basil, or coriander. Sour cream mixed with a bit of ground pepper tastes good too!
3. Skwarki (Greaves)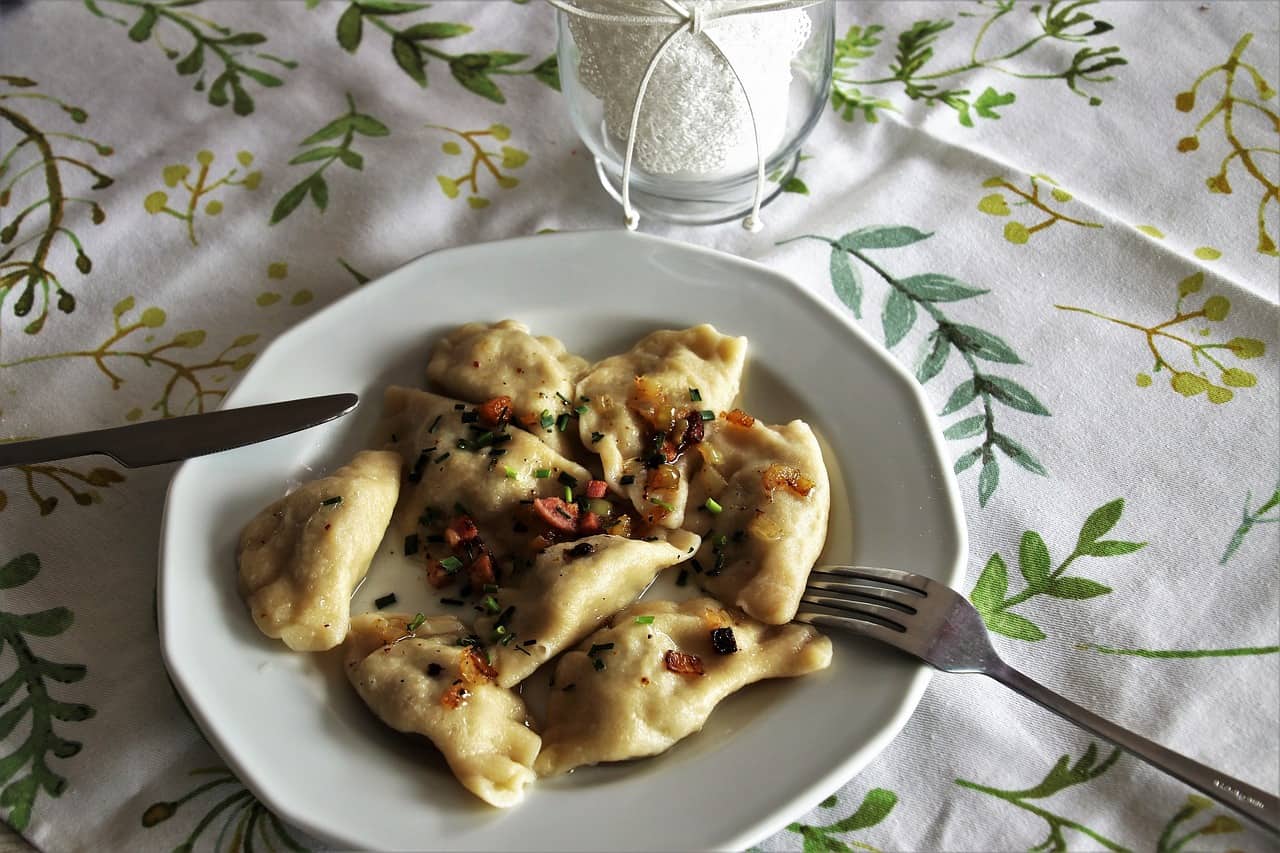 What can I serve with perogies that are savory? Skwarki or greaves! Fry the pork rind and chop it into bits. Fry it with a bit of lard and serve! Simple yet mouth-watering!
If you don't want to buy the greaves, you get some tasty keto-friendly pork rinds on Amazon.
4. Fried Onion
What to have with perogies that's easy to make? Fried onions!
Simply chop the onions, fry them in lard or oil, and serve them as a topping for savory pierogi along with some melted butter.
5. Sugar or Honey
This is the easiest topping for pierogis ever! Simply sprinkle your fruit perogies with sugar and they taste perfect! You could also use this as a topping for perogi leniwe.
If you're not a fan of sugar because it's processed and unhealthy, use some organic honey instead!
6. Butter
Be it sweet pierogies or savory perogies, melted butter is the tastiest topping. It enhances the flavor of the pierogi without masking it!
7. Kefir / Maslanka (Buttermilk) / Milk
A refreshing buttermilk-type drink, kefir or the Polish maslanka are good accompaniments for pierogi with fruits, pierogi ruskie, or pierogi with sweet cheese. Milk is good too!
8. Veggie Salad
If you're vegan or vegetarian, you can simply pair the perogies with a Chinese cabbage salad or this tasty red cabbage salad.
9. Mushroom Sauce
What sauce do you eat perogies with that's not store-bought? Polish mushroom sauce!
Rather than rely on something that comes out of a bottle, it's easy to make a vegetarian gravy at home using fresh or dried mushrooms, onions, and cream. You can make the mushroom sauce from this meatball recipe and serve it with savory pierogis.
Of course, if you really don't have the time after a busy day of work, just heating up a jar of canned mushroom sauce works too!
10. Fresh herbs
Simply top the pierogi with chopped parsley, coriander, or chives and melted butter. It can't get more simple than that! Delicious too!
What Do You Serve With Perogies?: Other Options
Are you wondering what goes well with perogies for dinner that isn't just a sauce or a topping? Here are some side dish variants we've experimented with.
Frequently Asked Questions About What To Serve With Perogies
What Meat Dish Goes With Perogies?
Pierogi are a proper meal by themselves. You don't usually serve meat dishes with perogies, but you can have pierogi with meat filling.
What Goes Good With Perogies For Dinner On Christmas Eve?
Christmas dinner usually includes two types of perogies – sauerkraut and uszka 'little ears' pierogi. These perogies don't need to be served with anything at all, but if you want to, you can serve them with a beetroot borscht soup.
What Are The Other Names For Perogies?
Polish perogies are also called peroge, varenyky, pirohy, perogie, vareniki, perogie, pirogi, or pyrohy.
What Are The Restaurants Called Where They Serve Only Perogi?
The special restaurants or cafes that serve only pierogi are called 'pierogarnia'.
What To Serve With Perogies And Sausage?
What goes with perogies and sausages. There are many options. Of course, perogies and sausages are good enough on their own. But if you want more, serve with some sauerkraut soup, sour cream, kapusta zasmazana fried cabbage, or simply with sauce!
What Vegetables To Serve With Perogies?
You can serve perogies with any veggies you like. Just sautee some asparagus in lard or olive oil and season with salt and pepper. You can also follow the same method with chopped bell peppers, brussel sprouts, cabbage, mushrooms, or broccoli.
Alternatively, bake or fry some baby potatoes with garlic and parsley to serve along with the perogies.
Pin For Later: