This savory fried pork liver with crunchy onions on top is an unusually tasty Polish dish!
What Is Watrobka Wieprzowa?
In Polish, Watroba means liver and Wieprzowa means pork. Put those together and you get liver of pork, or pork liver. Pork liver is commonly eaten in many countries, and Poland is no exception.
We make a delicious dish of crunchy fried pork liver with onions. So this dish is also called Wątróbka z Cebulką or Polish liver and onions.
Watroba Wieprzow is also called Wątróbka po bawarsku in Poland. Of course, this has nothing to with how pork liver is cooked in German or Bavarian cuisine!
How to Cook Watrobka Wieprzowa Polish Pork Liver?
Start by soaking the pork liver in milk and leaving it in the refrigerator overnight. The milk helps to remove the odor and any leftover bile secretions from the liver. It also tenderizes the liver and will make the liver more crispy.
The same method is also used to make Polish pork cutlets.
On the next day, drain the milk and discard it. (If you want to add milk later to the gravy, you can add fresh milk.)
Dry the liver pieces using paper towels and coat them in flour. Fry these liver pieces in oil for about 4 minutes on each side. If you want it to be more traditional, fry with pork lard.
While the liver is frying, chop the onions into half-moons and keep ready. Once the liver has fried completely, add the onions to the liver and cook till done!
What To Serve Watrobka Wieprzowa With?
Serve the pork liver with any of the following:
Fresh salad with tomatoes
Groats
Boiled, baked, or mashed potatoes
Rice
Sour Cream
Chopped bell peppers
Crunchy warm toasted bread
Tips For Making Polish Pork Liver
You may add more water if you prefer to have a sauce.
Do not add salt to the liver while frying or it will become hard. Only add salt at the end while stewing!
If you want more flavor, you can also add lemon juice or crushed garlic with salt and pepper.
You can fry the pork liver with lard instead of oil.
You can follow the same recipe to cook chicken liver, turkey liver, or beef liver.
Important Questions About Cooking
Watrobka Wieprzowa
How To Pronounce Watrobka?
Watrobka (liver) is pronounced vow-troo-bkah.
How To Pronounce Wieprzowa?
Wieprzowa (pork) is pronounced wiep – zow -ah.
Why Eat Pork Liver?
Pork liver is actually quite healthy. It contains a good amount of iron, proteins, copper, zinc, phosphorus, and Vitamins B1, B2, B6, and B12. Pork liver also has much more Vitamin A and C than carrots do. It's truly an all-round healthy food!
How Do I Buy Pork Liver?
Pork liver needs to be uniform in color. If you see spots on the liver, whether they're darker or lighter, you don't want it. Fresh livers have slippery surfaces but they aren't sticky.
Of course, if you buy liver from the supermarket instead of the butcher's store, just check the expiry date to make sure.
How Will I Know When The Liver Is Fried?
You'll know that the liver is properly fried when it turns brown on both sides.
What Else Can I Add To This Pork Liver Dish?
Do you want more variety in the liver? Add some chopped mushrooms or chopped apples to the liver at the same time you add the onions.
Can I Refrigerate or Freeze Leftover Pork Liver?
Pork liver tastes best when eaten within a few days. During this time it can be refrigerated. But if you have really made too much, you can freeze it in an airtight container for up to 3 months. Reheat before serving.
Watrobka Wieprzowa Polish Pork Liver Recipe
Yield: 8 servings
Watrobka Wieprzowa Polish Pork Liver Recipe
Watrobka Wieprzowa is a savory fried pork liver with onions and gravy. This unusually tasty Polish dish is easy to make at home!
Total Time
8 hours
20 minutes
Ingredients
1 lb / ½ kg of pork liver
1 cup of milk
all-purpose flour to coat the liver
4 onions
¾ cup of oil
2 tbsps of water
salt, pepper (about 1 tsp of each)
Instructions
Wash the pork liver and cut it into slices.
Cover the liver with milk and refrigerate overnight.
The next day, drain the liver, then dry the slices with paper towels.
Coat each slice with all-purpose flour.
Fry the liver on oil (about 3-4 minutes on each side).
In the meantime, peel the onions and cut them into half-moons.
Add the onions to the liver and fry everything together until soft.
Add 2 tbsps of water, season with salt and pepper, and mix.
Notes
To make it traditional, use lard instead of oil.
Serve with boiled potatoes, salad and groats.
Recommended Products
As an Amazon Associate and member of other affiliate programs, I earn from qualifying purchases.
Nutrition Information:
Yield:
8
Serving Size:
1
Amount Per Serving:
Calories:

391
Total Fat:

25g
Saturated Fat:

3g
Trans Fat:

0g
Unsaturated Fat:

20g
Cholesterol:

255mg
Sodium:

124mg
Carbohydrates:

21g
Fiber:

1g
Sugar:

4g
Protein:

21g
These data are indicative and calculated by Nutritionix
Pin For Later: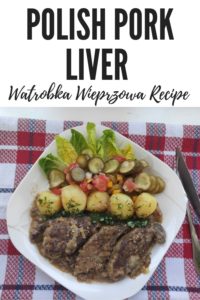 Did you like this watrobka wieprzowa Polish pork liver recipe? Let us know in the comments below!