In Poland, bread is a big deal! We have so many types of Polish bread, that they differ from region to region and sometimes even from city to city.
Bread isn't just something that you eat, it's a part of our culture and traditions. Mostly made from rye flour or wheat flour, traditional Polish breads have a distinctive taste and aroma.
In fact, bread has been so ingrained in Polish culture for centuries that greeting visitors with chlebem i sola or salt and bread is a symbol of Polish hospitality.
Bread is also a part of Polish wedding ceremonies where after their marriage in the church, the newlyweds return home and are first greeted by their parents with salt and bread.
Bread has been around for centuries, but the different types of Polish bread are a matter of pride among bakeries anywhere! So onto the types of Polish bread you must try!
Polish Wheat Breads
The most basic recipe for any bread is the simple wheat bread made with yeast. Similar in taste and texture to commercially sold white bread, the chleb pszenny has a more beautiful golden crust. Being made without eggs, it's also perfect for vegans and vegetarians!
2.Chleb Orkiszowy (Spelt Flour Bread)
Chleb orkiszowy or spelt flour bread is simply that, a bread made with a mix of spelt flour and wheat. Also called bulka orkiszowy, the spelt flour bread is healthier because it's made with the entire grain of wheat.
The spelt flour bread is aromatic enough to eat plain or with butter!
Made from a mix of boiled and mashed potaotes with wheat flour, this bread has a very nice chew to it. Golden-brown in color, it takes a few rises to get the best recipe. Don't let the rough texture stop you from eating this delicious bread!
4. Murzin or Szołdra (Polish Easter Bread Stuffed With Sausage)
Murzyn translates to 'black person' while soldra translates to 'ham'. So both names of the bread refer to either the dark-color of the bread or the ham or sausage that's stuffed inside.
This bread is popular at the Polish Easter dinner table and is often decorated with an oak leaf, to represent Poland's national tree!
5. Obwarzanek Krakowski (Polish Bagel)
An icon from the city of Krakow, the Obwarzanek Krakowski or Krakow Bagel or Krakow Pretzel dates back to Medieval times.
The name Obwarzanek tells us that this bread from the city of Krakow has been parboiled before being baked and topped with poppy seeds or sesame seeds. You'll usually find them sold at street stalls as well as bakeries in Krakow.
The Krakow bagel even has protected status on the list of regional products!
Here's my Polish bagel recipe (follow the link).
6. Podplomyki (Polish flatbread)
Made with refined wheat flour or all-purpose flour, the podplomyk is a Polish flatbread. One of the rarer Polish bread types, it was usually made in stone fireplaces or over stones on a real fire. This Polish flatbread is similar to Slavic and other regional flatbreads that are made by stretching out the dough.
7. Proziaki (Polish Soda Bread)
Probably the fastest Polish bread to make, proziaki are Polish soda bread that can be ready in under 10 minutes.
They're made with a mix of flour, eggs, kefir and baking soda and are extremely light! In fact, the name proziaki is derived from the Polish word soda or 'proza'.
The proziaki are perfect for mid-day snacks with butter or jam!
8. Bułeczki Jogurtowe (Yogurt Rolls)
Small individual-sized rolls, the bułeczki jogurtowe are airy light bread made with wheat flour, yogurt, olive oil, and yeast. Aromatic and fragrant, the bułeczki jogurtowe are perfect for breakfast with butter or for picnic lunches with some egg spread or chicken spread.
9. Cebularz Lubelski (Flat-bread With Onions And Poppy Seeds)
Made with more butter and sugar than regular bread, this bread from the province of Lublin is unique.
Usually made about 3 inches wide and 1.5 cm thick, the round flatbread is topped with a mix of onions fried with poppy seeds. The original bread can only be found in a few dozen bakeries in Lublin but variations of the bread are found everywhere!
In the US, this bread is called Bialys Onion and Poppy Seed Rolls.
Here's my recipe for Polish onion roll (cebularz).
Polish Rye Breads
10. Chleb Zytni Na Zakwasie (Rye Flour Sourdough Bread)
"Czarny chleb i czarna kawa" is an anthem from the People's Republic of Poland. It translates to "Black bread and black coffee". It refers to the lack of food and the fact that the only bread available was the rye flor bread called chleb żytni na zakwasie.
During those times, the bread was considered the poor man's food while white-colored bread was considered a luxury. But if you really taste it, rye flour sourdough is delicious and healthy too!
11. Chleb Żytni Na Drożdżach (Yeast-based Polish Rye Bread)
Made with yeast, this chleb can be baked almost instantly. The chleb zytni na drozdzach is a crunchy rye bread with a soft center that goes perfectly with Polish soup or meaty stews.
12. Kashubian Bread (Sourdough Rye Flour and Potato Bread)
Originating in the Kashubian region, where it's traditionally baked with a mix of rye flour and potato, this bread lasts a lot longer than regular bread.
The thick crust and chewy soft interior are perfect for serving with warm butter or Polish sour soups.
Polish Sweet Breads
13. Bułka Z Rodzynkami (Polish Sweet Bread With Raisins)
Can bread be tastier than a babka? Yes, sometimes!
This delicious raisin bread is usually eaten for breakfast in Poland. Shaped as a log or bread roll, you can enjoy it with butter, jam, or honey, or simply as is!
14. Braided Chalka (Polish Sweet Bread)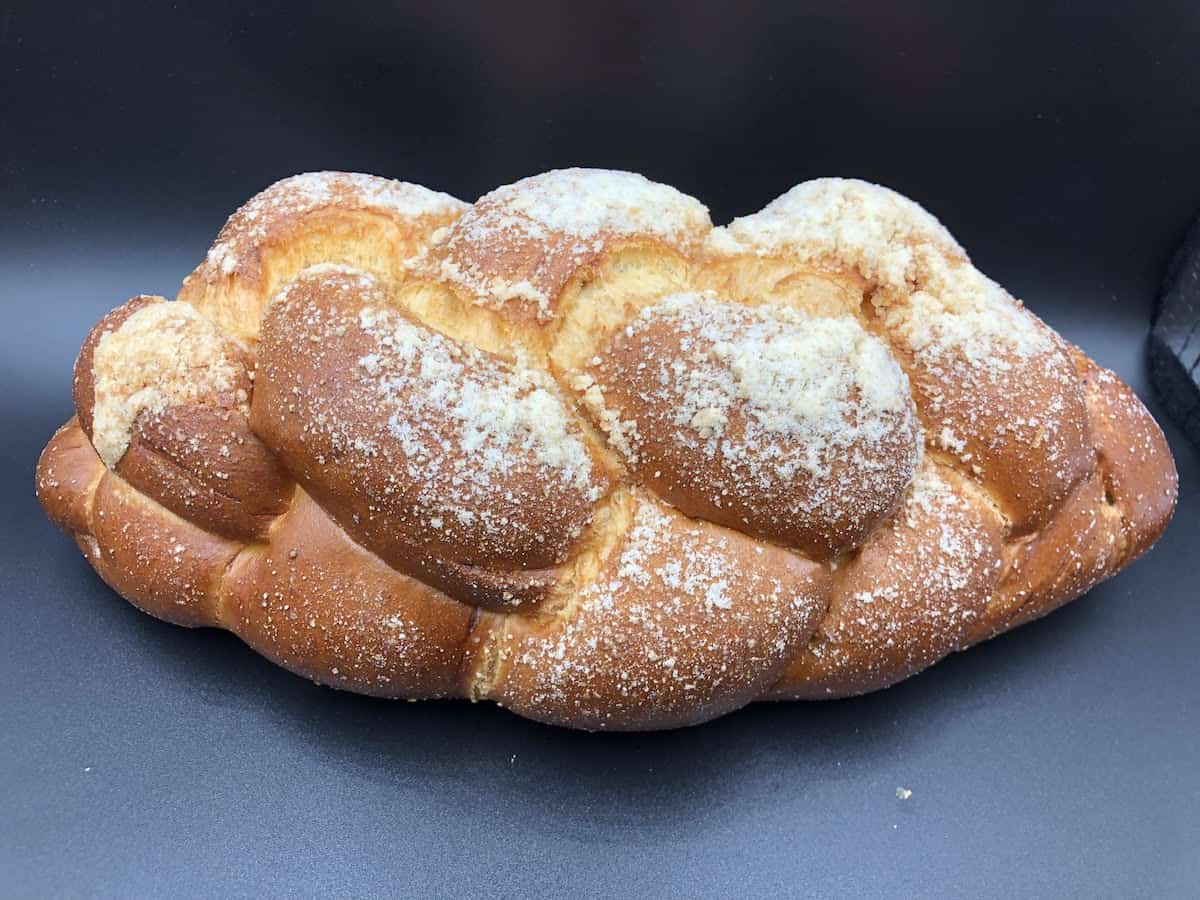 A variation of the Jewish challah bread, the chalka is a sweet Polish yeast bread that's braided in the shape of a loaf and sometimes filled with dried fruit. A flour and sugar crumb is often added as a topping when serving for Easter or Christmas. The bread can be eaten plain or with preserves or jam!
15. Chlebiczek (Bread With Dried Fruits)
Chelebiczek is a Polish bread made with dried fruits. Also called Cieszynski Chlebiczek Owocowy Wielkanocny, this bread originates in the Silesian region of Poland and is very rare.
Filled with rum-soaked dried fruit, it's a great way to celebrate Christmas. To make it, you'll have to track down someone from the region or make it your self with this recipe!
16. Babka (Sweet Bread)
Do you consider babka to be bread or cake? We see it as both! It's one of those Polish dishes that can be eaten as a dessert or eaten as a snack or with meals. There are many types of Polish babka, but here are a few that you must try!
By the way, did you know that chleb is Polish for bread? How many of these chleb or traditional Polish breads have you tried? And which are your favorite?