Kompot is probably the most popular non-alcoholic Polish drink. It can be found in every home in Poland. The kompot recipe is ridiculously easy, you can make it with just three ingredients, where one of which is… water. Perfect for a homemade fruit drink!
What Is Kompot?
Kompot is a non-alcoholic fruit drink that's popular in Eastern European and Balkan countries. It most probably originated in Russia around the 15th century. It was mostly used as a method to preserve fruits for the long winter months when fruits were scarce, just like sauerkraut was invented as a means to store cabbage.
Made without fermentation, kompot is non-alcoholic drink that the entire family can enjoy. In fact, it is absolutely loved by children, and because it is very healthy, they can enjoy it as much as they want. It can be served hot or cold and is popular all year round.
In Polish cuisine, kompot is usually made with seasonal fruits. All you need are fruits, water, and sweetener (optionally). However, it can also be made with dried fruits sometimes. This method is especially popular in the winter months and at Christmas when we make the kompot z suszu.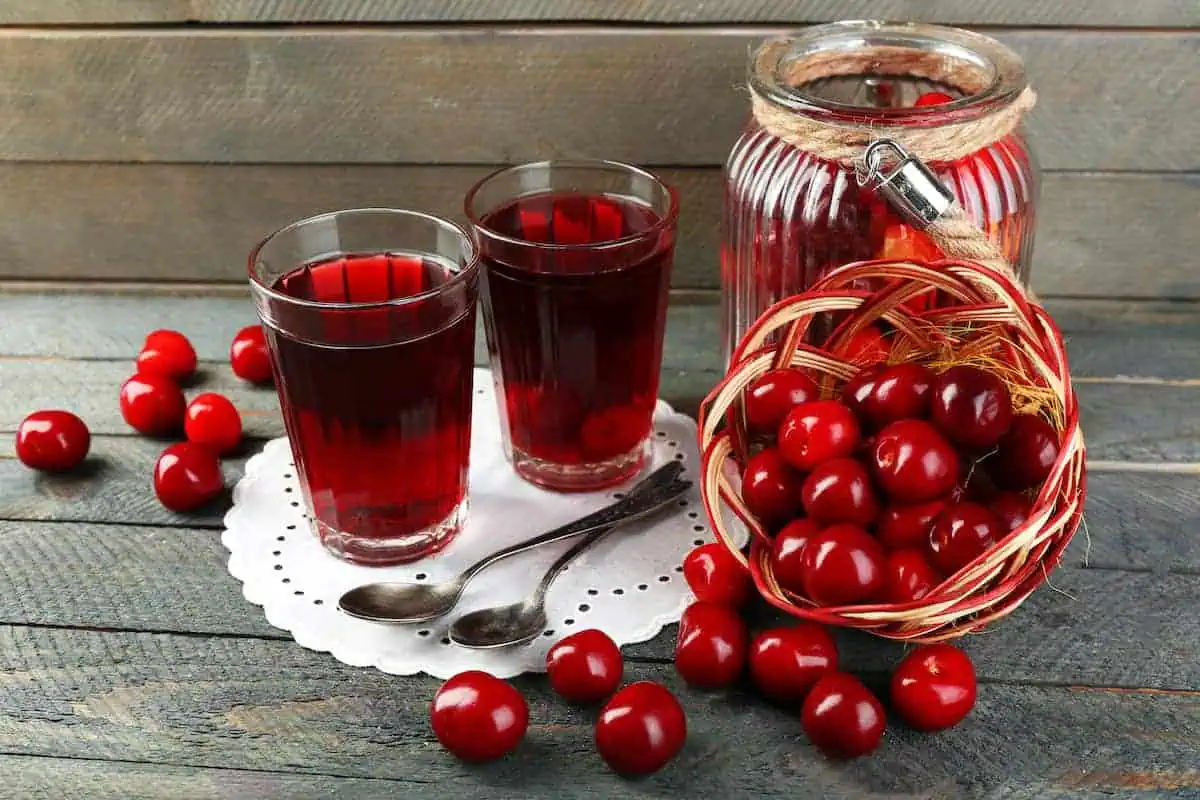 How To Make Kompot?
The Polish kompot recipe is pretty easy to follow! Whether it is an apple kompot drink or a strawberry kompot recipe, the method is the same.
You start by washing the fruit and dicing them into smaller pieces if they are big enough. Add the fruit to a large pot and cover with water. If you plan on separating the fruit later, use a pot with a lid so you can easily strain the liquid out.
Allow it to boil for about half an hour and add sweeteners while it's cooling. Serve warm or chilled!
In some areas of Poland, the kompot is served slightly thickened. It is achieved by adding to the boiling drink a small amount of potato flour/cornstarch mixed in with cold water.
Kompot Is Not Only A Drink!
Kompot is a perfect base product if you want to make homemade kisiel (follow the link for the recipe). You can either use the fruit drink itself, add some fresh fruits, or even blend the once you have used for your kompot.
Another great and healthy(!) idea to use kompot is to turn it into a homemade fruit jelly .
Kompot Recipe: General Cooking Tips!
So here are the main tips for how to make kompot perfectly!
1. Fruits and water should be mixed in a one-to-two ratio.
It means that for every cup of fruit, you will need two cups of water.
Of course, you can change the proportions to add more or less water. But remember that the more water, the less expressive the taste!
2. When it comes to sweeteners, it's not really necessary to add any!
The fruits are naturally sweet enough. However, if you prefer your beverages to be sweeter, you can use anything you want, including:
white sugar
brown sugar
xylitol
honey (wait until the compot is warm, don't add honey to the boiling water)
erythritol
coconut sugar
stevia
FAQs About The Kompot Drink
What Fruits Can You Make Kompot Of?
Any seasonal fruit works well for making the kompot drink, including:
red fruits (strawberries, raspberries, wild strawberries, berries, etc.)
green fruits and veggies (rhubarb, gooseberry, etc.)
tree fruits (peaches, apples, cherries, apricots, plums, etc.)
If fresh fruit is unavailable, the Polish compot can be made of frozen or dried fruits too.
How To Prepare Fruits For The Polish Kompot?
The fruits don't require specific preparation. You simply need to wash them carefully. Bigger fruits, such as apples or peaches should be cut into smaller pieces. You don't need to remove the pits or peel the fruits.
It is good to know that kompot is a zero-waste drink. Blended fruits are perfect to use for homemade smoothies, kisiel, and fruit jelly, or can be added to a pie.
What Is The Difference Between Compote And Polish Kompot/Compot?
Compote is a French dessert made with whole pieces of fruit being cooked in a thick sugar syrup. The ingredients are similar to the kompot, but compote does not use as much water, and it's closer in consistency to a jam or preserve. Kompot on the other hand is a drink made with water and fruits and sugar is only added if required.
What Are The Best Spices For Making Fruit Kompot?
Although just fruits and water work fine, you can add these spices to your Polish kompot if you like:
If you aim for a more refreshing drink, try squeezing some lemon in.
How Can I Store Kompot?
When the kompot is ready, you can either allow it to cool and store it in the fridge for up to 3 days. Or pasteurize it and store it for up to a year. Keep it mind that once you open the pasteurized jar, you need to drink the beverage within 48 hours.
How To Pasteurize Polish Kompot?
Polish kompot can be pasteurized by boiling the filled jars in hot water for about 30 to 40 minutes. Here is my easy pasteurization guide.
Simple Polish Kompot Recipe
Yield: 8 servings
Traditional Polish Kompot Recipe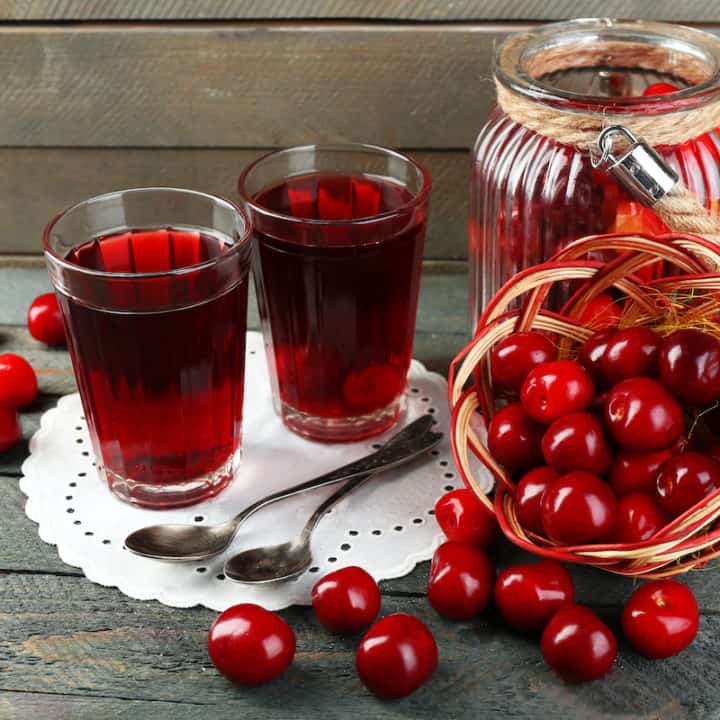 Kompot is probably the most popular non-alcoholic Polish drink. It can be found in every home in Poland. The Polish kompot recipe is ridiculously easy, and perfect for a homemade fruit drink!
Ingredients
1 gallon of water
4 lbs of fruits (apples, plums, cherries, etc.)
4 tablespoons of sweetener (optional)
Instructions
Wash the fruits and put them into the pot. Bigger fruits such as apples or pears should be cut into smaller pieces.
Pour in the water.
Boil on medium heat for about half an hour.
Add sweetener (optionally).
Serve or pasteurize and store.
Nutrition Information:
Yield:
8
Serving Size:
1
Amount Per Serving:
Calories:

137
Total Fat:

1g
Saturated Fat:

0g
Trans Fat:

0g
Unsaturated Fat:

0g
Cholesterol:

0mg
Sodium:

23mg
Carbohydrates:

35g
Fiber:

5g
Sugar:

24g
Protein:

2g
These data are indicative and calculated by Nutritionix
Pin For Later: