A delicious traditional Polish dish, the schab ze sliwka or pork loin stuffed with prunes is juicy and delicious. Serve with plum jam or mustard sauce and groats for a filling meal!
What Is Schab Ze Śliwką?
Combining fruits with meat seems to be a commonplace tradition in many countries. Take, for example, the stuffed pork loin or pork tenderloin.
In some cultures, the pork loin is stuffed with French onions, cremini mushrooms, or even cranberry and apple sauce. Some even stuff it with apples and bacon, or spinach and farmer's cheese.
Schab ze sliwka is the traditional Polish classic version of the dish made by stuffing a pork loin with a marinade of prunes or with plain pitted prunes.
Of course, when the pork loin is stuffed with any other ingredients it's called Schab ze Faszerowany or simply stuffed pork loin.
Who invented the schab ze sliwka recipe? We don't know. But it tastes delicious!
Should I Use Pork Loin Or Pork Tenderloin?
They may sound similar, but pork loin and pork tenderloin are really different.
The tenderloin is a very tender piece of pork meat taken from the muscle next to the pig's backbone. The pork loin or center on the other hand is the piece of meat from the pig's back that can or cannot contain bones.
Although both are lean cuts of meat, they are used for different types of cooking. For the schab ze sliwka, it's best to use pork loin.
How To Make An Amazing Prune Stuffed Pork Loin
Making the prune stuffed pork loin is really easy. Simply make a prune-sized hole in the middle of the pork loin and stuff it with prunes.
Next, the pork loin is rubbed with pepper and salt, and coated with flour.
The flour is covered with a water-oil mix and then covered with sesame seeds. The meat is pressed to ensure the sesame sticks to it.
After baking for about 40 minutes, the stuffed pork loin is ready to slice and serve!
What To Serve Stuffed Pork Loin With?
This stuffed pork loin can be served with:
Mustard sauce
Plum jam
Roasted carrots, beetroots or onions
Celery sticks and other veggies you prefer
Horseradish
Rice
Groats
Beans in Mayonnaise
Boiled or roasted potatoes
Tips For Making The Best Prune Stuffed Pork Loin- Schab Ze Śliwką
You can use fresh prunes or canned and pitted prunes.
Hold the pork loin vertical while digging the hole in it.
You can cover the sesame seeds with a tablespoon of honey before baking.
If you don't like sesame seeds, cover the pork loin with dried marjoram.
You can prepare the pork loin a day or two ahead and refrigerate. Just reheat before serving!
Serve with horseradish or plum jam!
Serve hot or cold!
Serve with lemon wedges!
FAQs About The Prune Stuffed Pork Loin Recipe [Schab Ze Śliwką]
What Else Can We Use To Stuff The Pork Loin?
You can also add chopped apricots, raisins, or fried bacon bits to the pork loin with the prunes.
How To Store Leftover Pork Loin?
Cover the leftover pork loin with aluminum foil and store it in the refrigerator for 3 to 4 days. Reheat before serving.
What If I Cannot Find Fresh Prunes?
If you cannot find fresh prunes, use dried prunes but rehydrate them in a bowl of water for an hour or two before using them.
I Can See Leftover Juices From The Pork Loin In The Baking Tray. Do I Have To Discard It?
No, you don't have to discard the leftover juices from the pork meat. You can boil it with a tablespoon of corn starch or potato starch and serve it as a sauce.
What To Do With Leftover Pork Loin?
Left-over pork loin can be added to burger buns or kaiser rolls for sandwiches! It can also be shredded and served with pasta or macaroni.
Prune Stuffed Pork Loin Recipe [Schab Ze Śliwką]
Yield: 8
Prune Stuffed Pork Loin Recipe (Schab Ze Śliwką)
A delicious Polish dish, the schab ze sliwka or pork loin stuffed with prunes is juicy and delicious. Serve with groats and gravy or mustard sauce!
Ingredients
2 lbs (900g) of pork loin
8-10 prunes
salt
pepper
oil
sesame seeds
flour for coating
Instructions
Preheat the oven to 392°F (200°C).
Using a big knife, make a hole in the middle of the pork loin. The hole should be the size of the prune.
Push the prunes into the hole, one by one.
Coat the pork loin in pepper and salt, then coat it with flour.
Mix 1 tbsp of cold water with 1 tbsp of oil, then gently dip pork loin in the mixture.
Coat the pork loin in sesame seeds. Press to make sure the sesame seeds are attached to the meat.
Bake in a pan or oven bag for 40 minutes.
Recommended Products
As an Amazon Associate and member of other affiliate programs, I earn from qualifying purchases.
Nutrition Information:
Yield:
8
Serving Size:
1
Amount Per Serving:
Calories:

162
Total Fat:

6g
Saturated Fat:

1g
Trans Fat:

0g
Unsaturated Fat:

4g
Cholesterol:

17mg
Sodium:

83mg
Carbohydrates:

21g
Fiber:

2g
Sugar:

5g
Protein:

8g
These data are indicative and calculated by Nutritionix
Pin For Later: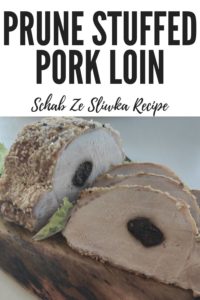 Did you like this schab ze śliwką prune stuffed pork loin? Let us know in the comments below!