Polish tripe soup is one of the most popular dishes in Poland. Every housewife has a slightly different flaki recipe. Today, I am sharing with you the most popular Polish tripe soup recipe that includes veggies, beef bones, and tripe.
Not every Pole likes flaczki. The dish has a specific flavor that for some may be too strong. When it comes to me, I don't mind eating Polish tripe soup, however, it's definitely not my favorite food.
Tips For Making Flaczki Polish Tripe Soup
See also my Polish beef stroganoff soup recipe!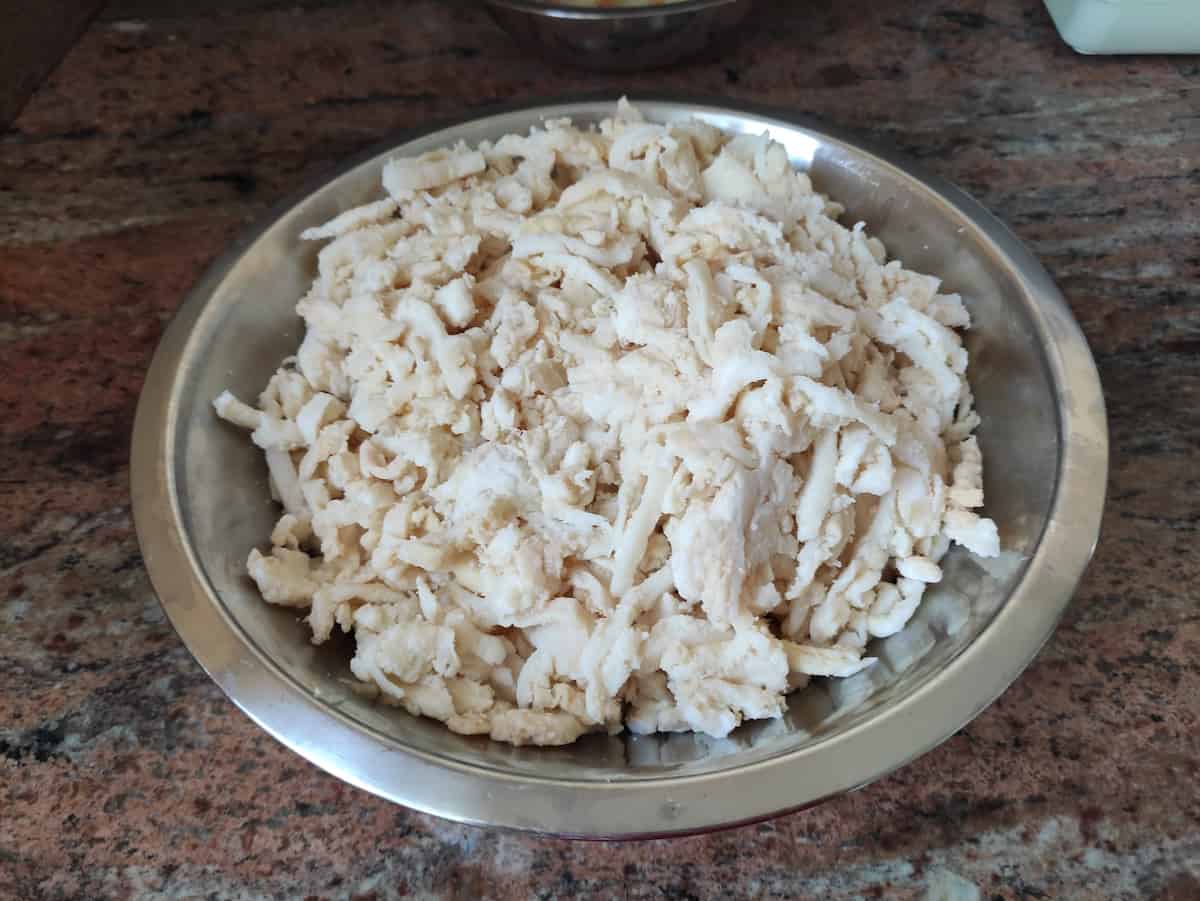 Cook The Broth Slowly.
Flaczki's base is a beef broth. The longer and slower it cooks, the better the taste. Check out my rosol recipe if you want to read more about cooking broth.
Rinse/Scald The Tripe More Than Once If Necessary.
If your tripe is smelly after scalding it with hot water, repeat until the unpleasant smell disappears completely.
Cook The Vegetarian/ Vegan Version If You Want.
It's very easy to cook vegetarian flaki. Simply don't add the bones to the broth and replace tripe with oyster mushrooms.
Use Pork Tripe If You Want.
Although beef tripe soup is more popular, you may also use pork tripe and bones to make this soup.
Serve It Solo Or With Bread
Bread is the most popular add-on to the flaki soup.
Polish Tripe Soup Flaki Recipe
Polish Tripe Soup Flaki Recipe
Total Time
1 hour
20 minutes
Ingredients
3½ lbs of beef/pork bones
3½ lbs of beef tripe
1 celery root
2 parsley roots
1 carrot
1 onion
1 leek
6 allspice berries
6 bay leaves
1 tsp of black pepper powder
1 tbsp of dried marjoram
1 tbsps of dried lovage (or a bunch of fresh lovage)
1 tbsp of sweet paprika powder
½ tsp of nutmeg
½ tsp of ginger
1 galloon of water
Instructions
Peel the onion and burn it over the fire. If you can't do it, skip to the next step.
Peel carrots, parsley root, celery root, and leek.
Cover the bones and all the vegetables with cold water.
Add allspice berries, bay leaves, and black pepper powder.
Cook everything slowly (don't bring it to a boil!) until the veggies are soft. If you notice the white/dark foam on the soup, collect it with a tablespoon and throw it away. It's called szumy and it's completely normal that you have it in your broth.
After the broth is ready, grate the carrots, parsley root, and celery root. Cut the onion and leek into small pieces.
Throw away the bones. If you want, peel the meat from the bones first (you can add them to your flaczki later).
Scald the tripe with boiling hot water and add it to the hot broth.
Cook until the tripe is soft.
Add the veggies and the remaining spices. Stir.
Notes
If you want the vegan version of Polish tripe soup, simply replace the tripe with oyster mushrooms. Don't add the bones to the soup, use only veggies.
Pin For Later: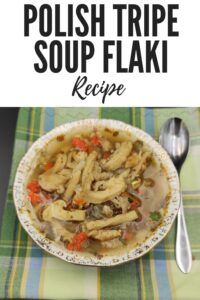 Did you like this Polish tripe soup flaki recipe? Let us know in the comments below!