Jellied pigs' feet is a traditional Polish dish eaten during the cooler months, topped with a squeeze of lemon juice or served with some tasty horseradish. Here's how to make the best Zimne Nogi or Studzienina.
If eating pork, why not eat all of it? That's what whoever invented this dish must have thought.
Here's a classic Polish dish that many people have a different sort of love-hate relationship with. Zimne Nogi! – 50% of Poles think it's disgusting and the other 50% love it.
I'm not a fan of Zimne Nogi, but my teściowa (mom-in-law) makes the most delicious one I know!
What Is Zimne Nogi?
See also my Polish jellied tongue recipe.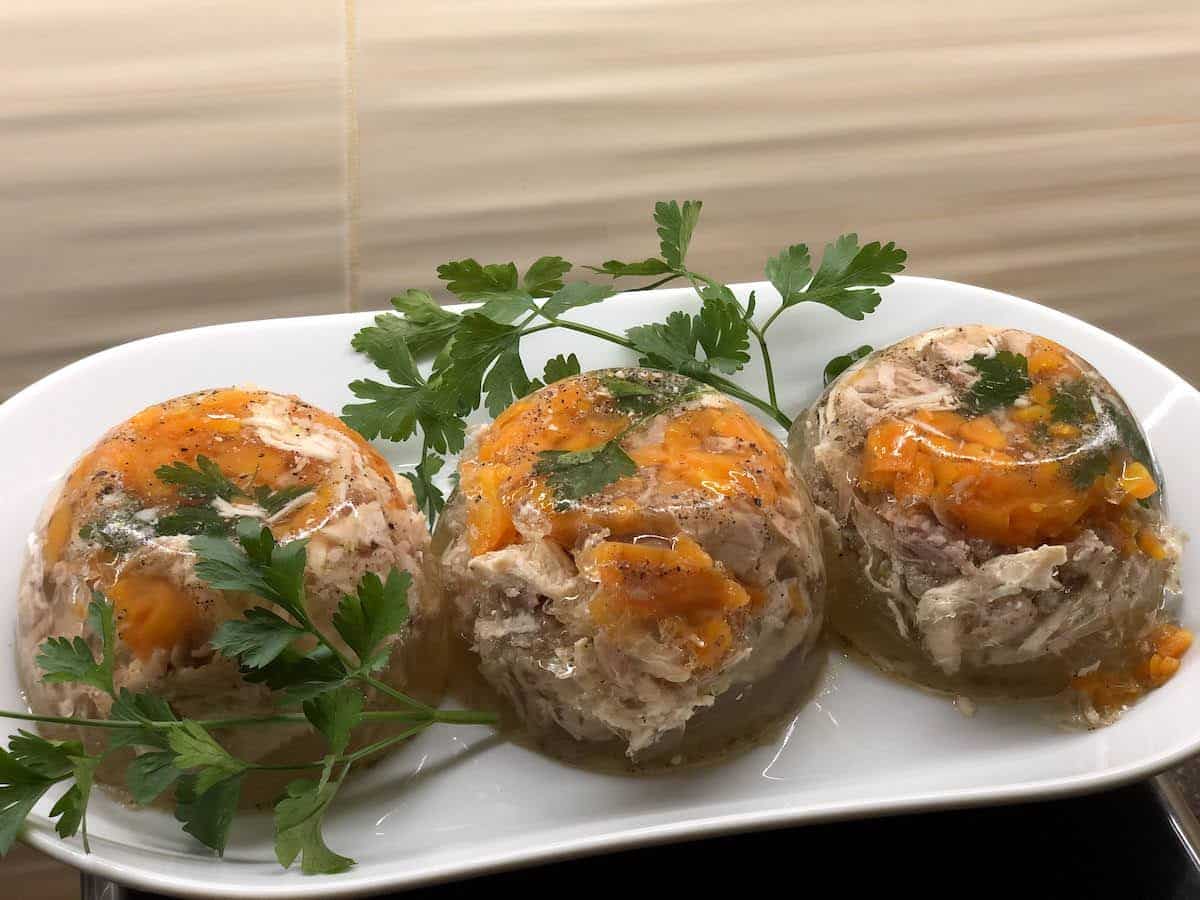 Zimne Nogi is a cold jelly made from the feet of the pigs. That's what it literally translates to too! Zimne means cold and nogi means legs, so this dish is Zimne Nogi or Cold Legs!
It's also called studzienina (studzić means cooling down in Polish) or galaretka wieprzowa (pork jelly).
Polish pigs' feet jelly is a type of aspic made by cooking root vegetables such as carrots, celery, and parsley with pork legs till it forms a jelly. This jelly is then refrigerated till it sets and is always served cold!
Another popular aspic in Poland is a jelly made from chicken feet, veggies, and boiled eggs.
Why Is Zimne Nogi Healthy?
Considered 'meat jello', Zimne Nogi was once used as a method to preserve meat and veggies using the natural gelatin from the pigs' feet. Although we no longer need age-old methods to preserve food, the real natural gelatin and collagen from the pig's feet make it a really healthy dish.
Cooking the pigs' feet for a long time allows the collagen in the tendons, bones, cartilage, and marrow to break down and form gelatin. Gelatin in turn is really good for bone, joint, and teeth health. The pork broth is also rich in nutrients and proteins.
Zimne Nogi is also gluten-free, keto, paleo, Whole30, and low carb. So it suits a number of diets!
How Do You Serve Zimne Nogi?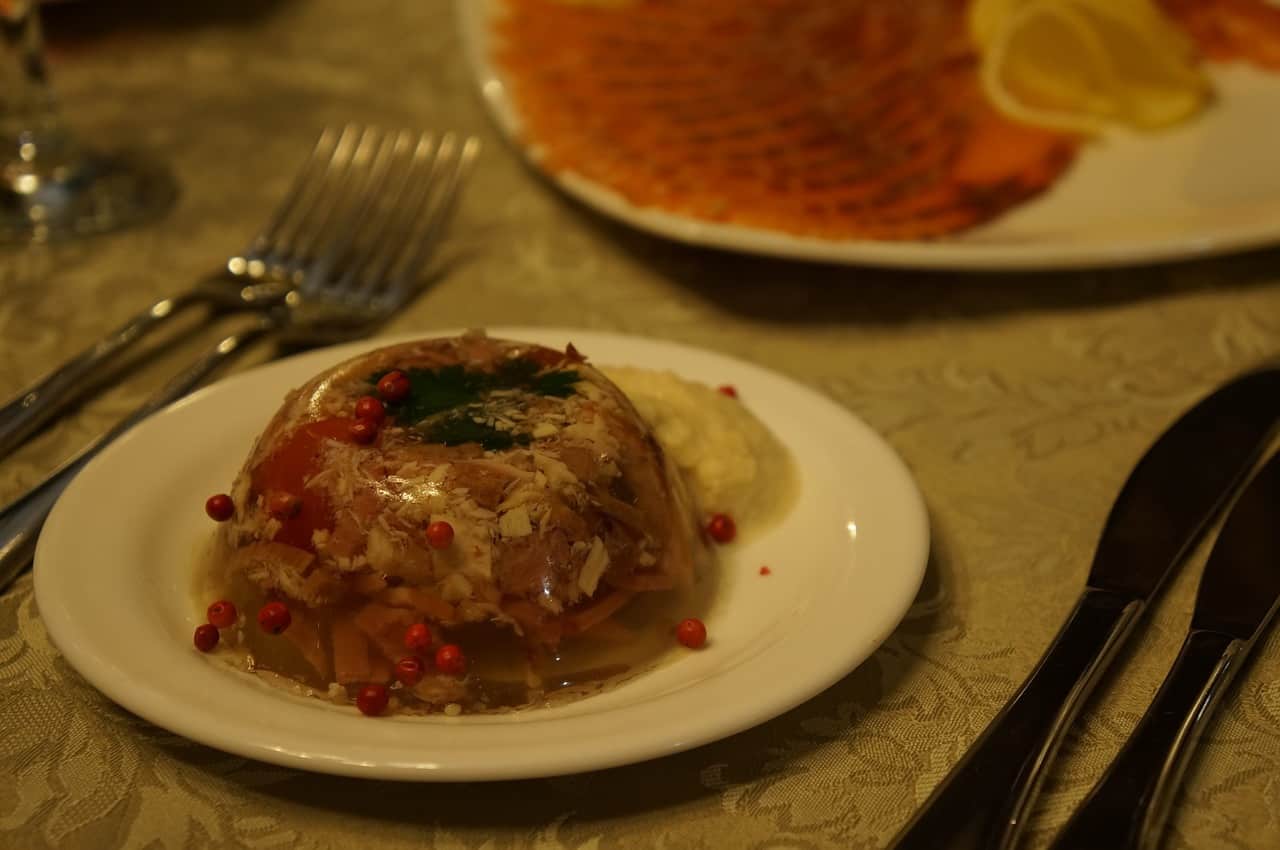 Zimne Nogi jelly must be served cold!! Once it's prepared, you must keep it permanently refrigerated, and only take it out from the fridge right before serving.
Just before serving, squeeze a dash of lemon juice onto the jelly. Or you can serve the pigs feet jelly with a side of lemon wedges so that the lemon juice can be squeezed onto it just before consumption. Alternatively, you serve Zimne Nogi with white vinegar or horseradish.
Topping it with fresh parsley is also a good idea, as is serving with a side of toasted bread!
If you visit a Polish restaurant, you'll often find someone ordering 'seta i galareta'. This is a shot of Polish vodka with the jellied pigs' feet, and they go perfectly well together!
Tips For Making Zimne Nogi – Polish Jellied Pigs Feet Recipe
Jellied pigs' feet are not popular in the summer because the jelly melts at high temperatures.
You can replace black pepper and allspice berries with any other spices of your choice.
Since we're not using any commercial gelatin, it's best to give the dish at least 4 to 5 hours to set.
Top with lemon juice before serving.
Serve with a side of horseradish or mustard!
Zimne Nogi Recipe: Frequently Asked Questions
Do I Need To Add Gelatin To This Recipe?
No, you don't need to add any gelatin to this recipe because the gelatin from the pigs' feet is naturally released and forms a stiff jelly.
When Was Zimne Nogi Invented?
Zimne Nogi has been part of Polish culture for centuries. It's also believed that some type of meat jelly was served at the wedding of King Sigismund I of Poland with Bona Sforza in 1518.
Do Other Countries Make Galaretka Wieprzowa? What Is It Called There?
Yes, many Eastern European countries make this dish using pork, chicken, or fish (see my Polish jellied fish recipe). It's called hladetina in Croatia, pihtije in Serbia, pivtija in Macedonia, kholodets in Ukraine and Russia, pača in Bulgaria, răcitură in Romania, žolca in Slovenia, or muzhuzhi in Georgia.
How Do I Store Leftover Aspic?
Store leftover aspic in the refrigerator and finish within a few days. Do not freeze.
Zimne Nogi Polish Jellied Pigs Feet Recipe
Yield: 8 servings
Zimne Nogi Polish Jellied Pigs Feet Recipe
Jellied pigs' feet is a traditional Polish dish eaten during the cooler months, topped with a squeeze of lemon juice or served with some tasty horseradish. Here's how to make the best Zimne Nogi or Studzienina!
Cook Time
2 hours
30 minutes
Total Time
7 hours
45 minutes
Ingredients
4 pork knuckles
2 pigs feet
4 carrots
2 parsley roots
1 celery root
10 crushed black peppercorns
7 allspice berries
4 bay leaves
2 tbsps of chopped parsley
2 tbsps of cooked/canned peas
Lemon juice, Optional
Horse radish, Optional
Instructions
Cover the meat with cold water. The water should reach about 4'' (10cm) above the meat level.
Add black pepper, allspice berries, and bay leaves.
Start cooking. Bring to an almost-boil, then reduce the heat.
If you notice the white/dark foam on the soup, collect it with a tablespoon and throw it away. It's called szumy.
When there is no more szumy, peel the carrot, parsley roots, and celery roots, then add them to the pork water. Cook everything together until soft.
Remove the veggies and meat from the stock and set them aside until they are cool enough to manage.
Strain the stock and season with salt.
Dice the veggies.
Remove the bones and skins from the meat. Dice the meat.
Place the meat, cooked veggies, peas, chopped parsley onto the small containers.
Cover them with stock, then place them in the fridge for a few hours.
Eat straight from the containers or transfer your Polish jellied pigs feet onto one big plate and serve!
Notes
Top with a squeeze or lemon juice or vinegar before serving.
Zimne Nogi goes well with a side of horseradish. 
Recommended Products
As an Amazon Associate and member of other affiliate programs, I earn from qualifying purchases.
Nutrition Information:
Yield:
8
Serving Size:
1
Amount Per Serving:
Calories:

190
Total Fat:

10g
Saturated Fat:

3g
Trans Fat:

0g
Unsaturated Fat:

5g
Cholesterol:

61mg
Sodium:

78mg
Carbohydrates:

9g
Fiber:

3g
Sugar:

2g
Protein:

17g
These data are indicative and calculated by Nutritionix
Pin For Later:
Did you like this zimne nogi Polish jellied pigs feet recipe? Let us know in the comments below!