When someone talks about gingerbread cookies, people automatically think of Nuremberg in Germany where they bake loads of these cookies. Germany however isn't the only country that makes gingerbread cookies. Anyone who has visited Poland in December will know that Christmas time and Polish gingerbread cookies are rather synonymous. These popular cookies are known as pierniczki in Polish.
If you are lucky enough to be in Poland during Christmas, you will find that Polish pierniki cookies come in all shapes and sizes. There is an active tradition in Poland that takes place every 6th of December. This is St. Nicholas day or Swiety Mikolaj. The day is iconic because it flags off the start of the Christmas holidays in Poland.
On this day, St. Nickolas comes around and hands out gifts, candies, and Polish gingerbread cookies to the kids. As you can imagine, the kids are absolutely thrilled and look forward to this tradition every year.
Aside from St. Nickolas day, Polish gingerbread cookies are baked in many households and the smell of the gingerbread spice is something that grows stronger as Christmas approaches. If you visit a Polish household during this season, you are bound to be served some of these epic cookies alongside a steaming cup of coffee or tea.
Polish Gingerbread Cookies Recipe – Pierniczki
Part I – Melt Sugar With Honey And Butter
Take a pot and add in 1 cup of icing sugar, 1 stick of butter and ½ cup of honey. Mix the ingredients thoroughly and set it on a low stove. The ingredients will melt and combine together.
Part II – Add Cocoa and Spices
Add 2 tbsps. of cocoa and 2 tbsps. of gingerbread spice to the mixture and stir well. Cook it slowly till everything is mixed up. Set it aside and allow the mixture to cool.
Part III – Sift Flour On A Flat Surface
Choose the surface that you will use to roll out the gingerbread cookies. Sift 4 cups of all purpose flour and 1 tbsp. of baking soda into a pile on the surface. Make a small hole at the center so that the mound will look like a little volcano.
Part IV – Add Eggs And Cold Gingerbread Mixture
Add 2 eggs and the cold gingerbread mixture into the center of the flour. The hole that you made at the center will prevent it from spilling over the edges. This way you can ensure that you get the right proportions. Knead the dough well. All the ingredients should combine well.
Part V – Preheat The Oven To 356F
Part VI – Divide The Dough Into 2 Parts
Part VII – Roll Out The Dough
Use a flat floured surface to roll out the dough. You can make it into whatever thickness that you desire. Remember that since you use baking powder, the cookies will rise so the thickness will differ slightly from what you rolled.
Part VIII – Cut The Cookies
Use a cookie cutter to cut out the shapes. Traditionally people make gingerbread men. You can however use any kind of cookie cutter shapes. If you don't have a cookie cutter, use a glass to cut out nice round shapes.
Part IX – Place The Cookies On The Baking Tray
Line a baking tray with parchment paper. This will prevent the cookies from sticking to the baking tray. Place the cookies on the baking tray making sure to keep a little distance between them.
Part X – Repeat The Process Till The Dough Is Over
Combine the excess dough with the other part of the dough. Repeat the process and make as many cookies as you can. This recipe will typically give you approximately 3 baking trays full.
Part XI – Bake For 8 – 10 Minutes
The cookies bake quickly. You just have to keep them in the oven for 8 – 10 minutes. Make sure that you bake just one tray at a time. After you are done baking the cookies, you can transfer the cookies to a wire rack to cool.
Part XII – Decorate The Gingerbread Cookies
That was a favorite part for my kids! We had so much fun decorating the gingerbread cookies together :).
FAQs About Polish Pierniki Cookies
I Don't Have Cookie Cutters. What Should I Do?
Don't worry if you don't have cookie cutters. You can just use the mouth of a glass to cut nice uniform circles. Alternatively, you can use a knife and cut even squares. If you are feeling particularly innovative, you can use a fork to make patterns on the cookies.
My Polish Gingerbread Cookies Are Not Soft Enough. Can I Salvage The Recipe?
If your Polish gingerbread cookies are not soft enough, just place them in a container/jar with a piece of apple or orange inside the container. The cookies will automatically soften.
How To Store Polish Gingerbread Cookies?
Polish gingerbread cookies need to be stored in a cool and dry place. If the place has moisture, the cookies will absorb it and turn soft. The easiest way to do this is to keep them in an airtight container.
Alternatively, you can also store these using cling wrap or aluminum foil. They don't last for very long this way though.
Polish Gingerbread Cookies Recipe – Pierniki
Yield: 50 cookies
Polish Gingerbread Cookies Recipe - Pierniczki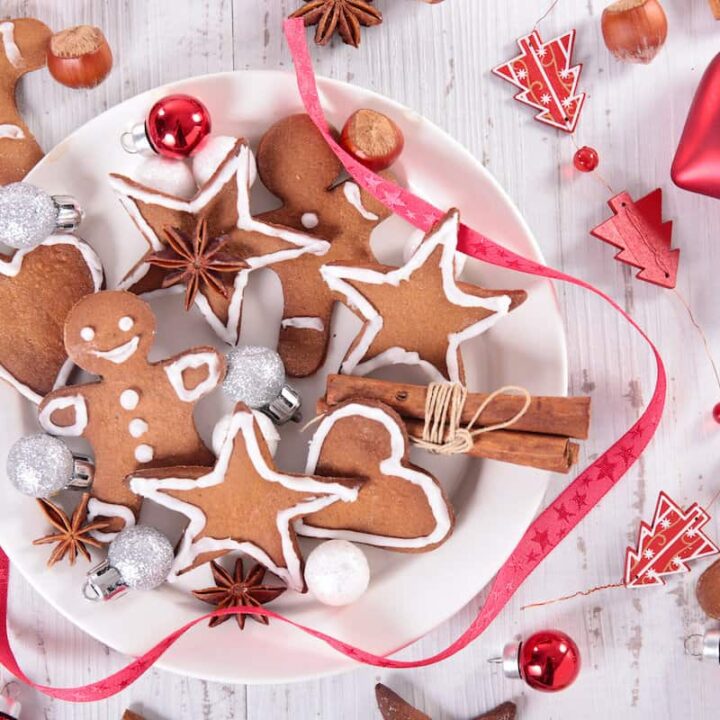 Ingredients
4 cups (480g) of all-purpose flour
1 cup (130g) of icing sugar
2 eggs
2 tbsps of gingerbread spice
2 tbsps of cocoa
1 tbsp of baking soda
1 stick (110g) of butter
½ cup (180g) of honey
Instructions
In a pot, melt honey with sugar, and butter.
Add cocoa and spices and cook slowly until everything is mixed up. Allow to cool.
Sift the flour and baking soda on a flat surface.
Add eggs and cold gingerbread mixture and knead the dough.
Preheat the oven to 356°F (180°C).
Divide the dough into 2 parts.
Roll out the dough to the thickness of your choice.
Cut out the cookies using cookie cutters of your choice.
Place the cookies on the baking tray lined with parchment paper.
Repeat the process until you use the entire dough. You will get 3 baking trays using this recipe.
Bake for 8-10 minutes, one tray at a time.
Notes
If your gingerbread cookies are not soft enough, place a piece of apple or orange inside the box with the cookies. That will soften them.
Recommended Products
As an Amazon Associate and member of other affiliate programs, I earn from qualifying purchases.
Nutrition Information:
Yield:
50
Serving Size:
1
Amount Per Serving:
Calories:

53
Total Fat:

1g
Saturated Fat:

0g
Trans Fat:

0g
Unsaturated Fat:

0g
Cholesterol:

8mg
Sodium:

81mg
Carbohydrates:

10g
Fiber:

0g
Sugar:

3g
Protein:

1g
These data are indicative and calculated by Nutritionix