If you are looking for a healthy spread, you will love this fish paprikash recipe. After making, you can either eat it within 5 days or pasteurize it and keep it in the fridge for up to 6 months.
The specific flavor of fish and onion combined with soft rice and tomato paste make a perfect spread. I love fish paprikash, especially when served on fresh bread with a slice of tomato.
See also my homemade canned pork recipe.
Tips For Making Fish Paprikash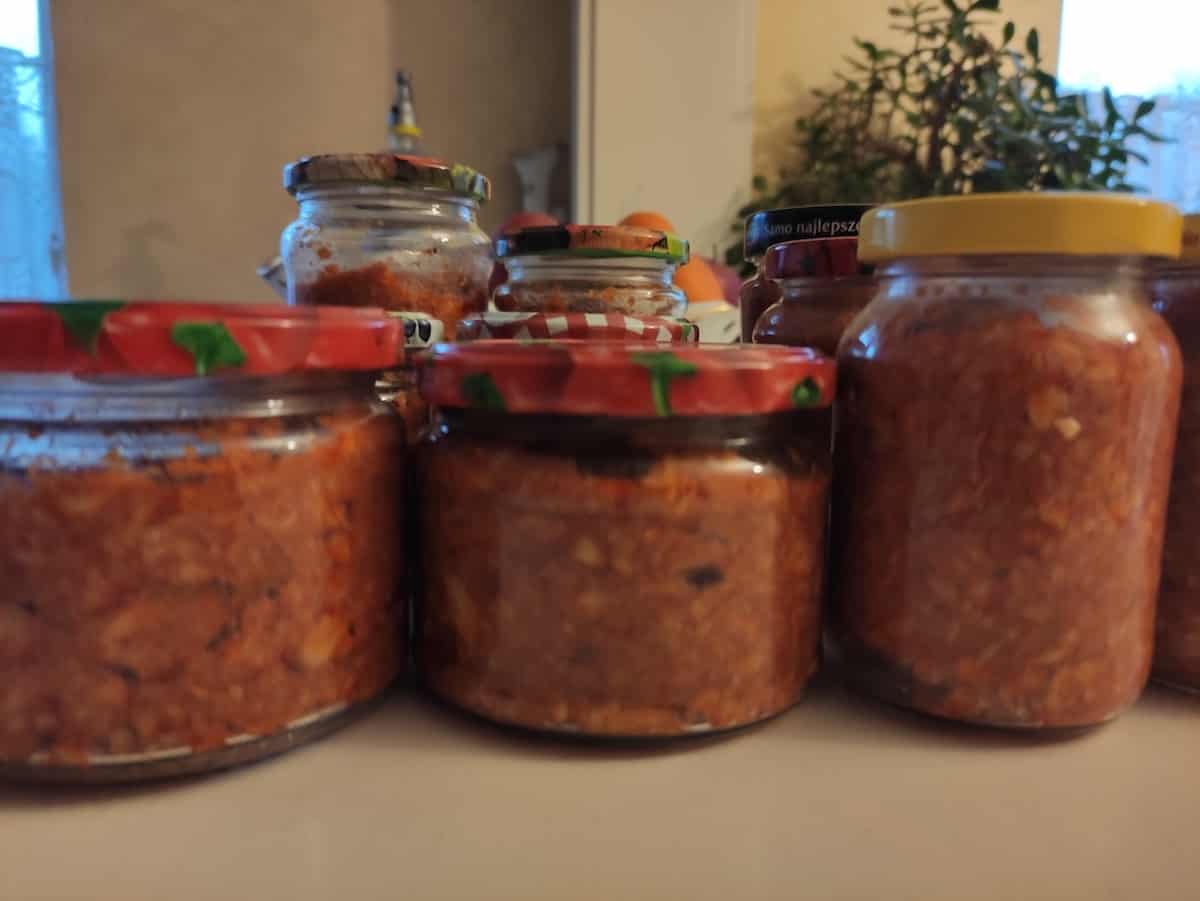 Use Any Fish You Want.
I usually make fish paprikash from trouts. You can also use smoked mackerel or any other kind of fish. Make sure you remove all the bones from the fish though.
Keep It In The Clean Jars.
Put to the jars as much fish paprikash as possible. Don't leave any free spaces.
Serve It With Veggies.
Fish paprikash tastes best when served with veggies, such as:
tomato
cucumber
pickles
sprouts
salad
radish
Polish Fish Paprikash Recipe
Polish Fish Paprikash Recipe
Ingredients
6 trouts/ 2 smoked mackerels/ 20-30 oz of any kind of raw fish
1 cup of tomato paste
2 big onions
1 tsp of black pepper powder
2 tsps of salt + 1 tbsp of salt
2 tsps of smoked paprika powder
1 tsp of sweet pepper powder (sweet paprika)
½ tsp of chili pepper
1 cup of rice
½ cup of oil
Instructions
Cover the rice with 2 cups of water and cook until soft.
If you are using raw fish/trouts, cover them with water, add 1 tbsp of salt and cook until soft.
When the fish is cooked, debone it.
Peel the onion, chop it finely and fry in oil.
Mix all the ingredients together and put your fish paprikash into jars (tightly).
Notes
Keep your paprikash in the fridge for up to 5 days.
If you want to keep it longer (for up to 6 months), you need to pasteurize it. Click here to learn how to do it.
Cook the jars for:
1,5h one day (24 hours) after making
1h two days (48 hours) after making
30 minutes three days (72 hours) after making
Recommended Products
As an Amazon Associate and member of other affiliate programs, I earn from qualifying purchases.
Pin For Later:
Did you like this fish paprikash recipe? Let us know in the comments below!