Zupa Koperkowa or Polish dill soup is a fragrant recipe that warms both the heart and the stomach. You've probably seen dill used in other recipes across the world. Most people use it as a garnish. In Poland, we embrace the herb and use copious amounts in our cooking. The Polish dill soup recipe is just one example.
While the herb is what makes this recipe special, it is crucial that you make the broth right. In Poland, people believe that a good variety of meat is essential for the best flavor. Don't be surprised to find that everyone uses a different type of meat for the broth. Poultry like turkey and chicken however are preferred.
Dill In The Polish Kitchen
Much like parsley, dill is another herb that is used quite frequently in Polish kitchens. Since this feathery leaved herb tastes best fresh, you will also find it in the herb gardens attached to the houses.
Dill is known to be good for people with heart conditions largely because it is packed with flavonoids. It is also packed with Vitamin A and C along with minerals like Calcium and Iron which makes it great for children and pregnant women.
In this recipe, you will find that the dill is chopped really fine such that it appears as flakes in the soup.
Polish Dill Soup Recipe – Zupa Koperkowa
Part I – Use Ready-To-Cook Broth Or Cook Your Own Broth Using This Recipe.
The broth is one of the crucial parts of the Polish dill soup recipe. It is a long process because it involves boiling the meat and bones for a long duration. As mentioned before, there are a wide variety of meats that can be used. Pork isn't preferred but duck, beef, rabbit, pheasant, quail, pigeon and veal make their appearance from time to time. Poultry like turkey and chicken however are popular favorites and the meat is easily accessible.
Alternatively you can use ready to cook broth which is easier and less time consuming.
Part II – Peel And Dice Potatoes.
Part III – Cook Them In Broth Until Soft.
It is important to ensure that the potatoes are soft. You can do this by using a fork to prick the potatoes. A good tip is to remember to make similar-sized cubes when dicing the potatoes. That way the potatoes cook evenly.
Part IV – Wash And Chop The Dill.
As with all herbs, dill also tends to carry grit. Make sure that you wash it thoroughly. The smallest amounts of grit can spoil the whole soup. Chop the dill finely and keep it to drain when you are done.
Part V – Mix Flour With Sour Cream And Pour It Into The Soup.
Mix 3 tbsps of all-purpose flour with 1 ½ cup of sour cream. Stir well to make sure that all the lumps have been dissolved. Add it to the soup once the potatoes are ready. This will serve two purposes. The sour cream will give the soup its characteristic richness and flavor while the flour will thicken the broth. If you don't stir the mixture continuously, it will clump and thicken irregularly.
Part VI – Turn Off The Heat.
Part VII – Add Half Of The Chopped Dill And Mix.
This is a crucial part of the Polish dill soup recipe. Add half of the chopped dill into the soup. The heat will cause the herb to release its flavor into the soup.
Part VIII – Use The Remaining Dill To Sprinkle On Top Of The Soup Before Serving.
The remaining dill will serve as a garnish. It will also add to the fragrance of the soup.
Part IX – Season With Salt And Pepper If Necessary.
FAQs About Making Polish Dill Soup
Can The Polish Dill Soup Be Made Vegetarian?
Yes. Most Polish households use meat broth to make Polish dill soup. You can make it vegetarian by using a vegetable broth substitute.
How Should Polish Dill Soup Be Served?
Like most soups, Polish dill soup should be served hot. It is popular as a starter but some people also love to have it as a light dinner. Typically, you will find that this dish is served on colder days because it tends to warm you from inside out.
You can also serve the soup with a side of bread. Baguettes are a popular choice.
Can Polish Dill Soup Be Frozen?
People freeze the soup. The texture of the potato in the soup however tends to change which is why the best Polish dill soup is served fresh off the stove.
Yield: 8 servings
Polish Dill Soup Recipe - Zupa Koperkowa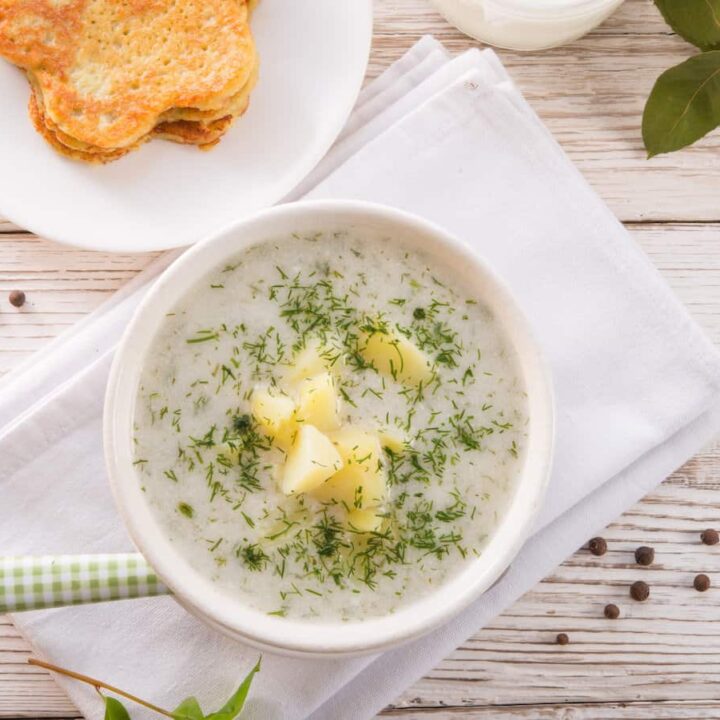 Ingredients
1 gal (3.7l) of broth
6 large potatoes
1 ½ cup of sour cream
3 tbsps of all-purpose flour
2 bunches of fresh dill
salt, pepper
Instructions
Use ready-to-buy broth or cook your own broth using this recipe.
Peel and dice potatoes.
Cook them in broth until soft.
In the meantime, wash and chop the dill.
Mix flour with sour cream and pour it into the soup, stirring all the time.
Turn off the heat.
Add half of the chopped dill and mix.
Use the remaining dill to sprinkle on top of the soup before serving.
Season with salt and pepper if necessary.
Recommended Products
As an Amazon Associate and member of other affiliate programs, I earn from qualifying purchases.
Nutrition Information:
Yield:
8
Serving Size:
1
Amount Per Serving:
Calories:

316
Total Fat:

9g
Saturated Fat:

5g
Trans Fat:

0g
Unsaturated Fat:

3g
Cholesterol:

26mg
Sodium:

152mg
Carbohydrates:

53g
Fiber:

5g
Sugar:

5g
Protein:

8g
These data are indicative and calculated by Nutritionix