Thin pancakes stuffed with kapusta kiszona, mushrooms, and onions and fried to form a crunchy coating are delicious! Serve these Polish croquettes or krokiety as a snack or meal!
Hands up, who has heard of the Polish croquette? Even though there are different versions of croquettes in most cultures around the world, the Polish krokiety recipe is one you must try too.
These fried thin pancakes stuffed with kapusta kiszona, champignons, and onions are one of the most popular vegetarian food in Poland.
The sauerkraut croquettes are very easy to make, however, it's quite time-consuming. Is it worth trying krokiety recipe then? YES! I am sure you will love it- crispy from the outside, soft inside, Polish croquettes taste delicious served both warm or cold.
History Of Polish Krokiety
Most people assume that the Polish croquettes are derived from the French because the word krokiety is a derivative of croquette which means 'to crunch'. But our Polish croquettes are a bit different.
While traditional croquettes consist of a filling that's breaded and fried, Polish croquettes consist of a filling that's first rolled in a thin crepe called nalesniki, which is then breaded and fried.
It's quite possible that Polish croquettes have more in common with the rissoles from Ancient Rome. These patties consisted of meat or veggies that were covered with dough and cooked. It was only later in the 17th century that the French enhanced the recipe by adding a crispy coating of breadcrumbs.
But whether it's an 18th-century derivate of the French croquettes or whether it originated long before that in another part of the world, one thing is certain. Polish croquettes are delicious!
Different Versions Of Polish Croquette
There are 2 popular versions of krokiety:
with minced meat
with cabbage, mushrooms, and onion
I am not a big fan of the first one, as the dish is simply too heavy- meat and dough fried in breadcrumbs is just too much. The vegetarian version is perfect though- you can have it as a snack or serve it with barszcz czerwony (clear red beet soup).
Recently, the delicious combo of krokiety and pierogi ruskie has been invented! See my krokiety ruskie recipe.
How To Make Sauerkraut Croquettes: Krokiety Recipe
Step I – Prepare The Filling
Boil the sauerkraut in water for an hour or so till it's soft. While it's boiling, chop the champignons and onions fine. Fry them with butter or lard till soft.
Step II – Prepare The Pancakes
Mix the milk, water, eggs, and flour to form a batter.
Heat a frying pan with a few drops of oil. The pan should be as hot as possible. Ladle the batter onto the pan and fry the pancakes while taking care to make them as thin and light as possible.
Step III – Continue With The Filling
Drain the water from the softened sauerkraut and mix it with the onions and mushrooms. Add salt and pepper for seasoning, if you like.
Step IV – Form the Krokiet
Place the pancakes on a plate or flat board. Place the filling in the center of the pancake and fold to form a krokiet. Keep repeating till all the krokiety are ready.
Step V – Fry the Sauerkraut Croquettes
Prepare two plates – one with whisked eggs, and the other with breadcrumbs. Dip the krokiet in the eggs and then coat with breadcrumbs.
Add the krokiety to a pan. Once the pan is full, fry the krokiety till they're golden brown. Drain the excess oil using paper towels.
Tips For Making Polish Croquette
1. Use sparkling water for the dough if you can
Even though the still water will work just fine, the sparkling one will make the dough lighter, thus more delicious.
2. Skip the mushrooms if you want
Mushrooms are not obligatory, however, they make the filling tastier. You can use champignons or soaked dried mushrooms.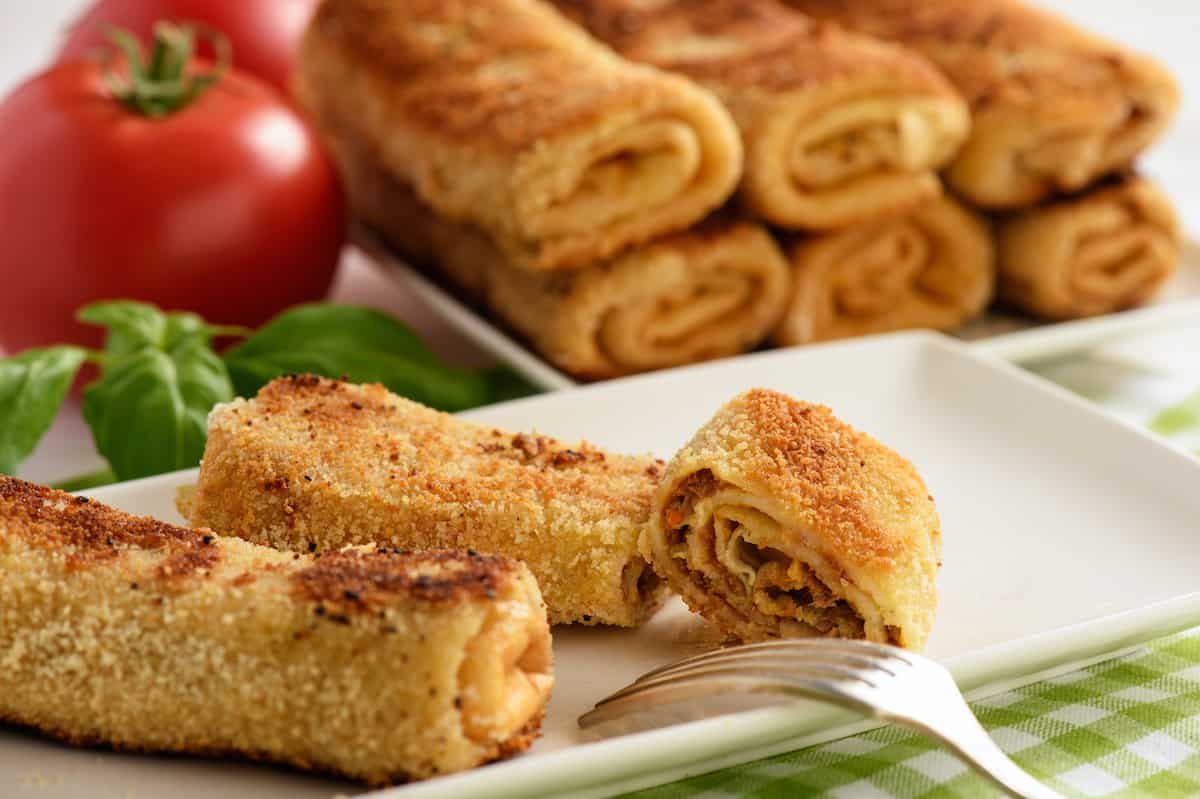 3. Choose the size you prefer
You can also decide the size based on the time you have. If you have more time and want to cook smaller krokiety with less filling and more dough, you can. Or if you're serving it as one of many snacks at a dinner party, then smaller Polish croquettes are needed.
If you want to make cute little Polish krokiety to serve as snacks, go for it! The smaller the pancakes, the smaller croquettes you will get.
I prefer making big croquettes, as we eat them for lunch anyway. And this way we eat more veggies than dough.
4. Make them flat or round
You can also choose which shape of krokiety you like the most. If you want them round, simply roll the dough with the filling. I went for the flat "pouch" shape, as it's easier and faster to make.
5. Make krokiety as meal prep
You want to make lots of krokiety and freeze for the future as meal prep. In this case, only form the krokiety and freeze them. You can eggwash and bread them on the day you plan to fry and eat them. The coating will be crunchy.
FAQS About This Polish Croquettes Recipe
How To Pronounce Krokiety?
Krokiety is pronounced crock-e-ye-tee.
What Other Filling Can I Use With This Polish Croquettes Recipe?
This Polish krokiety recipe can work with any of these fillings:
Minced meat (chicken, beef, pork) with onions
Minced onions and cheese
Sauerkraut and cheese
Sauerkraut, mushrooms, and cheese
Mushrooms and minced onions
Mushrooms and minced meat
Cooked lentils
Finely diced ham and sauerkraut
Finely diced kielbasa and sauerkraut
Can The Krokiety Be Made Gluten Free?
Yes, to make krokiety gluten-free, make the nalesniki with gluten-free flour and use panko instead of breadcrumbs.
What Other Dishes Can I Make With Sauerkraut Filling?
You can use sauerkraut filling to make any of these Polish dishes:
What to serve with Krokiety?
Krokiety tastes great on its own, but you can also serve it with sour cream, ketchup, mushroom sauce, or red borscht.
How To Store Krokiety?
After Polish croquettes are ready, keep them in a fridge for up to 3 days. You can also freeze them for 3 to 4 months, the taste should not change after defrosting. Reheat in a frying pan or microwave before serving.
Krokiety Recipe
Yield: 8 servings
Krokiety Recipe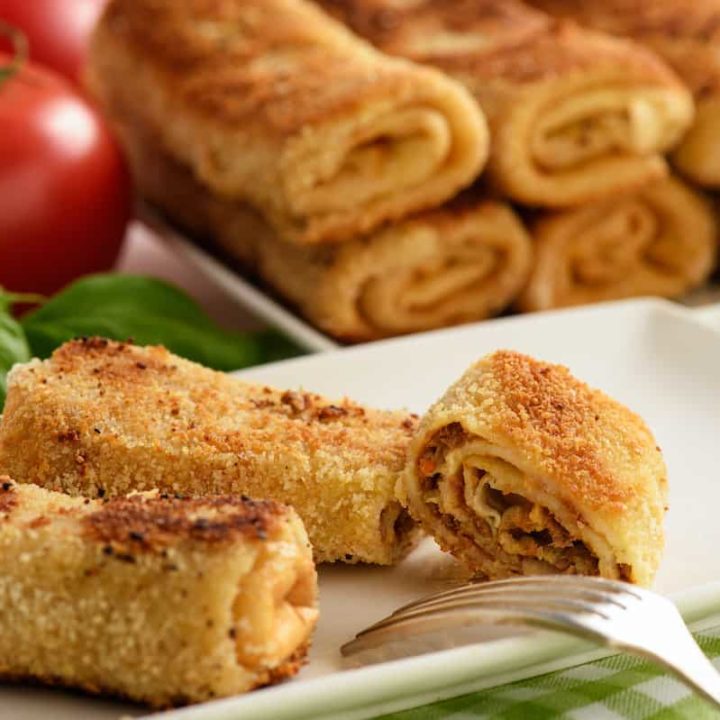 Polish krokiety are fried thin pancakes stuffed with kapusta kiszona, champignons, and onions. The savory filling and crunchy coating of these Polish croquettes are perfect for snacks or meals!
Total Time
1 hour
30 minutes
Ingredients
Filling
3 ½ cups of sauerkraut (kapusta kiszona)
2 cups of mushrooms (champignons)
1 big onion
salt, pepper, a bit of butter
Dough
1 cup of milk
3/4 cup of water (preferably sparkling)
2 eggs
1 cup of flour
a pinch of salt and sugar
Additionally
Instructions
Boil sauerkraut in water until it's soft (it will take about 1 hour).
Finely chop an onion and champignons. Fry them with a bit of butter on low heat, until they are soft.
Mix all the ingredients for the dough together.
Heat the pan with 3 drops of oil (it should be very hot, for my oven it's volume 7 with 9 being the max).
Start frying the pancakes, make them as thin and light as possible. Smear the pan with oil every time, or simply pour 3 drops of oil and move the pan a bit.
Let's go back to the filling- when all the ingredients are soft, drain them to make sure the filling is dry.
Mix everything together, add salt and pepper if necessary- every sauerkraut is different, so some may not need salt at all.
Place the filling on the pancake and fold to form krokiet (see the photo).
Place whisked eggs on one plate and the breadcrumbs on the second.
Bread each krokiet (dip it in the egg mixture first, next in the breadcrumbs).
Fry krokiety on oil, until they are golden brown.
Place them briefly on a plate lined with paper towels to drain off excess fat.
Notes
My krokiety are quite big- I had 10 from the portion. You can make them small as well, it's just more time-consuming.
Recommended Products
As an Amazon Associate and member of other affiliate programs, I earn from qualifying purchases.
Nutrition Information:
Yield:
8
Serving Size:
1
Amount Per Serving:
Calories:

169
Total Fat:

5g
Saturated Fat:

2g
Trans Fat:

0g
Unsaturated Fat:

2g
Cholesterol:

99mg
Sodium:

725mg
Carbohydrates:

24g
Fiber:

4g
Sugar:

5g
Protein:

8g
These data are indicative and calculated by Nutritionix
Pin For Later:
Did you enjoy this Polish croquette krokiety recipe? Share your thoughts in comments!