Crepes are popular worldwide. Every country has its own special twist on this iconic recipe and Poland crepes are no different. They are super easy to make and are perfect for breakfast, tea time, or a light snack mid-day. Some would even say that they work well as a dessert. That honestly depends on the filling and toppings that you use because Polish crepes can be both sweet and savory.
The Polish crepes with cottage cheese are popular favorites in the country. The ingredients are easily accessible and can be made irrespective of the season. A big bonus is that this recipe is remarkably versatile and can be made with a variety of fruits or fruit preserves.
Polish Crepes With Cottage Cheese – Naleśniki Z Serem
Polish Crepes
Polish crepes are remarkably easy to make. If you haven't tried them before, check out our Polish crepe recipe. It will guide you through the finer techniques required to make the batter for the crepe.
Once the batter is ready, heat the skillet pan till it is hot and add a little oil. Make sure that the oil covers the entire surface of the pan. When the oil has heated up sufficiently, spread the batter on the pan and cook. Flip it over such that both sides of the crepe have a nice brown color.
Pile the Polish crepes as you make them and set them aside.
Polish Sweet Cheese
The next step is to make Polish sweet cheese for the filling. For this combine 2 cups of cottage cheese or farmers cheese with 2 tbsps of butter, ½ cup of sugar and ½ tsp of vanilla. Use a food processor to ensure that the cheese combines well with the other ingredients. You will notice that it gets a creamy consistency.
You can check out our Polish sweet cheese recipe for more details about it.
Assembling The Polish Crepes With Cottage Cheese
There are two ways in which you can assemble Polish crepes with cottage cheese. One is to roll them. Place the crepe on a flat surface and layer it with the cottage cheese. Fold the two opposite sides slightly and then roll from one of the other two ends. This will ensure that the crepe remains intact when eating it.
The other technique is a little simpler and more popular. Layer the crepe with cottage cheese and then fold the crepe in half such that it forms a semicircle. Fold it in half once more and serve.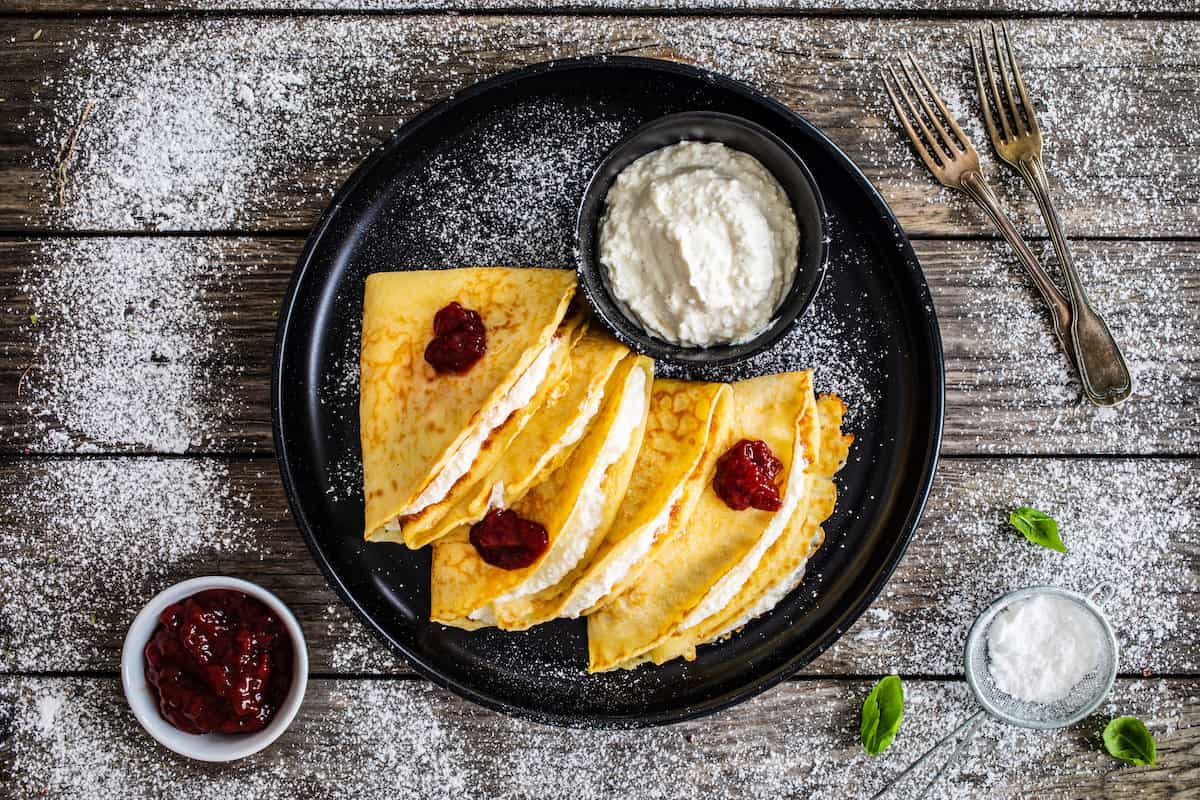 FAQs About Polish Crepes With Cottage Cheese
What Is The Difference Between Crepes And Pancakes?
The difference between crepes and pancakes is all in the dough. Pancakes have a raising agent like baking powder added to the mix. You will find that pancakes are made thick and fluffy. Crepes are thin and spread out like a thin film.
What Are The Varieties Of Polish Crepes?
You will find that Polish crepes can be divided broadly into two categories. They can either be sweet or savory. Sweet crepes are paired with fruits, jams, preserves, cottage cheese, chocolate and other sweet toppings. Savory crepes on the other hand are paired with meats like ham and bacon, eggs, cheese, etc.
What Are The Best Fruits And Preserves That Go Well With Polish Crepes?
All berries pair very well with Polish crepes. They compliment the cottage cheese well too because they are tangy. Popular favorites are blueberries, blackberries, and strawberries. Apricot preserve is another popular choice.
Polish Crepes With Cottage Cheese - Naleśniki Z Serem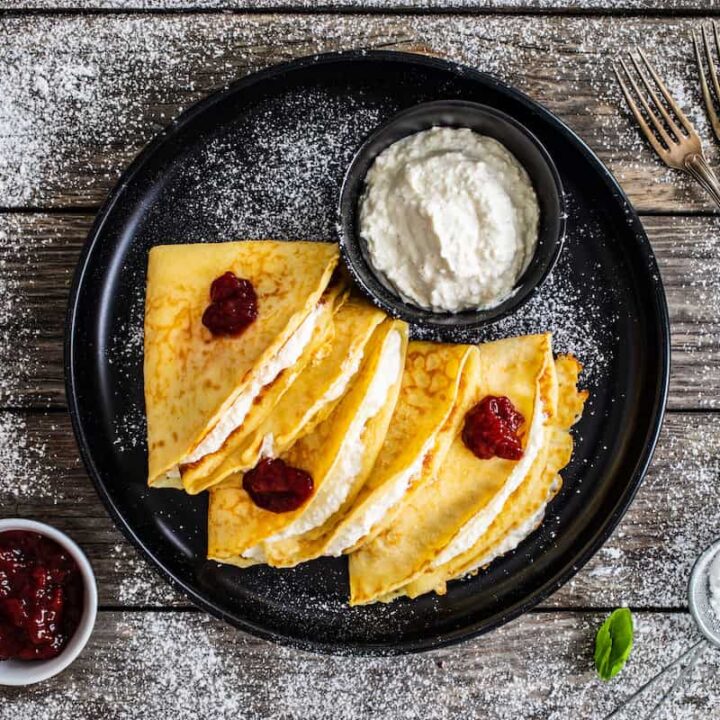 Polish crepes with cottage cheese are quick and easy to make. They work well for breakfast or a light snack for kids in the day.
Additional Time
23 minutes
Ingredients
Ingredients For Polish Sweet Cheese
2 cups of cottage/ farmer cheese
2 tbsps of butter
1/2 cup of sugar, xylitol or any other sweetener
2 egg yolks (optional)
1/2 teaspoon of vanilla extract (optional)
Ingredients For Polish Crepes
1 cup of milk
3/4 cup of water (preferably sparkling)
2 eggs
1 cup of flour
a pinch of salt and sugar
Instructions
Instructions For Polish Sweet Cheese
Mix all the ingredients together using a food processor or blender until you will get a smooth and creamy consistency.
Set Aside in a cool place.
Instructions For Polish Crepes
Mix all the ingredients for the dough using mixer or whisk.
Heat the pan with 3 drops of oil (it should be very hot, for my oven it's volume 7 with 9 being the max).
Start frying the pancakes, make them as thin and light as possible. Smear the pan with oil every time, or simply pour 3 drops of oil and move the pan a bit.
Notes
Adding egg yolks is optional and it's only recommended when you will heat the Polish sweet cheese afterward (f.e. it's a filling for the sweet buns).
When making the Polish crepes check the dough. If the dough is too watery, add more flour. If it's too thick, add some milk or water.
Recommended Products
As an Amazon Associate and member of other affiliate programs, I earn from qualifying purchases.
Nutrition Information:
Yield:
8
Serving Size:
1
Amount Per Serving:
Calories:

275
Total Fat:

13g
Saturated Fat:

7g
Trans Fat:

0g
Unsaturated Fat:

5g
Cholesterol:

124mg
Sodium:

304mg
Carbohydrates:

28g
Fiber:

0g
Sugar:

15g
Protein:

10g