Comfort food by definition is food that makes you feel nostalgic or very comfortable. These items of food tend to have sentimental value to people. Usually it is because it was made often when they were young or because it brings back memories of happy times.
If you have visited Poland, you will know that Polish food is rooted in tradition. Most of the recipes have been handed down from generation to generation and have been made time and again. It isn't a surprise that many of the Polish comfort food items are actually traditional Polish recipes that people have grown up eating.
1. Polish Red Borscht
Polish red borscht is one of the top items on the list when it comes to Polish comfort food. This borscht gets its iconic color from the beetroot that is used in the recipe. Making this delicious dish takes time because you have to prepare the beetroot sourdough as much as a week in advance. The beetroot sourdough is what will determine the taste of the borscht. If you haven't made it before then check out my Polish red borscht recipe which has all the tips you will require to make the perfect Polish red borscht.
The Polish red borscht is served with either dumplings or potatoes. It is a very wholesome meal and is served hot. It is perfect for cold winter days when you want to warm yourself from inside out.
2. Polish Sausage and Potatoes
Garnek chlopski is one hearty meal. Made of sausage and potatoes, this dish is rich in fat and calories. Usually Polish sausage and potatoes is made using meat, potatoes and cabbage. The meat in the dish could vary. Popular choices are sausage, bacon, ground pork, leftover cutlets and klopsiki. You can however use any fatty meat for this recipe. In fact, some people even use vegan meat to make Polish sausage and potatoes.
The Polish sausage and potatoes recipe is pretty easy to make. It requires just 15 minutes of preparation time. Most of which goes in chopping the ingredients for the dish. The cooking time is 30 minutes. Slow cooking the garnek chlopski helps release all the flavors from the meat.
3. Kielbasa
Kielbasa is nothing but Polish sausage. In fact, there are many different kinds of kielbasa that are available. While the traditional version of kielbasa was made with pork, today you can get kielbasa that is made of chicken, turkey, beef and veal. It also differs based on the region of Poland you are in. Poles tend to make kielbasa of the popular regional meats too.
There are so many great dishes that can be made with kielbasa. It is one of the most versatile Polish comfort foods. Here are a couple of interesting recipes that you can try.
Boiled kielbasa
Grilled kielbasa
Fried kielbasa
4. Goulash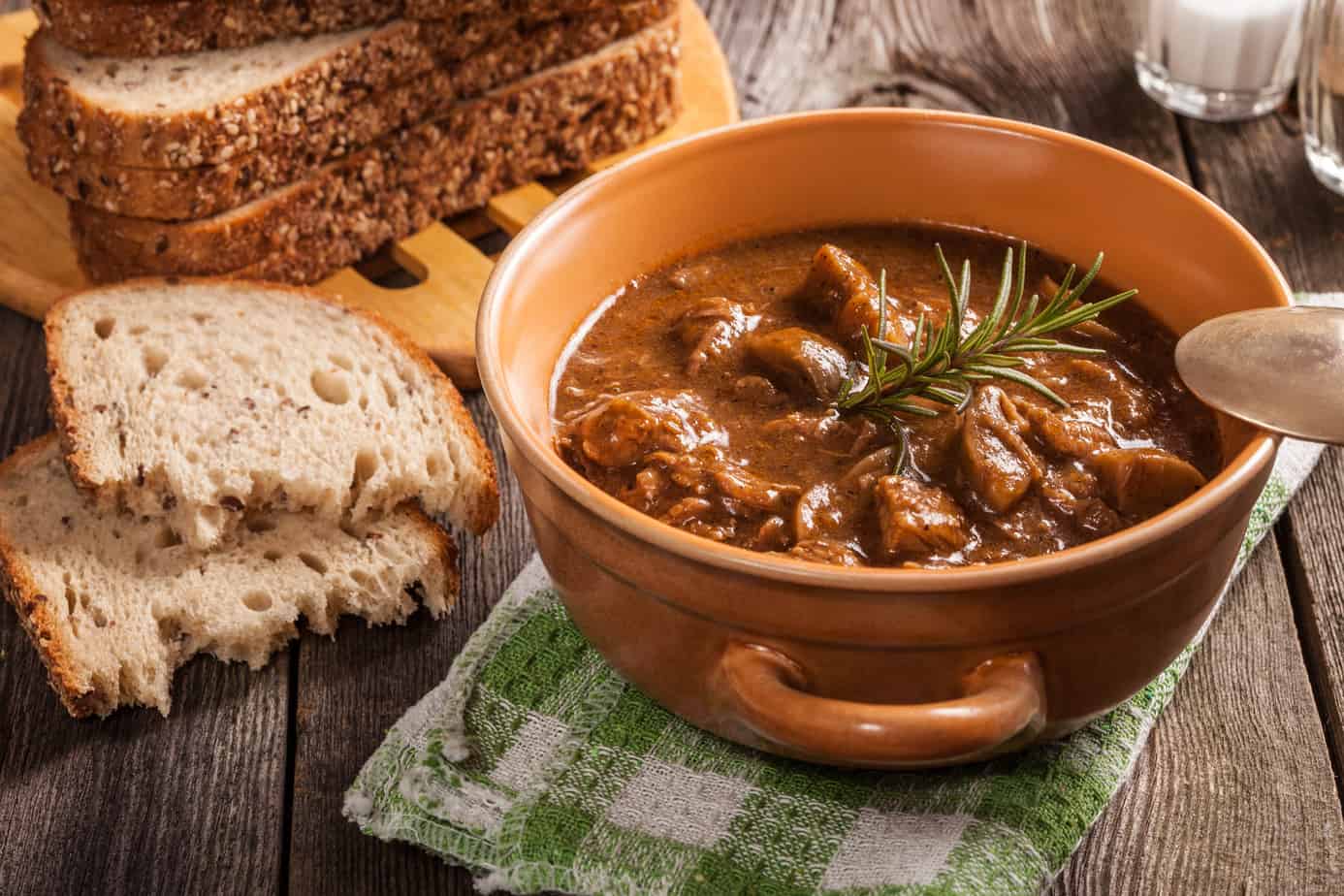 Goulash is another great Polish comfort food. There are a number of different goulash recipes that have been handed down from time to time. The Polish pork goulash recipe is very popular. Other great recipes are the goulash with bell pepper recipe and the goulash with mushroom recipe.
Making goulash is relatively simple. It is however time-consuming because the meat needs to be marinated overnight. Even after the meat is marinated, you still have to spend time cooking the dish. Despite the effort required to make goulash, it is very popular in Polish households in winter.
5. Bigos
Hunter's stew or Polish bigos is a dish that is popular across the world. It is one of the best Polish comfort food items if you are looking for a winter meal. Made of sauerkraut and meat, the dish requires just 20 minutes of preparation time.
The meats used in Polish bigos vary. Traditionally people used game meat. This could be elk, deer or wild boar. Today people use pork or kielbasa to make the bigos. It gives the dish a meaty taste that is similar to what the game meat would provide.
If you haven't made bigos at home before, make sure to check out my Polish bigos recipe. I've listed out all the tips you would need to make the perfect dish. Once you taste it, you will know why it is one of the most popular Polish comfort food.
6. Gołąbki
Golabki is known by so many names. It is essentially a stuffed cabbage roll. Traditionally these were made with a stuffing of pigeon meat. Today there are many different variants to golabki. There is even a vegan recipe for it. Here are a some of the other stuffing recipes.
Vegan golabki

– with buckwheat, mushrooms, and rice

Keto golabki

– with cauliflower instead of rice

Millet, mushrooms, and rice

Millet and veggies

Potatoes and onions

Barley and veggies
Golabki is very easy to make. The ingredients to most of the recipes are easily available and a cheap. This makes it one of the popular Polish comfort food.
7. Polish Chicken Soup Rosol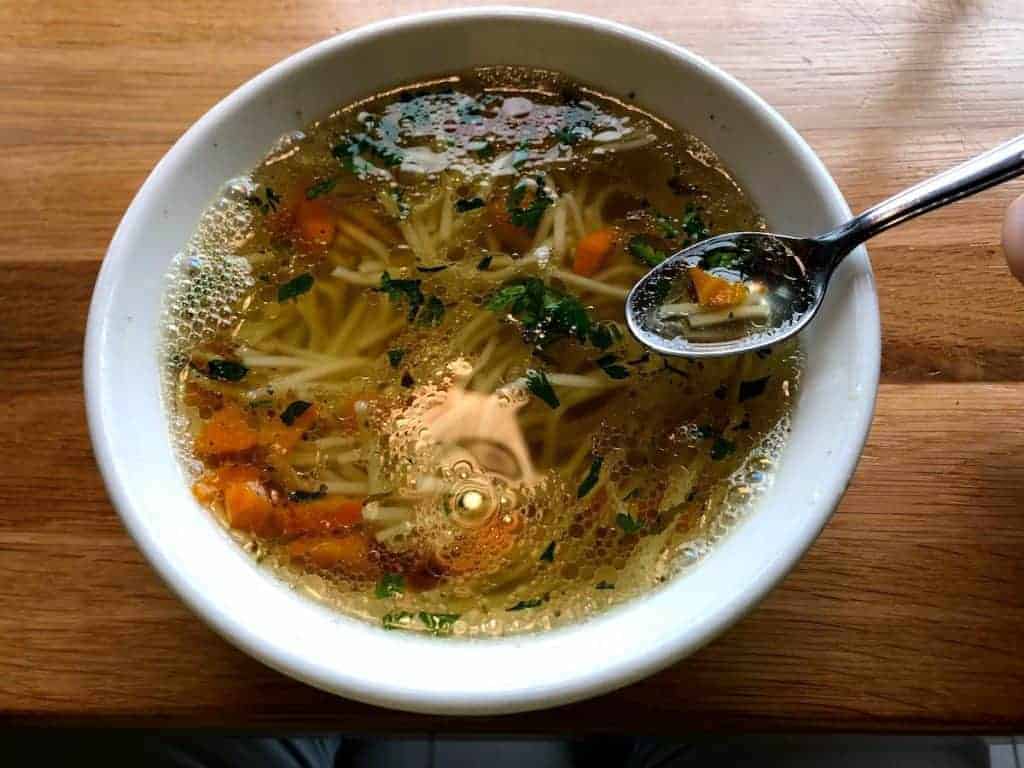 Chicken soup is one of the most popular comfort food across the world. Every country has their own special twist to it. The Polish chicken soup rosol is a chicken noodle soup. It is light and packed with flavor.
There are many versions of rosol. My Polish chicken soup rosol recipe requires a 20 minutes preparation time and a two hours cooking time. The soup is packed with vegetables, noodles and meats. The trick to making great rosol is in the soup broth. This is what takes the most time to make.
The broth can also be used to make other rosol recipes. Here are some that you can try.
8. Schabowy z Ziemniakami i Kapustą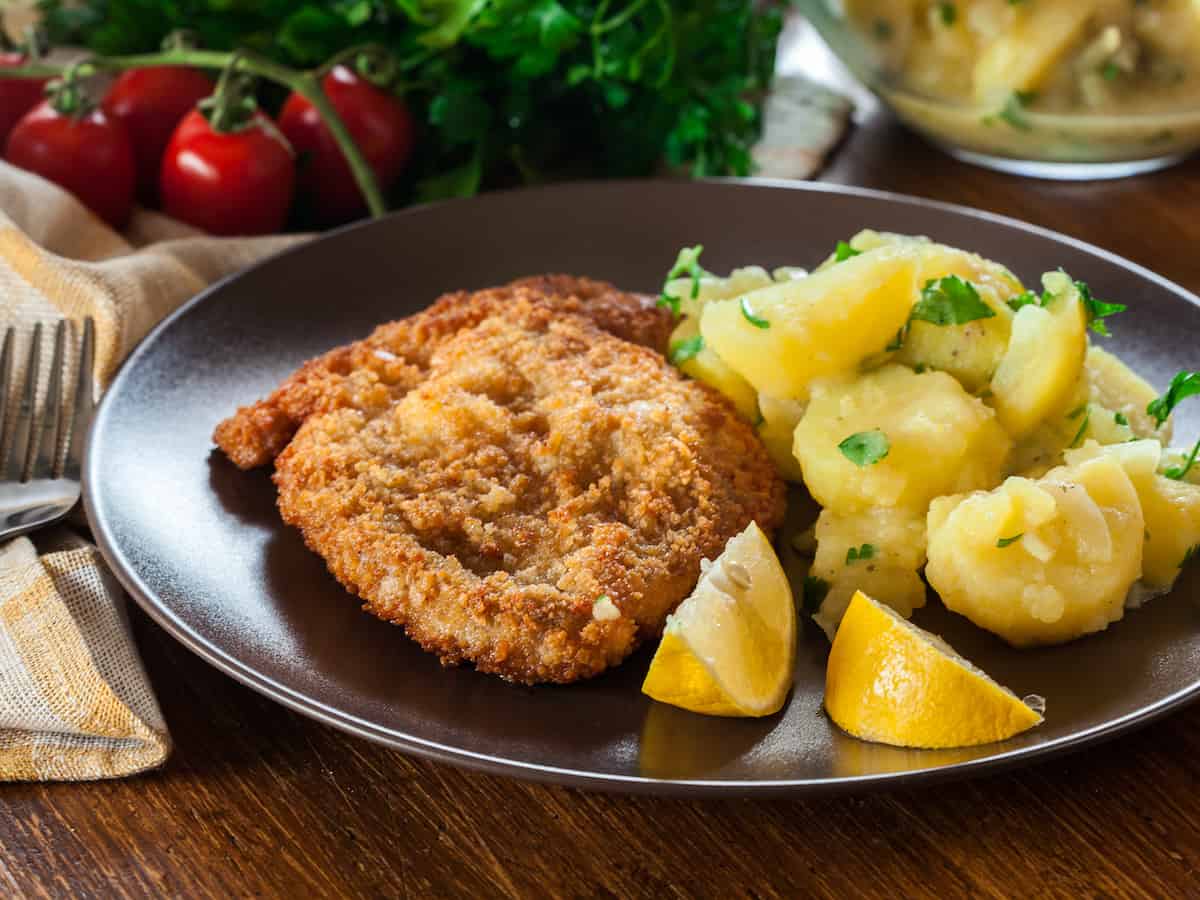 Schabowy or Polish pork cutlets are a well-loved Polish comfort food. In fact, it is probably a Pole's first answer when asked about a traditional Polish dinner. Making the schabowy is actually a pretty fast process.
If you have never made it before, check out my Polish pork cutlet recipe. It includes details on how to tenderize and marinate the pork before making the cutlets.
Polish pork cutlets can be served with a variety of different salads. The most popular way is to eat it with kapusta (fried cabbage) and boiled potatoes. Here are some of the other ideas for schabowy add-ons:
9. Zapiekanka
Zapiekanka is a type of open-faced sandwich that has gained in popularity across the country. These sandwiches are not only popular Polish comfort food but are also one of thetop street food in the country. The best and most famous zapiekanka can be found in Krakow.
This delicacy can also be easily made at home. All you need is a baguette and toppings. The most popular toppings for zapiekanka are ham, cheese and mushrooms. You can check out my zapiekanka recipe to see how they are made.
This open faced sandwich is crispy when made. It is usually served hot so that the person can enjoy the flakiness of the baguette. Zapiekanka makes for a very filling meal. This is another reason why it is so popular.
10. Polish Potato Pancakes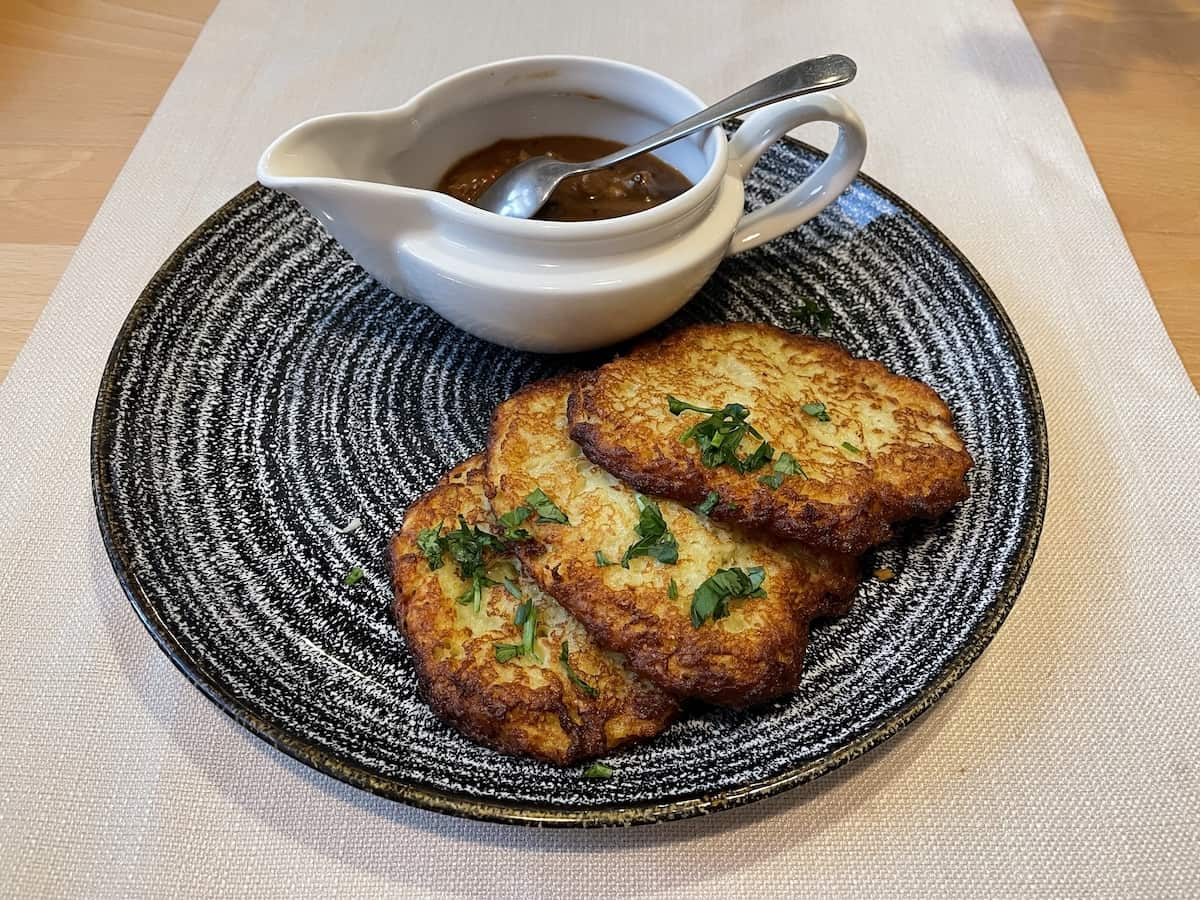 Polish potato pancakes are one of the easiest Polish comfort food to whip up. They are well-loved by both adults and children. The Polish potato pancakes are very similar to the American hash browns and latkes which is why they could even be considered Polish hash browns.
The main difference between hash browns and Polish potato pancakes is the fact that the pancakes are shallow-fried while the hash browns are deep-fried. Hash browns are also a little thicker.
My Polish potato pancake recipe will help you make sure that your pancakes come out nice and crispy. These pancakes are best served with sugar, sour cream, chopped chives, goulash, salmon, cranberries, farmer's cheese, jam, cheese and ketchup.
11. Pierogi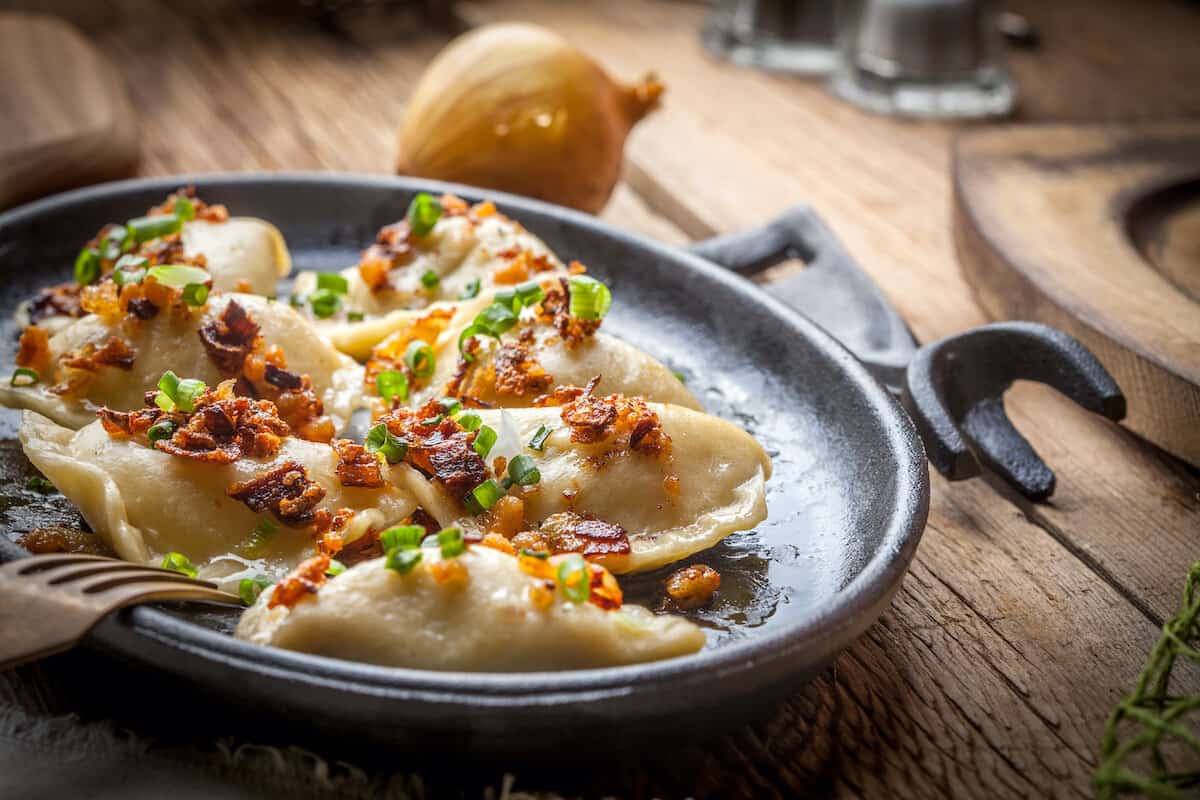 One of the classic examples of Polish comfort food is pierogi. These little dumplings are loved all over Poland. While shaping the pierogi may actually take a lot of time, you will find that it is an art that can be mastered. The more you make pierogi, the faster you will be.
The beauty about pierogi is that they are remarkably versatile. You can stuff them with both sweet and savory options. Here are a couple of my pierogi recipes that you should definitely try.
12. Pączki Polish Donuts
Paczki is the Polish version of donuts. Unlike the popular American donuts, paczki uses a dough made of pumpkin puree and mashed potatoes. This makes the paczki much more healthy than their American counterparts.
The pumpkin puree in the paczki recipe sweetens the dough such that you don't really need much additional sugar. People who like their donuts on the sweeter side usually sprinkle powdered sugar on top.
Traditionally, paczki were made with a stuffing of wild rose jam. These days however people make paczki with a variety of different flavored jams.
13. Angel Wing Cookies
Chrusciki are traditional Polish cookies. They are more popularly known as angel wing cookies because of their wing-like shape. Chrusciki are easy to make. All that you need to do is perfect the dough. If you haven't tried making them yet, don't worry, my chrusciki recipe covers everything you need to know about making the dough and shaping the cookies.
The best way to serve chrusciki is after they have cooled a bit. Sprinkle them lightly with powdered sugar. Children love to munch on these. You can see why they are popular Polish comfort food.