The Polish cold beet soup called Chlodnik soup offers a cooling respite from the hot summer heat. Beautifully pink in color, this soup tastes perfect with boiled eggs!
Summers in Poland can get really hot, especially in the months of July or August. Thankfully we Poles have the best dishes to counteract this heat – cold soups.
What Is Chlodnik Soup?
Chlodnik is a Polish cold borscht-type soup that is served cold. It can be made with different veggies and buttermilk or sour cream.
Some of the popular chlodnik recipes include the chlodnik pomidorowy – cold tomato soup, chłodnik owocowy – cold fruit soup, chłodnik ogórkowy – cold cucumber soup, and more. But the best one is the chłodnik litewski – cold beet soup!
This gluten-free cold Polish beet soup is made with beetroot, leafy beet greens, crunchy cucumbers and radish, dill for flavor, and maślanka or kefir for that creamy touch. Ready in less than half an hour, it tastes best the next day!
How To Make Some Delicious Chlodnik Soup?
Diced beetroots are cooked in water with salt and vinegar till soft and allowed to cool. While that's cooling, the cucumber and radish are diced fine.
The beetroot leaves are chopped as well as the dill. Then the buttermilk, vinegar, and the chopped ingredients are mixed in with the soup.
The gluten-free beet soup is finally topped with chopped dill and hard-boiled eggs before serving!
Why Use The Beetroot Leaves?
We eat the beetroot leaves as well because they are rich in potassium, manganese, copper, calcium, and iron. Plus they add a dash of sweetness to the Polish pink soup!
What Can I Serve With Cold Polish Beet Soup?
Serve the Polish beet soup with any of these:
A side of boiled potatoes. They can be cold or warm.
Roast veal meat.
Toasted bread slices or croutons.
Lots of fresh herbs!
Tips For Making Polish Cold Beet Soup – Chlodnik Recipe
If you don't find kefir or Maslanka, use any other buttermilk.
Do not use sour cream.
Add more vinegar if you want the soup tangier.
Top with wedges of boiled eggs or a spoonful of yogurt before serving.
If you prefer, you can grate the veggies instead of dicing.
If you don't want the veggies too crunchy, you can cook them in the soup for a few minutes as well.
See also my Polish red borscht recipe.
Chlodnik Soup Recipe: Frequently Asked Questions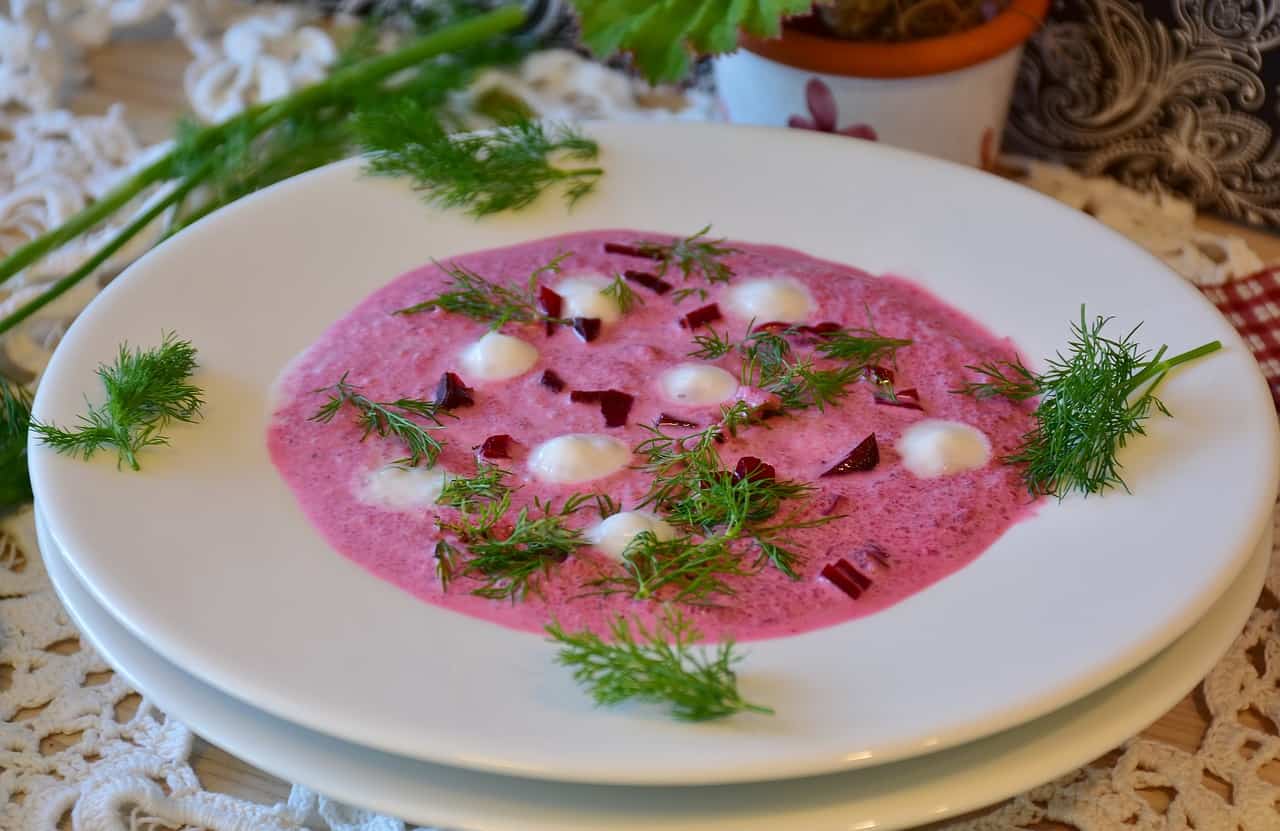 What Does Chłodnik Mean?
Chłodnik means 'cooler' or 'a little cold'.
How Do You Pronounce Chłodnik?
Chłodnik is pronounced ch-wo-d-nik or h-wod-neek.
Can I Use Broth Instead Of Water?
If you're a meat-eater, you can use chicken broth or pork broth instead of water. If you're a vegetarian, use vegetable broth instead of water.
Is It Possible To Make This Soup Vegetarian?
To make the Chłodnik soup vegetarian, use only water or vegetable broth. And replace the boiled eggs with grated or diced cucumber.
How Do I Store Polish Cold Beet Soup?
Although you can eat the soup immediately, store this Polish pink soup in the refrigerator for a few hours before serving! And it always tastes great the next day.
It's best to finish the Polish cold borscht within 4 to 5 days. It's best to cut the diced veggies fresh and add them just before serving.
Polish Cold Beet Soup Chlodnik Recipe
Yield: 4 servings
Polish Cold Beet Soup Chlodnik Recipe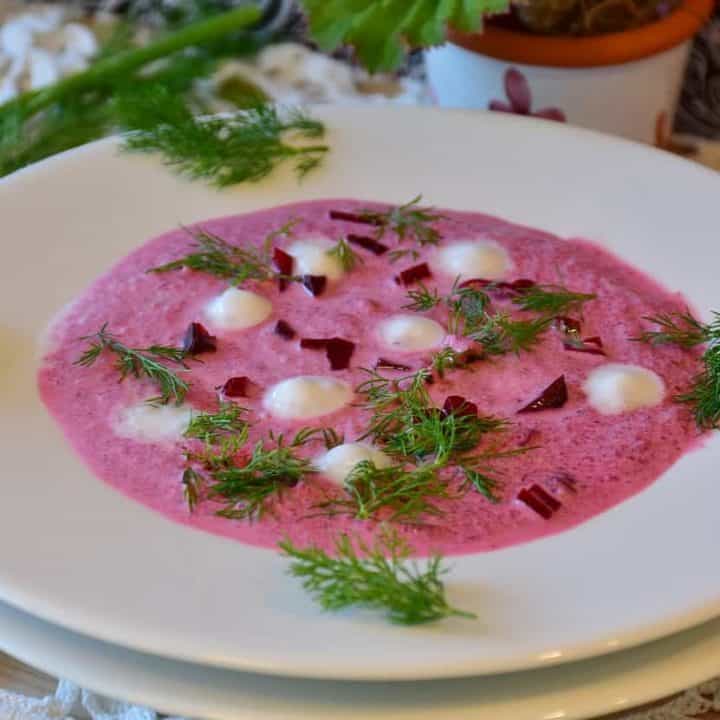 The pink Polish cold beet soup called Chlodnik offers a cooling respite from the hot summer heat and tastes perfect with boiled eggs!
Ingredients
2 bunches of young beetroots
¼ tbsp of salt
1 tbsp of vinegar
4 cups of kefir or maślanka (buttermilk)
a bunch of radish
1 big cucumber
salt, pepper
5-6 hard-boiled eggs
fresh dill to serve
Instructions
Wash all the veggies.
Finely dice the beets, leave the beet leaves.
Cover diced beets with water, add vinegar and ¼ tbsp of salt. Cook until soft.
In the meantime, chop the beet leaves.
Finely dice the radish and cucumber.
When the cooked beets and water are cold, add kefir or buttermilk and mix.
Add radish, cucumber, chopped beet leaves, and season with salt and pepper. If you want the soup to be sour, you may add more vinegar.
Serve with fresh chopped dill and hard-boiled eggs. The soup tastes best the next day or at least 2 hours after making.
Recommended Products
As an Amazon Associate and member of other affiliate programs, I earn from qualifying purchases.
Nutrition Information:
Yield:
4
Serving Size:
1
Amount Per Serving:
Calories:

282
Total Fat:

10g
Saturated Fat:

4g
Trans Fat:

0g
Unsaturated Fat:

5g
Cholesterol:

290mg
Sodium:

1225mg
Carbohydrates:

25g
Fiber:

3g
Sugar:

21g
Protein:

23g
These data are indicative and calculated by Nutritionix
Pin For Later:
Did you like this chłodnik z botwinki Polish cold beet soup recipe? Let us know in the comments below!