A popular Sunday dish in most Polish homes, the Polish chicken noodle soup is made with a chicken or meat based broth and fine makaron nitki noodles.
Rosol soup is one of the most famous and best Polish foods. Traditionally, it's served in every Polish home on Sundays. It's the best natural cold treatment. Rosol is known to be helpful in dealing with colds or flu. Instantly warms up, satisfies the appetite, and replenishes nutrition. It is an easily digestible dish, that doesn't burden the body during a fever. Rosol can be also good as a hangover remedy.
Comforting and filling, rosol is a must-have in every Polish kitchen. . It is served during Sunday lunch in most homes, the traditional ones, and the modern ones as well. Keep on reading to discover my mom's traditional rosol recipe with tips for serving.
Who Invented Polish Chicken Soup?
Polish hangover soup called rosol or rosol polski has been around for centuries.
The first written recipe for rosol was found in the 17th-century cookbook called Compendium Ferculorum, a cookbook was written by Polish King Jan III Sobieski's chef Stanisław Czerniecki.
Czerniecki, who was not of noble birth, was also a soldier, writer, and the king's chamber servant. He was later awarded the title of nobleman in 1676.
Sobieski wrote the Compendium Ferculorum in 1682 with the Compendium Ferculorum, Albo Zebranie Potraw. The name is bilingual with the first half translating to 'A Collection of Dishes' in Latin, while the second half means the same thing in Polish.
Czerniecki included his version of the rosol in the book, and it was soon called Rosół à la Czerniecki.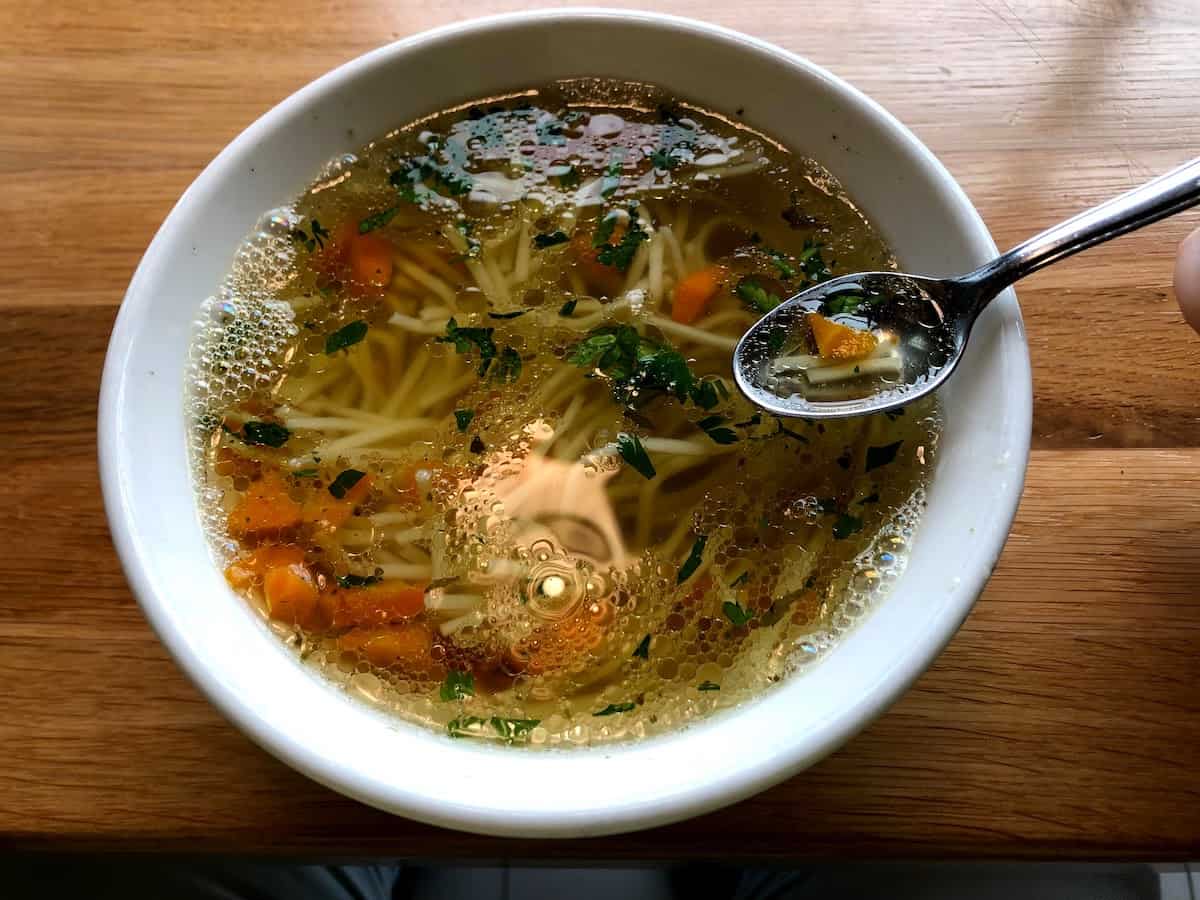 There have been many variations of rosol since then, and depending on the meats used in the Polish broth, the name of the soup can change.
One popular version made at the start of the 19th century using a mix of different meats was called Royal Rosol or Rosół Królewski. It was made with a mix of 3 different types of meat – animal meat (beef or veal), white bird meat (chicken or turkey), and dark bird meat (goose or duck).
When made with chicken, it's Rosol z Kurczaka. When made with game meat such as deer, pheasant, grouse, or partridge, it's called Hunter's Rosol or Rosół Myśliwski.
Different regions of Poland will also have different versions of rosol, just like each family has their own favorite recipe.
Tips For Cooking Rosol Soup
1. The more types of bones you use, the better the rosol soup.
Poles believe that the variety of meat guarantees the great taste of Polish chicken soup. Pork is not recommended as one of the rosol ingredients. Traditionally, rosol soup is cooked with poultry such as chicken or turkey. The other types of meat that you can add are:
duck
beef
rabbit
pheasant
quail
pigeon (it's believed it's healthiest one)
veal
The meat and bones need to be fresh, not frozen.
Frozen meat has a less intense flavor, and the flavor is the basis of a successful broth! So choose fresh products that will make your soup full of flavor.
2. Rosol soup needs to be cooked slowly, for a long time.
It's probably the most important tip for cooking Polish chicken soup. It cannot boil, otherwise, it will lose its taste and the color will become muddy.
Good rosol soup should be clear. An important thing when trying to achieve clear, yellow-colored rosol is to remove on time all the scum that gathers in the pot. Don't let it boil or fall apart and try to remove even the smallest pieces.
3. The more meat, the fatter the rosol soup will be. Richer too!
Don't be surprised when you see a thick layer of fat on the top of your Polish chicken soup after you put it in the fridge. It's normal.
When you heat the soup up, the fat will transform into the characteristic mesh on the liquid. Poles call it "oczka", means" little eyes", and it's a good thing rosol has them.
4. Rosol soup tastes best when served hot.
It's believed that good rosol is hot rosol.
Noodles that go with rosol are cooked separately in clear salty water and tempered with cold water, this allows the pasta to stay springy. A portion of cold noodles is placed in the rosol just before serving. The rosol needs to be really hot to compensate for the cold noodles and for the dish to remain hot when served.
5. Use Rosol Soup Broth To Make Other Soups
Rosol is base for many other traditional Polish soups including:
More Tips For Making Polish Chicken Noodle Soup
Traditionally, the onion should be roasted before adding it to the soup.
You don't need to peel the onion. Its yellow skin will enliven the Polish broth's color.
You can chop the veggies and meat and put them back into rosol soup.
You can also use the remaining ingredients to make salatka jarzynowa or pasztet.
Use a spoon to scoop out the szumy that forms at the top of the Polish hangover soup and throw it out.
Do not let the soup boil, only simmer for long hours.
Sprinkle with chopped parsley and serve piping hot!
What To Serve Polish Soup Rosół With?
Noodles
It's definitely the most popular add-on for rosol soup. The thinner and smaller noddles, the better. Traditionally, Polish chicken soup is served with makaron nitki (yarns) that can be purchased in any Polish shop.
Semolina
It's my daughter's favorite way of eating rosol. When you add semolina to the hot soup, you will get a pudding that kids love (and not only kids, adults love it too!).
Boiled Potatoes
Even though it may sound weird, eating Polish chicken soup with boiled potatoes is quite popular in some regions of Poland.
Plain Rosol Soup
When you are sick, the best way of having rosol soup is to simply pour it into the mug and drink it slowly.
Lane Kluski
Lane kluski are made of egg mixed with flour. You need to slowly pour this mixture into the very hot rosol soup to get pasta-like noddles. See my Polish drop noodles recipe.
What To Do With Rosol Leftovers?
The Polish chicken soup leftovers can be used to make other popular Polish side dishes. They include:
Pasztet
This delicious spread for bread is one of the best things you can do from rosół leftovers! Check out my Polish pasztet recipe and Polish chicken spread for bread recipe.
Sałatka Jarzynowa
Polish vegetable salad is probably the most popular dish to make from the broth leftovers.
Frequently Asked Questions About Making Polish Hangover Soup
How To Pronounce Rosol?
Rosol is pronounced as 'roh-sool'.
What Does Rosol Mean?
Rosol, which means to desalt is derived from the Polish word 'roszol'.
How Many Calories In The Polish Chicken Soup?
The number of rosol calories you consume depends on a variety of factors – the vegetables added, where and how the meats were raised, the spices used and more. It will vary from soup to soup. So it's best to calculate it based on specific ingredients you use.
What Bones Should I Use In The Soup?
This Polish rosol soup works best with a mix of all bones. Use the head, neck, wings, legs, ribs, or any other bones that you prefer.
I Cannot Find Makaron Nitki. What Can I Use Instead?
You can use any other fine egg noodles or kluski noodles to replace the makaron nitki egg noodles.
How Long Can You Store Rosol?
Store rosol in the fridge for 4 to 5 days. Reheat before serving! Or freeze the leftover broth for use in other dishes. The frozen broth will last for a few months in the refrigerator.
Polish Chicken Noodle Soup Rosol Recipe
Yield: 20 servings
Traditional Polish Chicken Soup Rosol Recipe
A popular Sunday dish in most Polish homes, the Polish chicken noodle soup is made with chicken broth and served with fine makaron nitki noodles. 
Total Time
2 hours
20 minutes
Ingredients
whole chicken with bones, or 3-3.50 lbs of different parts of chicken (wings, neck, etc,)
13 cups of water (0.8 galloon)
2 parsley roots
3 carrots
1/2 celery root
1 big onion
1 celery stalk (optional)
1 leek (optional)
1 lovage twig (optional)
2 bay leaves
4 grains of allspice
salt and pepper
chopped parsley for serving
Instructions
Wash the chicken and put it into the big pot (cut into smaller parts if necessary).
Cover the chicken with cold water and bring to an almost-boil (the soup CANNOT start boiling otherwise it will lose its taste).
If you notice white/dark foam gather at the top of the soup, collect it with a tablespoon and throw it away. It's called szumy and it's completely normal that you have it in your soup.
When there is no more szumy left, peel or wash all the vegetables and put them into the rosol soup.
Add herbs and spices (without salt and pepper).
Let the soup simmer for 2-10 hours. The longer you cook, the better the soup will taste.
When the rosol soup is ready, strain all the ingredients out of the broth.
Add salt and pepper.
Cook noodles (or other add-ons) separately and put them in the bowls.
Pour the rosol soup into the bowls and sprinkle with chopped parsley.
Notes
Traditionally, the onion should be toasted on fire before putting it to the soup.
You don't need to peel the onion. Its yellow skin will make the color of rosol more vivid.
You can chop the veggies and meat and put them back into rosol soup. You can also make salatka jarzynowa from the remaining ingredients, it's what most people in Poland do.
Recommended Products
As an Amazon Associate and member of other affiliate programs, I earn from qualifying purchases.
Nutrition Information:
Yield:
20
Serving Size:
1
Amount Per Serving:
Calories:

130
Total Fat:

7g
Saturated Fat:

2g
Trans Fat:

0g
Unsaturated Fat:

4g
Cholesterol:

48mg
Sodium:

71mg
Carbohydrates:

2g
Fiber:

1g
Sugar:

1g
Protein:

14g
These data are indicative and calculated by Nutritionix
Pin For Later:
Did you like this Polish chicken soup rosol recipe? Let us know in the comments below!