This traditional Polish beef goulash recipe or gulasz wolowy gives you succulent and tender chunks of beef slow-cooked in a sweet onion and mustard gravy. Serve with bread, kopytka, or boiled potatoes.
What Is Goulash? Where Did Goulash Originate?
Goulash is a traditional Polish meat stew or meat soup that originated in Hungary. It's name comes from the Hungarian word gulyás which means herdsman, and so the dish was called gulyásleves or meat prepared by herdsman that came to be called 'goulash soup'.
The original recipe was cooked by Hungarian shepherds as portable meals. Meat was dried in the sun and packed in sacks of sheep stomach. These sacks could easily be boiled with water to become a meal.
Now made in most Central European countries, goulash can be made with pork, veal, lamb, or beef meat. Some modern versions include potatoes, red peppers, and other veggies, or even noodles. Sometime after the 16th-century paprika was brought to Europe and was also included in the dish.
The Polish version called gulasz is typically made with pork meat, but beef, chicken, or turkey can also be used sometimes. It's also much thicker than the original Hungarian version.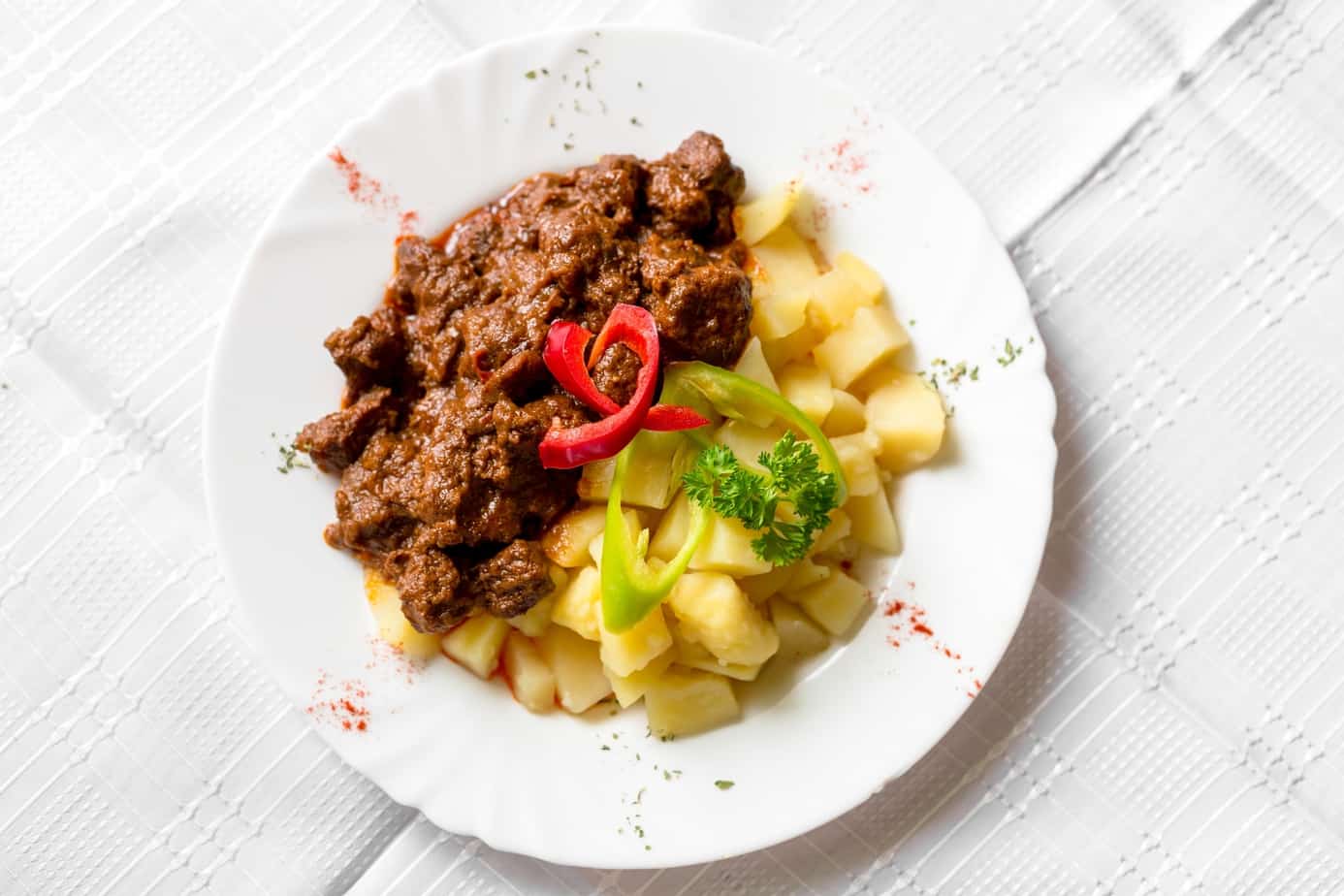 How To Make Authentic Polish Beef Goulash At Home?
To make gulasz wolowy, first cut washed beef into half-inch pieces and coat with salt and pepper. Refrigerate in a covered pot and allow it to rest for a few hours or overnight.
The next day, chop an onion finely and caramelize it with butter or ghee. Coat the beef cubes with flour and add to the fried onions. Keep turning it over till it changes color to golden-brown.
Once the beef has cooked, add the garlic, mustard, and a cup of water or broth. Cover with a lid and allow to slow cook for an hour, stirring occasionally. You can cook it for longer if you want the beef more tender.
Serve with kopytka, kluskie slaskie, or bread.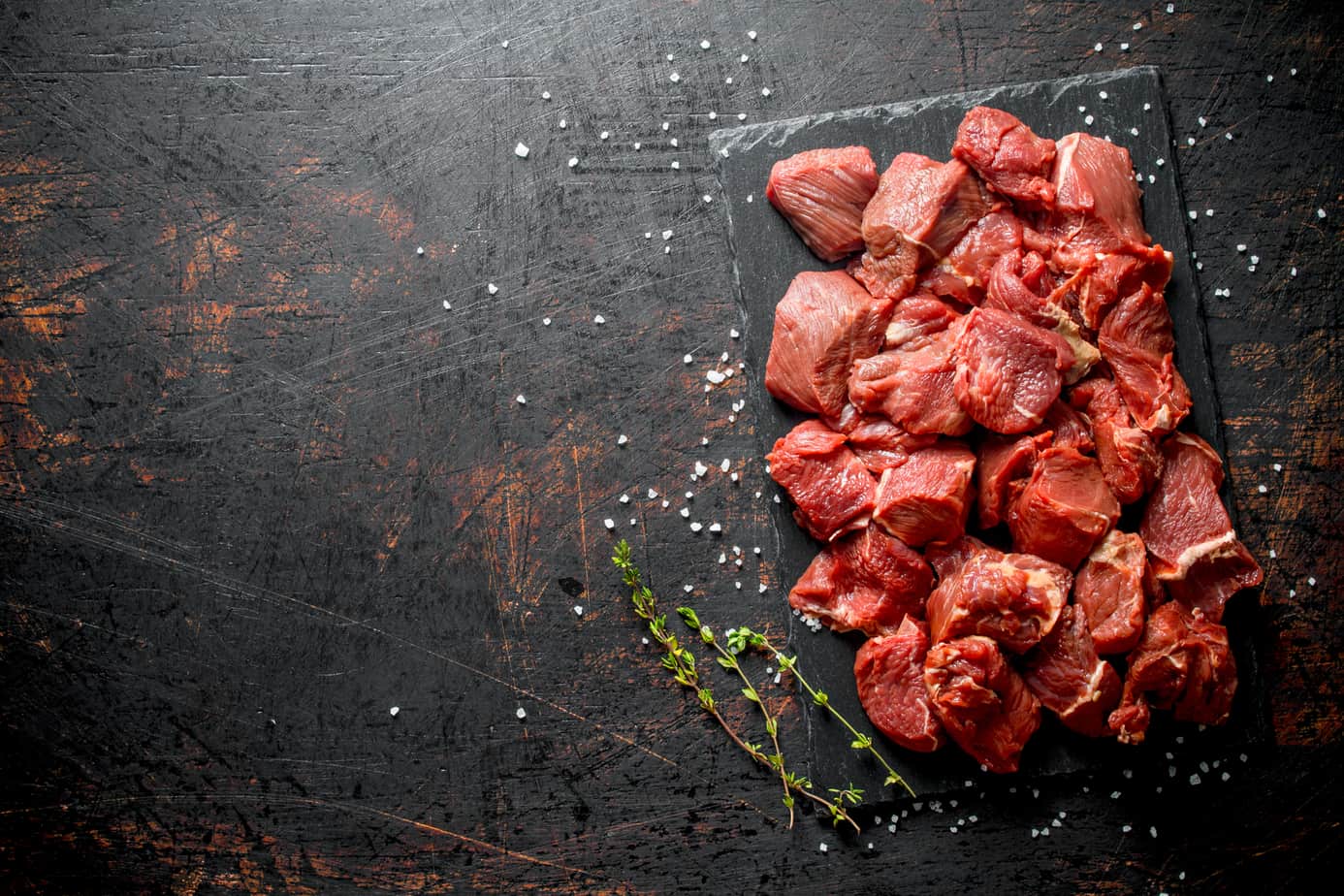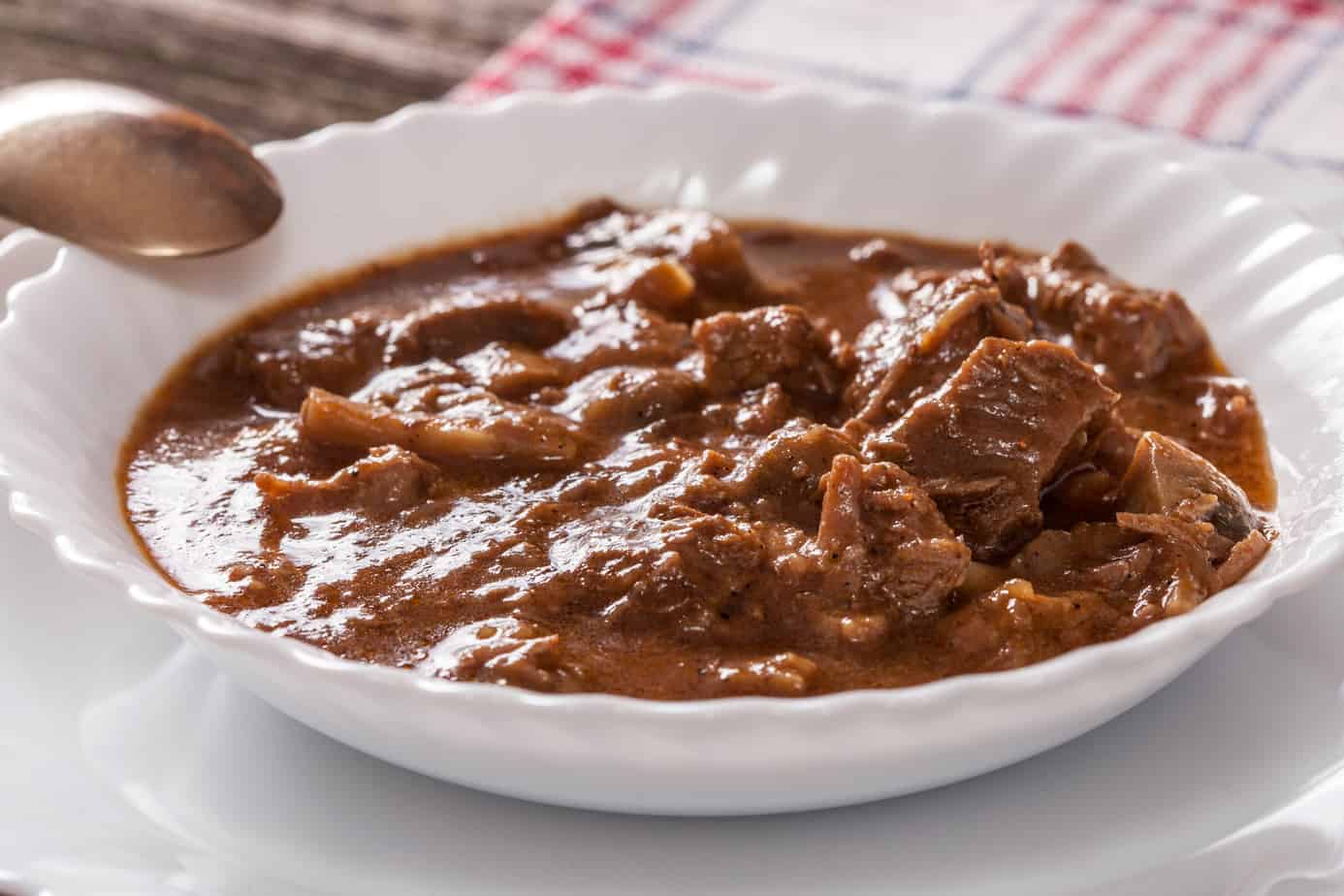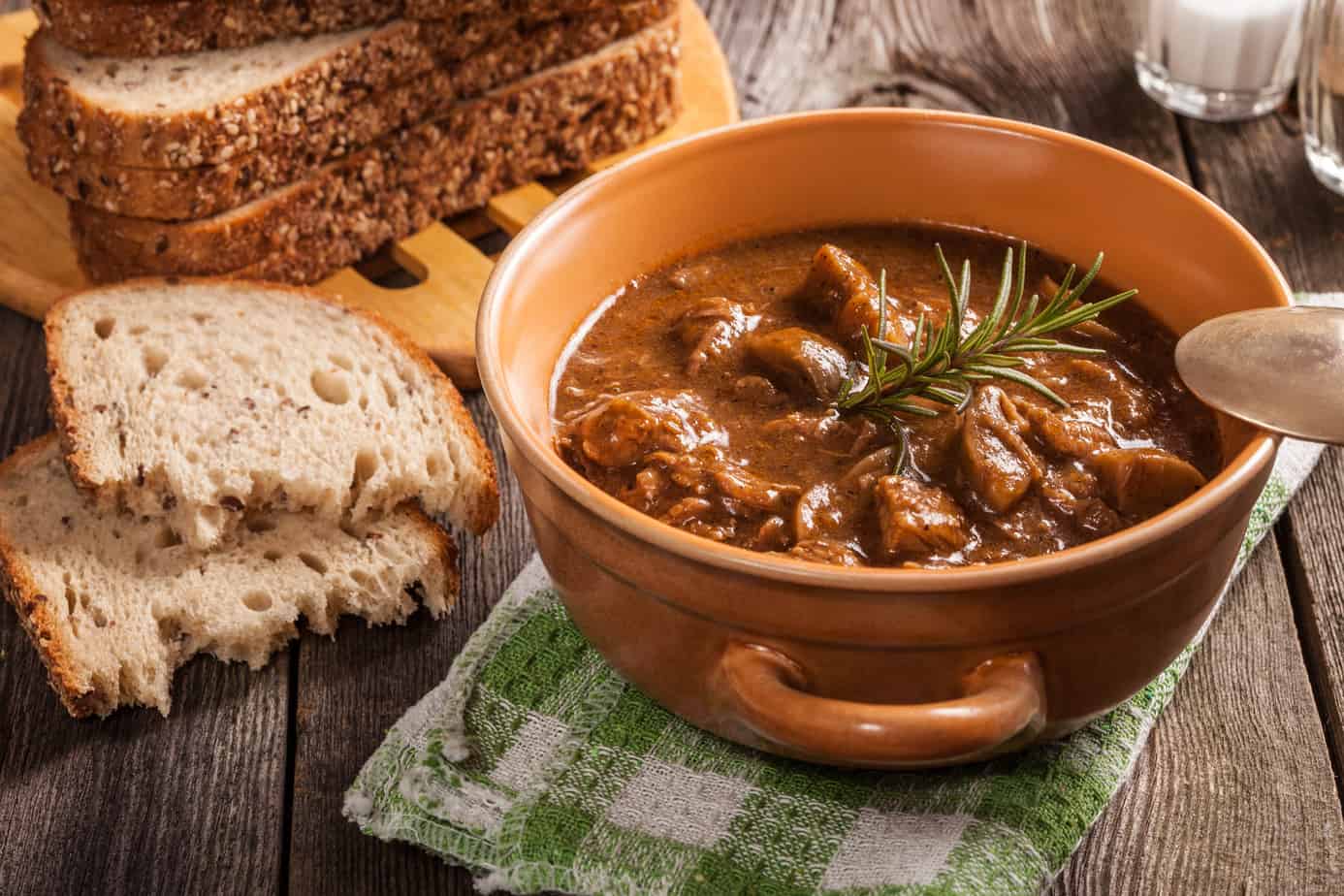 Tips For Making The Best Polish Beef Goulash
Half-inch by half-inch beef pieces are ideal, but you can make them bigger or smaller if you want to.
Add more water or broth if you want more gravy.
For a tastier goulash, add beef broth instead of water.
If you want a thicker gravy, add some sour cream or potato starch to the broth five minutes before taking it off the stove.
Top with sour cream, parsley, or other herbs before serving.
Goes really well with placki ziemniaczane.
FAQs About Making Polish Beef Goulash
What Other Meats Can I Use To Make Goulash?
You can make goulash with pork, chicken, or turkey. The Polish pork goulash is often served with potato pancakes and called Placek po wiegersku.
What Other Types Of Polish Goulash Are There?
Some other types of Polish goulash include:
What To Serve Beef Goulash With?
Serve the Polish beef goulash with any of the following:
rice
boiled or mashed potatoes
groats
egg noodles
Is It Possible To Make The Beef Goulash Gluten-Free?
Yes, to make the beef goulash recipe gluten-free simply replace the all-purpose flour with potato flour or rice flour.
Is It Possible To Make Polish Goulash Vegetarian?
Yes, to make the goulash vegetarian, replace the beef with button mushrooms or portabella mushrooms.
How Long Can I Store Leftover Polish Beef Goulash?
Store leftover Polish beef goulash in the refrigerator for 4 to 5 days, or in the freezer for 3 to 4 months. Reheat well before serving!
Authentic Polish Beef Goulash Recipe
Yield: 6 servings
Polish Beef Goulash Recipe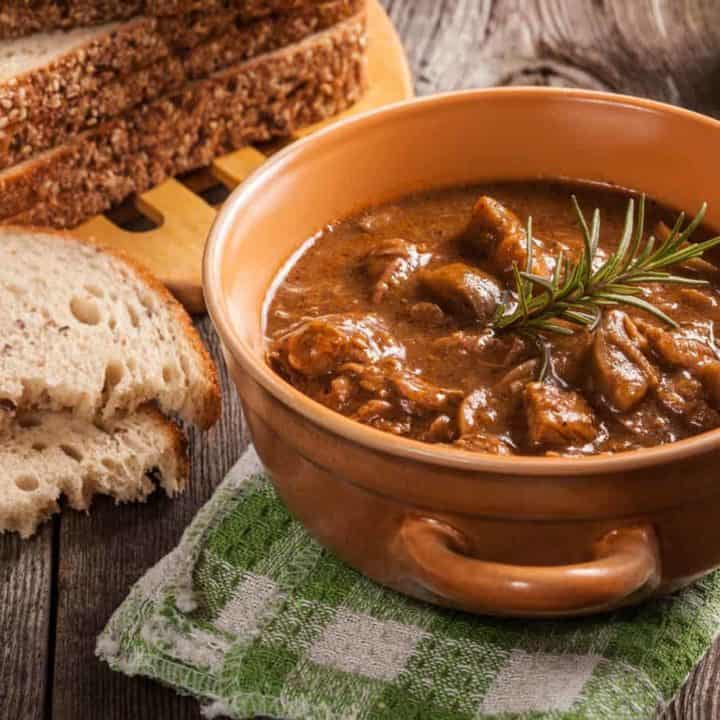 This traditional Polish beef goulash recipe consists of tender chunks of beef slow-cooked and served with bread, kopytka, or boiled potatoes. 
Total Time
3 hours
10 minutes
Ingredients
1½ lb of beef
1 tsp of salt
¼ tsp of black pepper
2 tbsps of all-purpose flour
1 onion
1 tbsps of butter or ghee
1 garlic clove
1 tsp of mustard
Instructions
Wash and dice the beef (½''/ ½'' each piece).
Coat the meat with salt and pepper and let it rest in the fridge for at least 2 hours, ideally overnight.
After resting, coat the meat with flour.
Finely chop the onion and carmelize it with butter or ghee.
Add meat and fry until it changes the color to golden-brownish.
Add water or broth, crushed garlic clove, and mustard. Cover the pan/pot with a lid and cook slowly until the meat is soft (for 1-2 hours). Stir as often as possible, making sure the stew won't stick to the bottom of the pot.
Recommended Products
As an Amazon Associate and member of other affiliate programs, I earn from qualifying purchases.
Nutrition Information:
Yield:
6
Serving Size:
1
Amount Per Serving:
Calories:

347
Total Fat:

23g
Saturated Fat:

10g
Trans Fat:

1g
Unsaturated Fat:

11g
Cholesterol:

109mg
Sodium:

469mg
Carbohydrates:

4g
Fiber:

0g
Sugar:

1g
Protein:

30g
These data are indicative and calculated by Nutritionix
Pin For Later:
Did you like this Polish beef goulash recipe? Let us know in the comments below!