Before I met my amazing mom-in-law I wouldn't think making homemade canned pork is a good idea. I would be afraid to get sick after eating meat that has been in a jar for months. It all changed when I started to dig into the secrets of Polish cuisine with her. 
She showed me the diversity of Polish cuisine, she taught me how to cook properly, and on top of that, she made me fell in love with Polish food.
I now understand that when you pasteurize food properly, you may safely eat it even after months. Many years ago people in Poland couldn't buy fresh food every day. For example, when they killed a pig once or twice a year, they needed to make sure the pork will be ok to eat after some time.
Not all of them had fridges, so they came out with a brilliant idea to pasteurize food. Canned food is now available in every grocery store, however, most of it is simply bad. Flavor enhancers and preservatives are things we should avoid. That's why I want to share with you my mom-in-law's homemade canned pork recipe. It's surprisingly simple!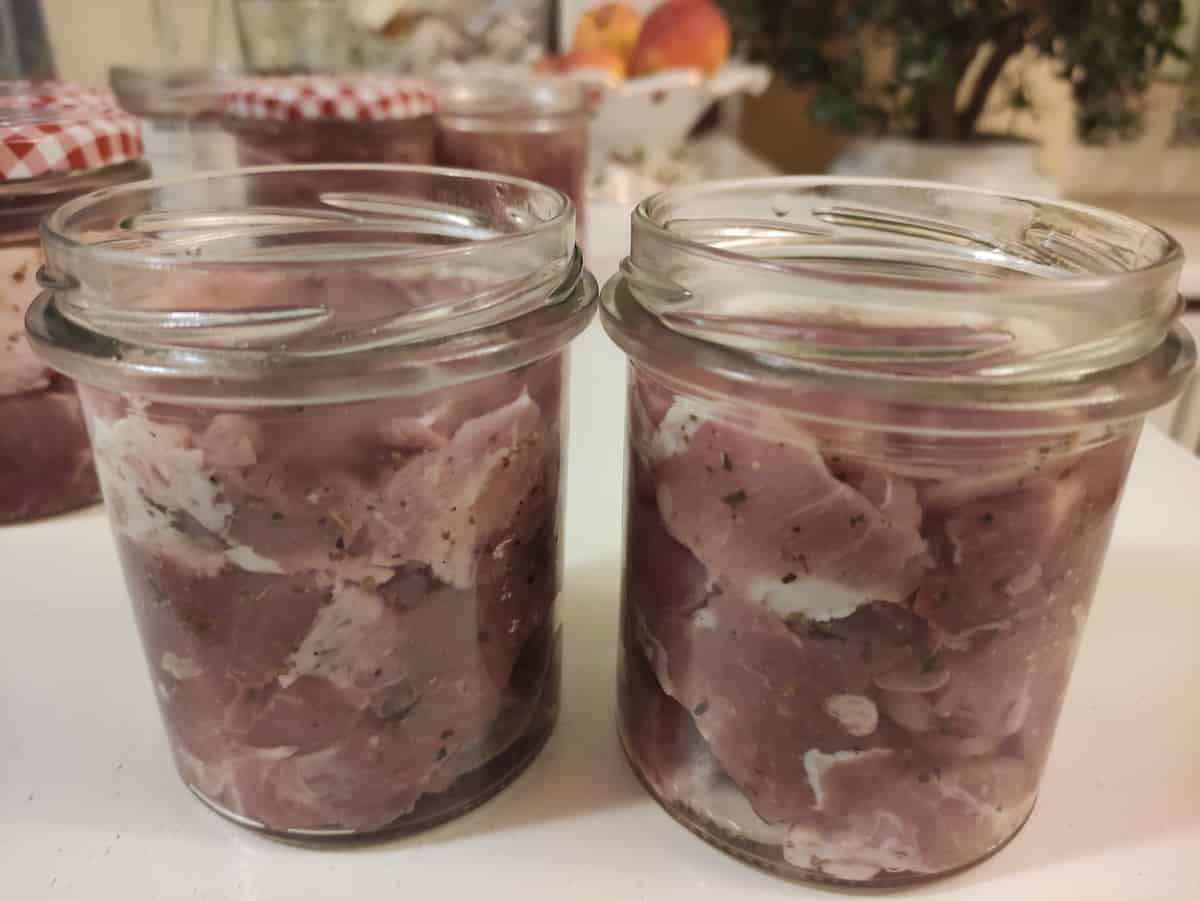 Why Do You Need To Have This Polish Homemade Canned Pork In Your Kitchen?
Here are some of the reasons why this Polish homemade canned pork recipe is worth trying:
you'll have a healthy, ready-to-eat dinner in your fridge anytime you'll need it
you'll have a delicious homemade spread for your sandwich
you'll have perfect camping food for your trip
Tips For Making Konserwa- Polish Homemade Canned Pork
Place The Meat Tightly Into The Jars.
Don't leave too much space between the pieces of the pork. The tighter the meat will be squeezed, the better.
Cover The Meat With Lard Or Water.
If your pork is fatty, you can cover it with water. If it's normal, put some lard on the top instead.
Pasteurize The Jars For 3 Days.
Even though this homemade canned pork recipe is super simple, you will need to boil the jars for three days in a row to make sure your konserwa pasteurizes well.
What To Serve Homemade Canned Pork With?
You can serve it warm for a dinner. I like to mix canned pork with tomato paste and have it with salad and mashed potatoes. Yummy!
You can also serve it cold. Eat it solo or put on the sandwich with some fresh veggies.
Konserwa- Polish Homemade Canned Pork Recipe
Konserwa- Polish Homemade Canned Pork Recipe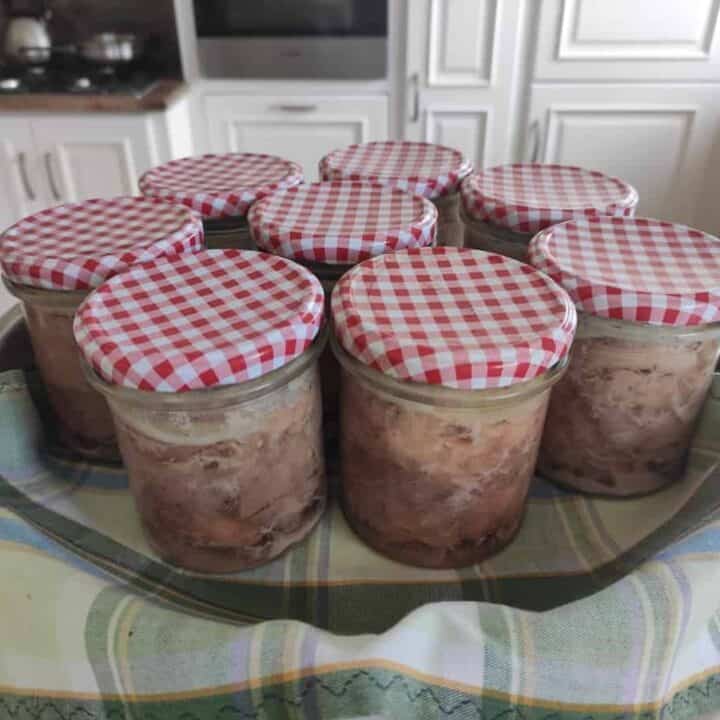 Additional Time
3 days
8 hours
Total Time
3 days
11 hours
15 minutes
Ingredients
8 lbs / 4 kg of pork (loin, shoulder, ham, etc.)
2 tbsps of salt
1 tbsp of dried marjoram
1 tsp of black pepper
12 tbsps of lard
Instructions
Wash and dice the meat (each piece should be about ½" x ½" / 1,5cm x 1,5cm).
Mix the meat with spices, place it in the fridge overnight.
The next day, prepare 12 jars (16oz / 0,5l). Sterilize jars and lids with boiling hot water.
Place the meat tightly into the jars. The meat should fill ¾ of each jar.
Smooth the meat with the spoon, then cover it with lard (1 tbsp for a jar). If your pork is already fatty, you may use water instead (the water should reach the level of the meat).
Close the jars. Now it's time for the pasteurizing process.
Take a big pot that will fit all the jars. You can also take a couple of small jars.
Place the clean dishcloth on the bottom of the jar.
Put the jars onto the dishcloth.
Cover them with water. The water should reach half the jars.
Bring the water to boil (slowly), then cook for 1,5 hour. Cool off the jars and put them into the fridge.
The next day (after 24 hours) repeat the process. Cook the jars for 1 hour after the water starts boiling, then place them in the fridge.
On the third day (after 72 hours) repeat the process. Cook the jars for 30 minutes after the water starts boiling.
Your homemade canned pork is ready to eat! Keep the jars in the cold pantry, cellar, or fridge for up to 12 months.
Recommended Products
As an Amazon Associate and member of other affiliate programs, I earn from qualifying purchases.
Pin For Later: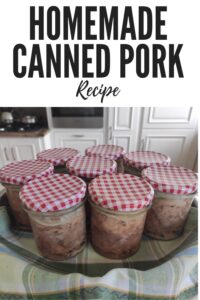 Did you like this konserwa- Polish homemade canned pork recipe? Let us know in the comments below!