Fluffy sponge cake with apples is my mom-in-law's version of Polish szarlotka. It's quick to make, and if done right, it's really soft. No wonder it's called "puch" (fluff) in Polish.
My mom-in-law says that she remembers her mom baking this cake. It never got to cool off because the entire family ate it up when it was still warm. 
Tips For Making Fluffy Sponge Cake With Apples
Stir In One Direction Only.
Beaten egg whites are very delicate. Make sure you are stirring really gently when adding the egg yolk mixture and flours. It's the only way to make the cake fluffy.
Sprinkle The Apple Sponge Cake With Powdered Sugar.
The apple sponge cake tastes best when served with powdered sugar. If it's too sweet to you, you may eat it solo.
Add More Or Less Apples If You Want.
The number of apples you add to this sponge cake is totally up to you!
Make It Any Shape You Like.
You can either bake this apple sponge cake in a rectangular, round, or square baking tray.
Fluffy Sponge Cake With Apples Recipe
Fluffy Sponge Cake With Apples Recipe
Ingredients
3.3 lbs / 1.5 kg of apples
6 eggs
1 heaped tsp of baking powder
1 tbsp of white vinegar
1 tbsp of oil
1 cup of powdered sugar + to decorate the egg
¾ cup of all-purpose flour
¼ cup of potato flour
oil, breadcrumbs
Instructions
Peel the apples, remove the cores, and cut each apple into thin slices.
Preheat the oven to 392°F (200°C).
Grease the baking tray with oil and sprinkle with breadcrumbs.
Separate egg whites from the yolks.
Beat the egg yolks with baking powder, vinegar, and oil.
Beat the egg whites until stiff.
Gradually, add the powdered sugar to the beaten egg whites.
Turn off the mixer. Using a spoon, carefully add the egg yolks mixture to the egg whites. Stir in one direction, very slowly.
Add the flours to the mixture, gently stirring in one direction only.
Pour the dough onto a baking tray.
Add the apples, carefully pressing them onto the dough.
Bake for about 35 minutes.
Serve sprinkled with powdered sugar.
Recommended Products
As an Amazon Associate and member of other affiliate programs, I earn from qualifying purchases.
Pin For Later: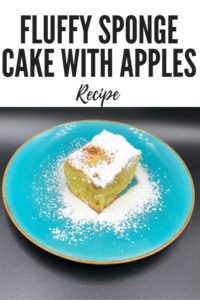 Did you like this fluffy sponge cake with apples recipe? Let us know in the comments below!