Sitting halfway between cream cheese and a fully-formed cheese, the traditional Polish farmer's cheese is a versatile food item that can be used in many different dishes. Easy to make at home, it's a penny-saver and tasty too!
If you look for recipes using farmer's cheese, you'll find dozens of them online, from tantalizing baked farmer cheese dishes to desserts, to donuts and bread. But if you want some fantastic farmer cheese recipe Polish style, here are the top 16 that you must try!
1. Oponki – Farmer's Cheese Donuts
The easiest snack to make in the world, these traditional Polish donuts made with farmer's cheese can be ready in just 15 minutes. They're a lot easier to make than traditional paczki donuts!
Whether you're looking for a quick snack or a last-minute dish to treat the kids, the Polish oponki are the answer! They taste amazing as is, or sprinkled with icing sugar!
2. Pierogi Ze Słodkim Serem – Sweet Cheese Pierogi
Pierogi don't always have to be savory! Pierogi ze slodkim serem is one of the Polish farmer's cheese dessert recipes that will make you drool!
This kid-approved pierogi recipe is made by adding a filling of sugar and cottage cheese to the pierogi. What's more, leftover pierogi ze slodkim serem can be fried with butter the next day. The delicious crunchy exterior and warm comforting interior will make you come back for seconds!
3. Domowy Ser Żółty – Savory Golden Polish Cheese
Cheese doesn't always have to be simple! When you eat domowy ser zolty you'll know that you have transcended to another level.
Domowy ser zloty is one of the farmers cheese recipes using fried farmers cheese with a mix of farmer's cheese and herbs or spices. An egg-based dish, the Polish golden cheese can be ready in less than 4 hours.
Giving you plenty of latitudes while cooking, the Polish golden cheese allows you to experiment with more than regular herbs, and tastes amazing with saltine crackers!
4. Seromakowiec – Polish Poppy Seed Cheesecake
Seromakowiec is a Polish poppy seed cheesecake that is so much more amazing than the traditional makowiec roll!
The farmer's cheese cheesecake is easy to make and decadently rich. Make a seromakwiec when you don't have time for a makowiec and your dinner guests will be impressed!
5. Krokiety Ruskie – Polish Russian Krokets
A Polish version of a croquette, the krokiety ruskie is almost like a long cheeseball with a coating of batter. Made with potatoes and cheese rolled in nalesniki crepes, these golden-brown stuffed pancakes are a Polish wedding favorite!
6. Gzik – Polish Cottage Cheese Dip
Gzik is a relishing dip made with cottage cheese, chives, radishes, and greek yogurt or sour cream. Especially popular in the Wielkopolska region of Poland, you can make it in just 5 minutes.
When you need instant snacks for the kids or visitors, just make gzik and serve it with toasted bread or baked or fried potatoes. You can also add smoked fish, chopped boiled eggs, ketchup, honey, or other ingredients.
7. Chatka Puchatka – Polish Baba Yaga's Hut Cake
This is one of the dessert recipes using farmers' cheese that's perfect for kids or even adults who like legends and fairy tales.
The chatka puchatka or Polish Baba Yaga's hut is shaped like a triangle or like the famous Toblerone chocolate bars. But it's filled with a cream cheese custard and a center of jelly or chocolate.
Delicious and cold, it's the best farmers cheese recipe ideas anyone could come up with!
8. Krepliki Serowe – Polish Silesian Donuts Recipe
Krepliki serowe are donuts similar to the traditional paczki, but because they're made with baking soda instead of yeast, they can be ready in 30 minutes. These are perfect treats for an evening snack or for sudden visitors.
These Silesian cheese donuts are rich and dense and usually filled with jam or preserve and sprinkled with sugar. Savory varieties replace the jam with cream cheese or other mixes.
A popular dish for Tlusty Czwartek or Polish Fat Tuesday along with roze karnawalowe and chrusciki, these donuts disappear right off the plate!
9. Pasta Z Makreli – Polish Smoked Mackerel Spread Recipe
A delicious spread made with smoked mackerels, cottage cheese, sour cream, and onions, my dad made this mackerel spread for me when I was younger! Now I make it for my daughter.
It's really easy to make this delicious pasta z makreli recipe and serve it with warm bread! Make extra and store it in the refrigerator for a week or two.
10. Pierogi Leniwe – Polish Lazy Pierogi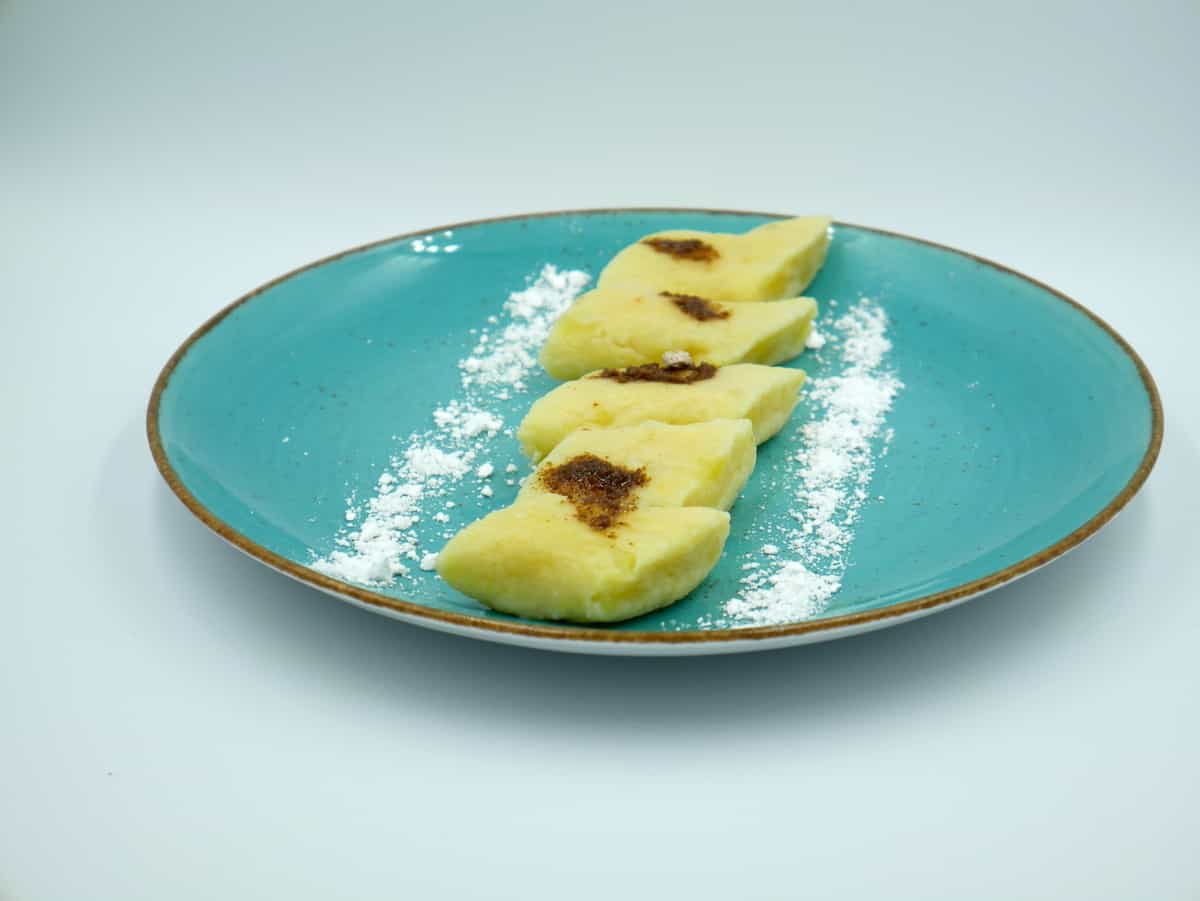 When you want pierogi but are too lazy to make them, try pierogi leniwe. One of the easiest recipe farmers cheese uses, these pierogi are literally called lazy pierogi.
All you have to do is knead the cheese and flour dough, cut it into diamond shapes and boil it in water. Served with fried breadcrumbs to melted butter, you can't get more Polish than this!
11. Pierogi Ruskie – Not Really Russian, They're Polish Pierogi!
Not really Russian except for their name, pierogi ruskie are traditional Polish pierogi that go well with anything.
I love my babcia Marysia's version that's made with a filling of cottage cheese, onions, and mashed potatoes. We top them with melted butter and caramelized onions for the perfect snack!
12. Pasta Jajeczna – Polish Egg Spread
Just like pasta z makreli, the Polish egg spread is a mix of minced eggs, cottage cheese with sour cream and other add-ons. Popular at parties, it' 's the easiest ingredient to add to the snack platter.
It's also perfect for eating as a sandwich for breakfast or lunch! When you want comfort food on a rainy day, serve it with warm toasted rye bread and dill pickles!
13. Słodki Ser – Polish Sweet Cheese
Sweet cheese is an ingredient almost every Polish housewife has made at least once. Mostly used as a filling for pierogi, sweet cheese buns, naleśniki with sweet cheese, it can also be served as a spread with bread or on its own. You'll often find it topped with raisins or dried fruit!
14. Sernik Z Rosą – Golden Dew Polish Cheesecake
A rich crumbly base with an amazing moist and creamy Polish cheesecake layer and a rich toasty foam!
This Polish cheesecake is called golden dew because you can see the golden drops formed on top of the cheesecake. There's a trick to making it that you'll find in my mom-in-law's Polish cheesecake recipe here.
15. Pieczone Jabłko – Baked Apples With Farmer's Cheese
One of my favorite recipes using farmer's cheese is of my grandm'as baked apples. Babcia would hollow out the apple and stuff it with a mixture of sweetened farmer's cheese, cream and raisins.
After 30 minutes in the oven, you can hardly wait for the apple to cool down a little bit before digging into it. The sweet cheese flavor perfectly compliments the tartness of the apple.
Everyone who tries the baked apples with farmer's cheese will love this dessert!
Other Polish Recipes That Use Cottage Cheese
Many other Polish recipes use cottage cheese, either as a topping or a side. Here are a few of them!
Salatka z uszkami i serem – Uszka salad with cheese
Pyzy borowiackie – Cheese-stuffed potato dumplings
Which is your favorite Polish cottage cheese recipe? How many more of these recipes are you trying this weekend?