The Polish diet may be focused on meats and comfort foods, but it also includes many vegetarian, pescatarian, and eggetarian dishes. We cook eggs in many different ways and enjoy them for breakfast or dinner! From boiled eggs and stuffed eggs to scrambled eggs and more, here are the top Polish egg dishes that you absolutely must try!
1. Polish Deviled Eggs Recipe – Jajka Faszerowane
Jajka faszerowane are the Polish version of deviled eggs. They consist of hard-boiled eggs whose yolks have been removed and mixed with other ingredients before being added back to the egg whites.
The mixes for the yolks can include anything from simple basic ingredients such as plain butter, pepper powder, or mustard paste, to other ingredients such as crumbled farmer's cheese, sour cream, smoked mackerel paste, onions, or finely chopped veggies. Jajka faszerowane is one of the most versatile Polish egg dishes!
2. Polish Meatloaf With Boiled Eggs Recipe – Pieczeń Rzymska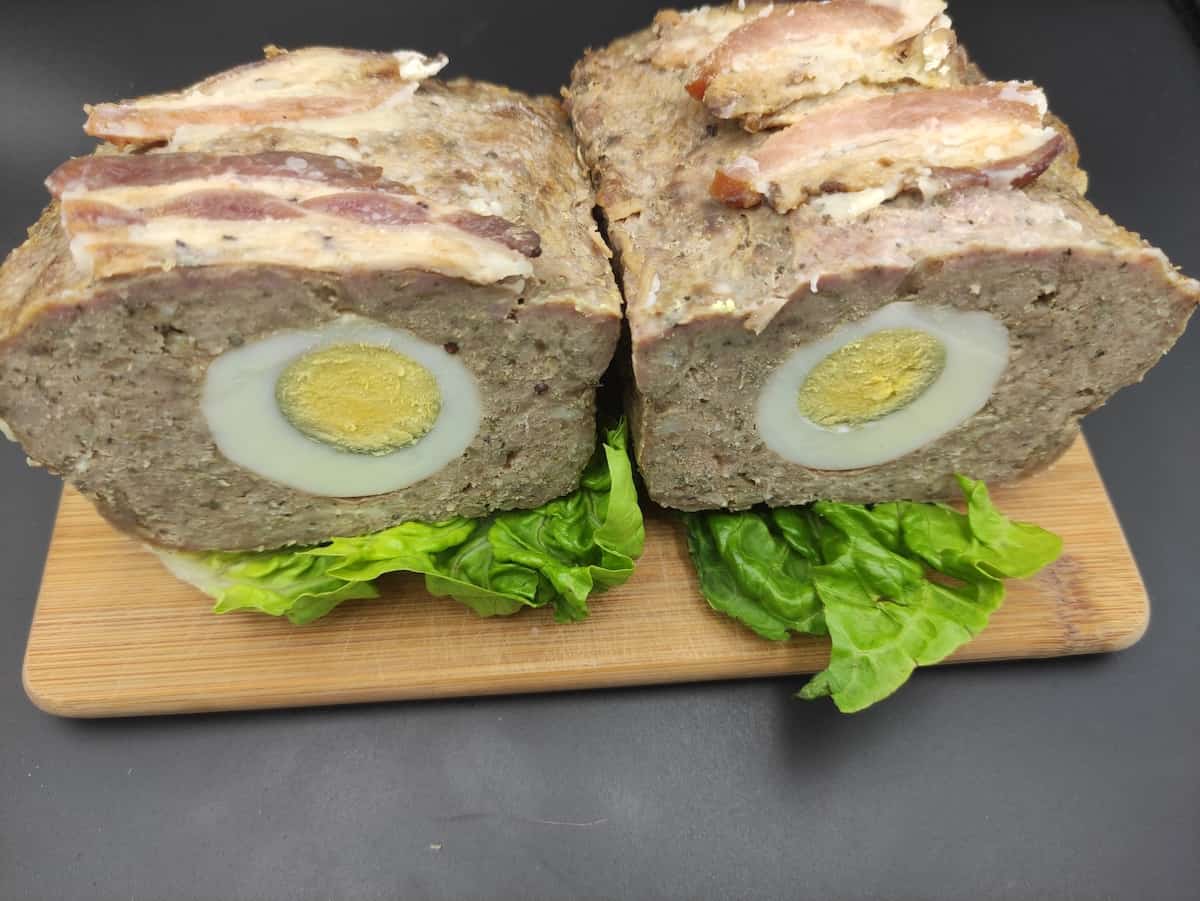 Translating to 'Roman meatloaf', the Pieczen rzymska consists of a juicy meatloaf of ground pork, onions, milk, and bread with a center made of boiled eggs. Considering that the earliest mention of meatloaf was in the 5th century Roman Apicius, it may well be a descendant of the Italian dish.
Sometimes topped with bacon or a mustard glaze and parsley, the Polish meatloaf with boiled eggs is perfect for on its own or with salads.
3. Polish Scrambled Eggs – Jajecznica
One of the easiest Polish egg recipes; scrambled eggs with sausage and onions can be eaten for breakfast or as a quick snack! Easy to make, you can experiment with this dish and add other veggies to it! You can also make it fluffier by beating the scrambled eggs with milk before frying them!
4. Polish Egg Spread – Pasta Z Sera Białego i Jajka
Popular at children's parties, the Polish egg spread can be made in less than 10 minutes. Made by mixing together cottage cheese, boiled egg, and sour cream or mayo, this egg spread took on the orange color of the tomato paste that was added to it.
One of the quickest Polish egg recipes to make, add-ons to the Polish egg spread include chopped onions, dill pickles, bell peppers, dill, chives, parsley, or more!
5. Polish Egg Salad – Pasta Jajeczna
Right behind the egg spread on the time scale of quick-to-prepare Polish egg dishes is the Polish egg salad or pasta jajeczna. The ingredients are similar so it could be thought of as the same dish. The only difference is that for the egg salad, you don't have to smash the ingredients very fine. You can leave them as very small pieces!
Serve on warm toast or as a side to a meaty dish such as golonka w piwie or fried pork liver.
6. Crispy Breaded Egg Cutlets – Kotlety Jajeczne
Popular in Poland, and maybe the rest of the world, the crispy breaded egg cutlets are called kotlety jajeczne in Polish.
Egg cutlets are the perfect recipe for days when you haven't had the chance to go to the grocery store and all you have left at home is eggs, onions, and breadcrumbs.
Made by mixing grated boiled eggs with the other ingredients and raw eggs, the kotlety jajeczne are simple and delicious!
7. Polish Hard Boiled Eggs With Mayonnaise Sauce – Jajka W Majonezie
So easy to make, the jajka w majonezie is found at every Polish celebration from birthday parties to weddings.
All it requires is layering boiled eggs or boiled egg halves on a plate and topping them with a sauce of mayonnaise, mustard, sour cream, and spices! Chopped chives or diced fried kielbasa are sprinkled on top of the jajka w majonezie just before serving!
8. Traditional Polish Salad – Salatka Jarzynowa
The Polish version of Lucien Olivier's famous salad, we call this one the salatka jarzynowa. It gained popularity during the Polish People's Republic and you'll now find it on every Polish table for Christmas.
Made with diced root vegetables, apples, boiled eggs, and mayo, the Polish vegetable salad is best served cold!
9. Polish White Sausage Salad Recipe – Sałatka Z Białą Kiełbasą
White kielbasa may be the star of this Polish salad, but boiled egg wedges get their fair share of the limelight.
The Polish white sausage salad or is made by layering boiled egg wedges, sausages, tomatoes, radish, onions, and other greens with a zingy sauce of mayo, yogurt, and horse radish!
The tasty sałatka z białą kiełbasą is sure to make your mouth water!
10. Polish Tortellini Salad Recipe – Uszka Salad
Made by layering the uszka dumplings with onions, bell peppers, lettuce, and hard-boiled eggs, the uszka salad or Polish tortellini salad is the perfect snack or side dish!
It can also be eaten as a main with a side of some crunchy toasted bread! The mayo and garlic sauce gives it a nice flavor while the pomegranate seeds sprinkled on top add crunch!
Uszka salad is perfect for days when you're too busy and need a meal that's already been prepped and stored in the refrigerator!
Bonus: Other Polish Egg Recipes
There are many other Polish dishes, bread, cookies, and cakes made using eggs. Some of them are here below.
Polish Dishes Using Eggs
Polish Breads And Cookies Using Eggs
Polish Cakes and Desserts Using Eggs
Which of these popular Polish egg dishes have you tried? And what's on your list to try next?