From the world-famous Polish chocolate torunskie to the sliwka naleczowska prunes covered in Polish dark chocolate, there are many lush delights to try! Here are some of the best Polish chocolates that you must try!
Some of the links are directed to our partner
Polana's
. webshop. They are offering a special discount for the members of the Polish Foodies tribe. Just enter coupon code
FOODIE15
during checkout to get 15 % off (minimum order $60).
1. Delicje
Delicje are like the Polish version of jaffa cakes made with the biscuit at the bottom, covered with a layer of jelly, and finally the layer of chocolate on top.
They are many other brands selling jaffa cakes in Poland nowadays, but delicje are the most popular! These jaffa cakes have made by E Wedel in Poland for over 160 years.
Originally, the Delicje were orange-flavored, but now there are many different flavors – apricot, cherry, raspberry, blueberry, and more!
If you want you can make these Polish jaffa cakes at home! Here's my Polish delicje recipe.
2. Pierniki Torunskie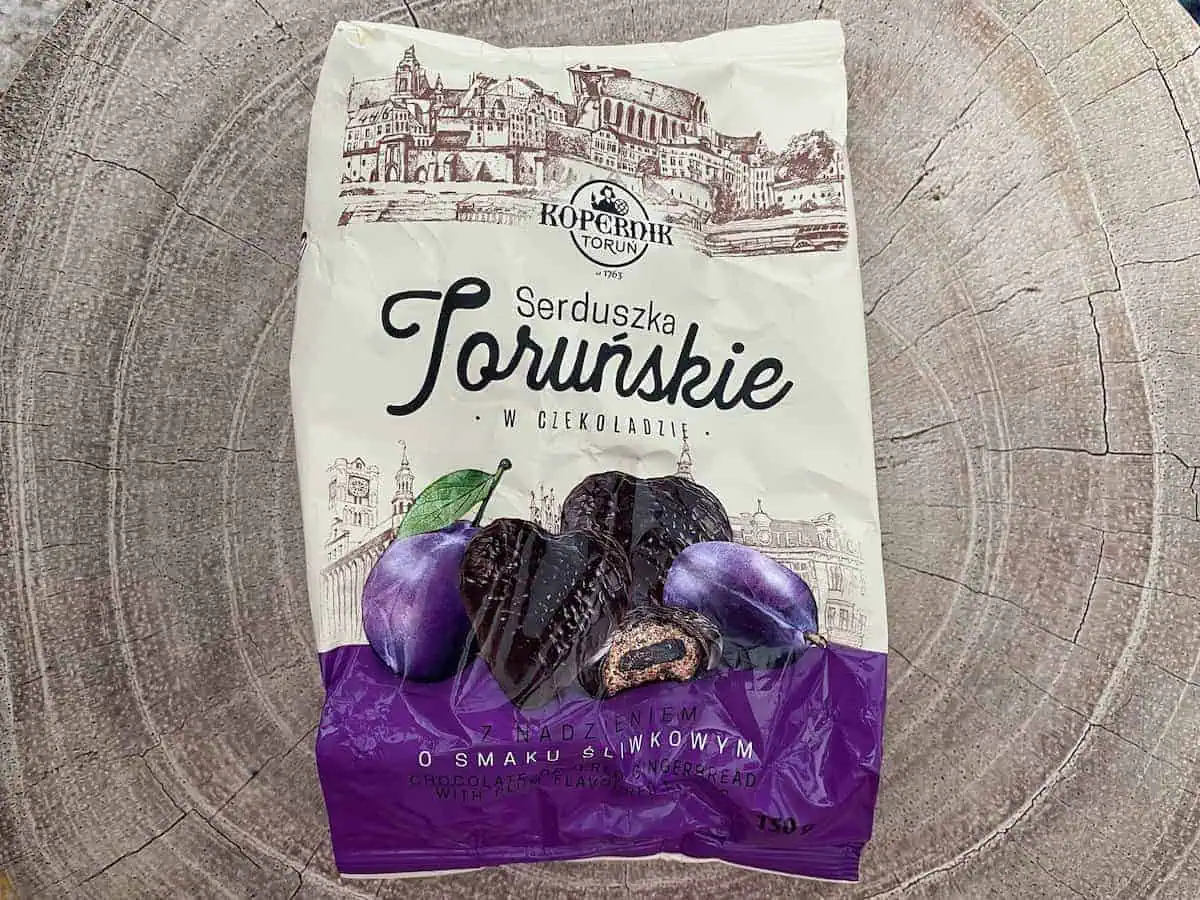 Torunskie are Polish gingerbread cookies that are covered with dark chocolate or sugar glaze. Originally from the region of Torun in Poland, pierniki toruńskie dates as far back as the 14th century.
Now produced by the brand Kopernik, torunskie pierniki are heart-shaped and made using a heavily guarded secret traditional recipe. These soft gingerbread cookies are a must-have Polish treat!
3. Herbatniki
Bringing back memories of childhood, we remember eating these biscuits on school excursions or visits to Krakow.
Herbatniki are simply Polish chocolates with biscuits inside but round in shape like a donut. Think of it like the poorer cousin of a Keebler with biscuit inside instead of fudge!
4. Śliwka Nałęczowska
My favorite chocolate is the śliwka nałęczowska. I had cravings for them when I was pregnant with Mia. These chocolates are basically dried prunes or dried plums covered with dark chocolate. The Polish chocolate used is darker than 50% which makes it perfect!
Another reason we love śliwka nałęczowska is that the prunes are sulfur-free. While cheaper brands use sulfur dried prunes that help them taste good longer, you know that the prunes used in the śliwka nałęczowska are natural!
5. Milka
Milka is not a famous Polish chocolate bar! It's actually Swiss chocolate that was originally made by Suchard. But we Poles love it! It's one of Europe's most exported chocolates!
There are many flavors for the Milka fillings – caramel, oreo, broken nuts, white chocolate and coconut, almond caramel, chocolate and biscuit, raspberry cream, cocoa cream, and more. But the most popular Milka in Poland is the one filled with strawberry yogurt! It's mouth-watering and delicious!
6. Wawel Chocolates
If you love the Wawel chocolate candies, you'll also love some of the many flavors of Wawel chocolates. Especially the bars of kasztanki, krowkowa and tiki taki that taste like family-sized versions of the candy! They even have a sugar-free dark chocolate!
7. Cieple Lody – Warm Ice Cream
Warm ice cream or ciepłe lody was invented in the Polish Republic times when real ice cream was expensive. Inventive Polish mothers filled waffle cups with an egg-white mousse and topped it with melted chocolate and sometimes nuts.
The modern version of ciepłe lody does not have the waffle cone and looks a bit questionable, but it does remind me of the weird food from my childhood. It was also found at many of the small grocery stores near our schools.
Polish people eat ciepłe lody in winter. Why? Because Poles believe that eating ice cream in winter makes you catch a cold. So this egg-mousse-based traditional substitute is the perfect alternative!
8. Wedel Chocolates
As one of the oldest Polish chocolate brands, Wedel is a popular choice for producing milk chocolates too!
The range starts from the taste of the milk chocolate to the well-crafted flavors of dark chocolate with cherry filling or raspberry filling, Tiki Taki coconut chocolate, or a lush creme brulee chocolate. There are many more options, but whatever you choose, you're sure to love them!
9. Jeżyki
These Polish cookies are made by adding a layer of caramel on top of a biscuit. This is then followed by another layer of dried fruits and nuts which is finally covered with chocolate. If you ask me, they're good enough to eat as a dessert!
10. Prince Polo, Grześki And Princessa
Prince Polo and Princessa are two famous Polish chocolate wafer brands. They consist of wafers with chocolate in between and chocolate on top.
Prince Polo was introduced in 1955 by Olza S.A. and is now a Kraft brand. Their Hazelnut (Orzechowy) and Premium versions are the most popular! It's so easy to recognize and also very popular in Iceland!
As opposed to this, Princessa was invented by their competitor Goplana and is now owned by Nestle. This milky chocolate wafer has many flavors including coconut (Kokosowa), hazelnut (Orzechowa), Dark Cherry, Gold, Salty Caramel, and many more.
Another popular chocolate from Poland is the Grześki, which holds a major share of the Polish market. This Polish chocolate wafer is also produced by Goplana and is often thought of as the Polish version of a KitKat! As usual, it has many flavors too, walnut, caramel, and more!
WW is another Polish chocolate wafer that's similar to a KitKat and consists of 4 bars of wafer covered by chocolate.
11. Danusia
Danusia is usually made of dark chocolate with peanuts and hazelnuts in them. The subtle peanut caramel chocolate was created when the founder of Wawel, Adam Piasecki fell in love with one of his employees named Danuta.
So naturally, he created new chocolate, named it after his lover, and put her picture on the wrapper. Even today, a century later, Not too sweet, Danusia is the perfect dessert-snack when you're looking for something that's a mix of rich and normal.
12. Pawełek
Pawełek (Pauly) is a Polish chocolate bar for adults only! It contains a small amount of alcohol and it's absolutely delicious!
Pin For Later:
How many of these famous Polish chocolates have you tried? Which is your favorite? Comment and let us know!